Windows 8 release was the most buzzed on the Internet in 2012. Since then, many Windows users have switched to Windows 10 OS. However, there is a great deal of users who still prefer Windows 7 or Windows 8 versions due to their habutual interface and functionality. If you still choose between Windows 7 and Windows 8, note that Windows 8 doesn't contain many of Windows 7 features, even those which have been a flagship of Windows OS for years. Let's review the key options that have been gone in Windows 8 in comparison to Window 7.
SEE ALSO: How to Register Microsoft Account ID and Use All Microsoft Features
1. Start Button
The Start button which first appeared in Windows 95 and persisted in each new Windows version is gone in Windows 8. Instead, there's a hot bottom-left corner of the screen to reveal the hidden Start button.

Update: Because of numerous requests from Windows users, Microsoft developers returned the Start button in Windows 8.1 OS. The Start button is again available in Windows 10.
2. Start Menu
The Start menu has also been removed in favor of a full screen interface called the Start screen that uses dynamic tiles instead of static computer icons. It's accessible as a hotspot in the lower left corner of the screen, via the Windows key, and on the charms bar.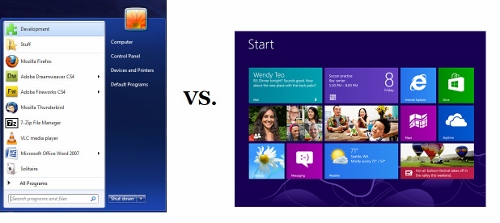 3. Aero Glass
The Aero Glass theme, the graphical centerpiece of Windows Vista and Windows 7, has been completely removed from Windows 8 in favor of a Metro-style theme.


SEE ALSO: Great Free HD Wallpapers for Windows OS
4. Flip 3D
Together with the Aero theme, in Windows 8, Microsoft abandons Flip 3D windows switching (WinKey+Tab). This wasn't actually the popular feature among Windows users, still it looked cool and stylish. In Windows 8, Flip 3D is replaced with a Modern UI app switcher, accessible by moving mouse up from the bottom-left corner or down from the upper-left corner. This cannot be used for desktop apps, only to switch to the desktop.

5. DVD Playback
Since DVD discs are used less with the rise of Netflix and other media-streaming services, Microsoft removed the integrated DVD playback support from Windows 8. Many new Windows 8 based computers come without DVD drives and Windows Media Player will no longer include codecs to play DVDs. Still if you buy a computer with a DVD drive, it's up to the manufacturer to include licensed DVD software. Or you can use third-party DVD video players, anyway.
Update: in Windows 10, there is DVD Player app available for DVD movie playback.
SEE ALSO: How to burn DVD video free
6. Windows Desktop Gadgets
Popular desktop widgets like Calendar, Clock, Contacts, Currency Conversion, Feed Headlines, Notes, Stocks, Weather, etc. are no longer available as a part of Windows sidebar. Though most of these widgets appear on the Start Screen.

7. Update Notifications
On current Windows versions, we are informed about updates through a system tray icon and notification balloons. On Windows 8, these update notifications will no longer appear on the desktop. All Windows-Update-related messages will be shown on the login and lock screens, so you might not even see them if you automatically log into your PC.

8. Windows Media Center
Windows Media Center isn't included by default in any version of Windows 8, since it's used by so few people. Still the Media Center will be available as a paid add-on to Windows 8 Pro.

Update: in Windows 10, Windows Media Center is replaced with Windows DVD Player app.
9. Recent Documents
There is no place for Recent Documents menu on the new Start screen. So use Search in Charms bar to find any documents on your Windows 8 PC.
10. Windows Backup and Restore
The Backup and Restore feature that allows users to create system and files backups and restore from them has been replaced by a new feature called File History. Still this new option will provide only file-based backup, since system backup is underused in currant Windows versions.

As it's clear from the list, most Windows 7 features described above don't completely disappear in Windows 8, they are just replaced by the modified ones. So when you're choosing among these two old versions to downgrade from Windows 10, keep in mind that they are pretty much alike with a few differences.
Comments
comments