- conversion of audio files to MP3, WMA, WAV, FLAC, AAC, M4A, OGG;
- audio extraction from video files (over 200 formats supported);
- conversion of audio files to MP3 players and Apple devices;
- audio files joining.
Let's check thoroughly all the features available in the software.
First of all, click the link below to download the installation file. Please note that the utility runs only on Windows-based PCs and laptops. Windows Server version, Mac, and Linux OS are not supported.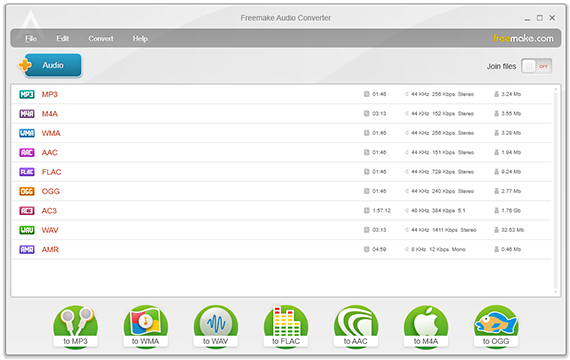 Click the Freemake file to install the new program on your computer. Follow the process by clicking the "Next" button all the time. By default, the app will be installed on your C drive. You can change the folder for the freeware during the installation process. Please note that in any case some Freemake files will be kept on C drive to guarantee a stable tool performance.
When the software icon appears on your desktop, double-click it to start the utility.
Now add the music files that you want to encode. Please keep in mind that Freemake tool doesn't support protected media data.
You can add the tracks by clicking the "+Audio" button or go to File – Audio. You can select and add several files at once.
Then choose one of the output extensions for your future tracks. If you have a FLAC file, keep in mind that it will be converted in one long track. You will have to separate songs manually if necessary.
If you don't know what format to choose, go for the MP3 option. It's the most popular audio format supported by all modern gadgets and media systems.
When you click on a format, choose a quality option for your sound. You can leave the quality as is or select a lower bitrate. Please note that you can not enhance the quality by choosing a higher bitrate option.
Then select a folder for your new songs and click the "Convert" button.
Currently, software doesn't support the meta data. Thus you will have to add it manually later.
When the encoding process completes, transfer the files to your phone, tablet, or music player.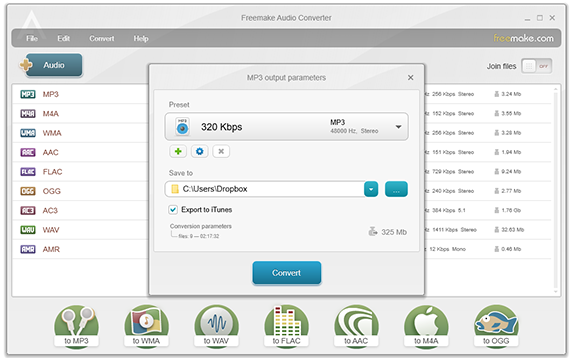 If you need to create one long track out of multiple media files for a party or a slideshow, follow these steps:
Add all your songs to the software. It doesn't matter if the tracks have different original format;
Pay attention to the top right corner of the utility. You will find a "Join on" button there;
Move the toggle to enable the option;
Then select a new format for your files;
Launch the transformation process and wait till it finishes.
Now you might add this track to a project or to your home movie with the help of other Freemake tools.
Soon the audio converter will allow users to rip Audio CDs and burn Audio CD and MP3 discs. Download the new app here.