A proxy server is a secret helper which lets you access prohibited websites and watch blocked videos. If you are not allowed to visit certain websites at your workplace or your country is included into the list of not supported locations for some YouTube videos, read this post to learn how to get round this restriction.
SEE ALSO: How to Download YouTube Movies FREE
SEE ALSO: YouTube to MP3 not working?
What is a Proxy?
Proxy is a server which works as an intermediary between your computer and a remote server which you're trying to connect to. Basically, it's another computer which serves as a hub through which your internet requests are processed. The process looks like this:

As shown in the above example, whenever you connect to a proxy server and make a request for some resources (websites, files. etc.) located on a remote server, the proxy forwards this request to the target server and then fetches the requested resource and delivers it back to you.
There are several types of proxy servers based on purpose and functionality. Thus, a web proxy is the most common type of proxy application, which responds to the user requests by accessing resources from cached web pages and files available on remote web servers. A transparent proxy is mostly used for caching websites and overcoming simple IP bans. However, such type does not provide any user anonymity since user's original IP address is exposed. A distorting proxy, identifies itself as a proxy server and disguises the original IP address.
What Can a Proxy Do?
There are numerous things which you can do with a proxy:
Access region-restricted content, e.g. videos and music from YouTube, Vevo, Hulu, Spotify, etc.
Visit websites blocked at workplace, school or any other network, e.g. adult sites, socila media channels, etc.
Access websites blocked by your Internet service provider, e.g. torrents, unreliable websites, etc.
Make your Internet surfing anonymous, especially when you visit websites collecting personal information, payment data, etc.
Visit websites and chats from which you're banned – since your IP address will be different, no admin or bot can identify you.
Speed up your Internet connection and improve performance with a caching proxy server.
Lists of Free Proxy Servers
There are numerous websites offering free proxy lists. You may use the following ones:
proxylist.hidemyass.com

– browse through proxy server IP addresses by country, port, protocol, anonymity level, speed and connection time;

free-proxy-list.net

– get a free proxy form a bif list of proxy servers updated every 10 minutes;
nordvpn.com/free-proxy-list – the website offers dozens of thousands of free proxy servers sorted by country, port, and protocol;

torvpn.com/en/proxy-list

– conatantly updated list of dozens of free web proxies;

hidemy.name/en/proxy-list/

– a huge list of verified proxies.
All those lists feature free proxies from different locations. You can filter results by geo, last updated, speed, anonymity level, etc.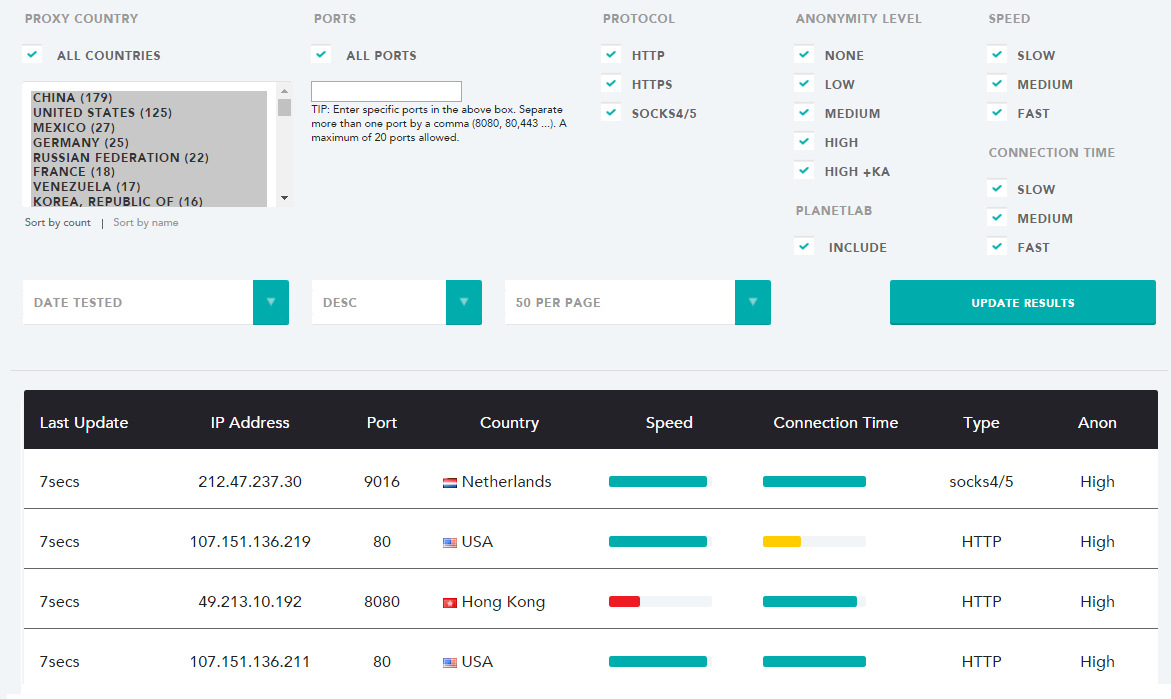 There are also some sites which already work as a proxy for you. The most popular ones are hide.me/proxy and hidemyass.com/proxy. These services are much easier to use since you don't need to dig in browser settings to make it work.
How to Enable a Proxy Server?
To access blocked content, you need to switch on a proxy server in your browser. Each modern web browser allows users to connect via a proxy server.
For example, in Google Chrome you should:
Open Settings.
Click Show advanced settings.
In the Network section, click Change proxy settings. This will open your computer's Internet Properties window.
Click the LAN settings button. This will open another new window. Check the box in the Proxy server section, and uncheck the Automatically detect settings box.
Enter in the IP address or domain as well as the port you are connecting to. Click OK when you are finished.
When you are done using a proxy, open the LAN settings again, recheck the Automatically detect settings and uncheck the box in the Proxy server box.
If you use Mozilla Firefox, follow these steps:
Launch the browser, click the orange Firefox menu at the top of the window and choose Options.
Go to the Advanced tab, click the Network tab and select the Settings button in the Connection section.
Click the Manual proxy configuration radio button.
Type the IP address and port of your proxy in the appropriate fields. Click OK two times to apply and save the new proxy settings.

Follow this tutorial if you run Internet Explorer and this one if you use Safari.
SEE ALSO: YouTube Doesn't Work! What to Do?
How to Download YouTube Videos with a Proxy?
YouTube videos are often geo-restricted. If you have a link of the video, you may easily save it to your PC with https://www.freemake.com/free_video_downloader/. Do the following:
Install and run the software.
Find Options in the bottom right corner and open them.
Go to the Connection tab.

Tick Enable Proxy and type your Proxy ID and Port. If the authorization is required for your found proxy, check the respective box and add Login and Password details. Click OK.

Go to the main menu, paste the link of your geo-restricted video and download it.
In this way you may download videos from other video sites. For example, you can do the same with Vevo videos which are available only in a restricted number of countries.
PRO Tip: You may save YouTube videos to any format with Freemake Video Converter, e.g.burn MP4 to DVD on Windows
Good luck!
Comments
comments