Nowadays language learning is not associated with dusty dictionaries, heavy manuals, and pricey Rosetta Stone software any more. You can study a language online and get so much fun from it while playing games, watching movies, and fulfilling amusing tasks. Here are the best 25 websites to learn a foreign language online. Surely, you'll find here what you need!
SEE ALSO: 200+ Useful Resources & Tools to Become an Advanced Teacher
5 websites for studying multiple languages
The following resources are not bound to a single language learning. Instead, they offer their own techniques which can be applied to learning not just one, but numerous languages.
Duolingo
Duolingo.com offers to study 27 languages from scratch. The availability of courses depends on your native language. Thus, English speaking users may start learning any of 27 offered courses, while Italians can choose among 4 courses only.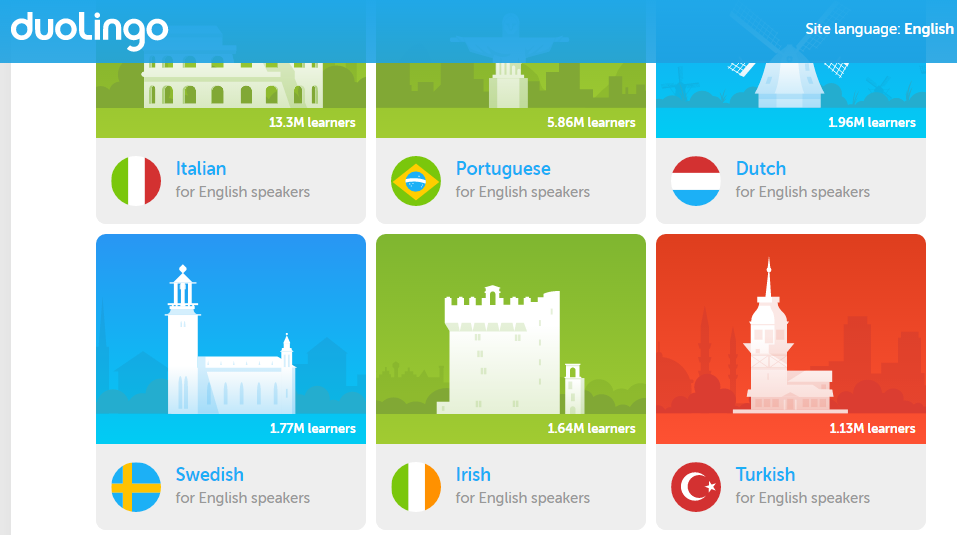 The program of each course is built in the form of a "tree of achievements". To go to the next level, you need to earn a certain number of points which are given for correct answers. Learning with Duolingo is funny and addictive. Each lesson contains a variety of speaking, listening, translation, and multiple choice challenges. The services also offers apps for iOS, Android and Windows Phone to study language on the go.
Babbel
Babbel.com is a great choice for comprehensive training. The resource lets learn any of 15 most popular languages. All courses are broken into small blocks. The main advantage of Babbel is the visual vocabulary, divided by thematic lessons. Grammar and vocabulary are built into units that focus on practical things like getting to know someone, ordering food, shopping, etc.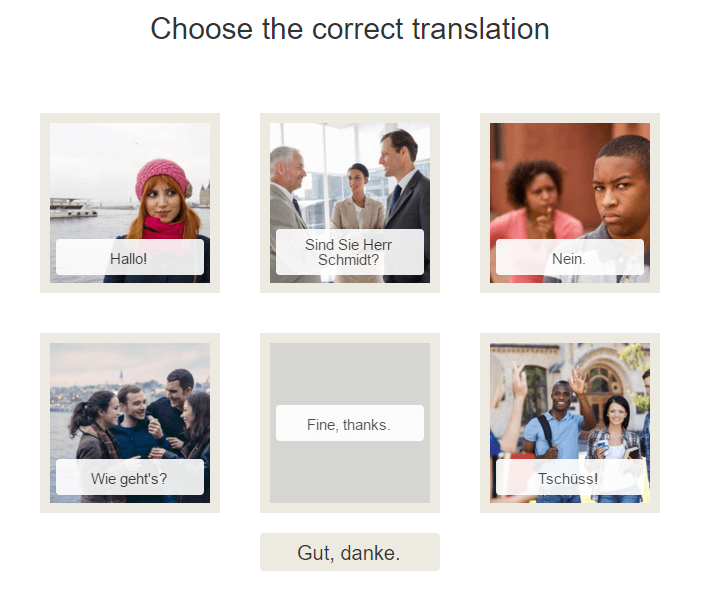 To train your pronunciation and speaking skills, you may repeat the speaker's words to the recorder, write down the words with the suggested letters and use phrases in the appropriate context.
italki
Italki.com is a language learning social network that connects students and language teachers. Here you won't find the detailed units with assignments and multimedia. The main idea of the site is to connect students and freelance teachers.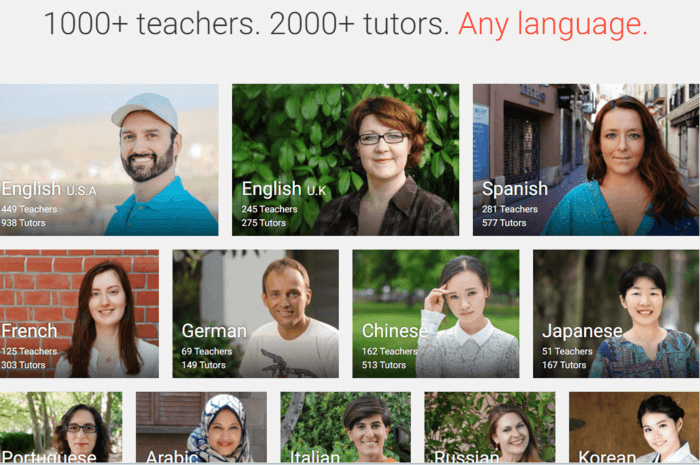 To start learning a language, sign up, choose a tutor and schedule a lesson. Teachers on italki can customize each class based on your needs and interests. Lessons are paid, the price is set by a tutor and depends on the complexity of the course and teacher's experience.
Busuu
Busuu.com will help you learn 12 languages with ease. Here you may practise your listening, reading, speaking and writing skills and interact with the international community of native speakers.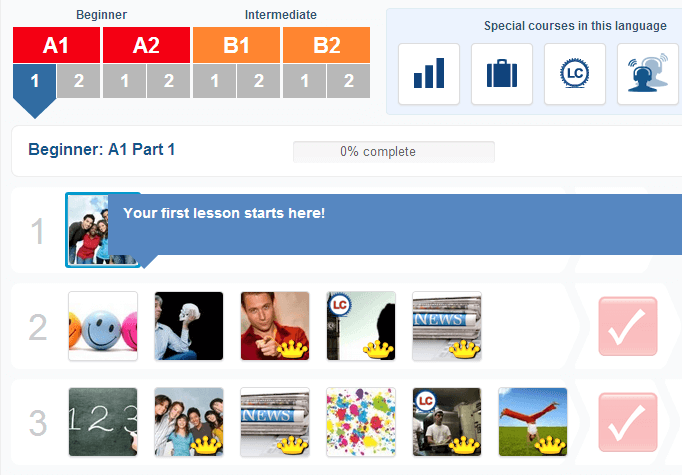 The educational material for each language is typically broken down into around 150 units. Units consist of multiple-choice questions, speaking assignments, and writing exercises. Some parts include multimedia material, such as spoken multiple-choice questions. Users act as both students and tutors, correcting one another's work. They can interact via a chat-window, an audio connection, or a webcam connection.
Lang-8
Lang-8.com is another language learning community. It offers an amazing way of practicing a foreign language. You write a text in your studied language, then the text is checked by a native speaker who makes the appropriate changes to it. There are native speakers from over 190 countries, so it's possible to learn almost any language here.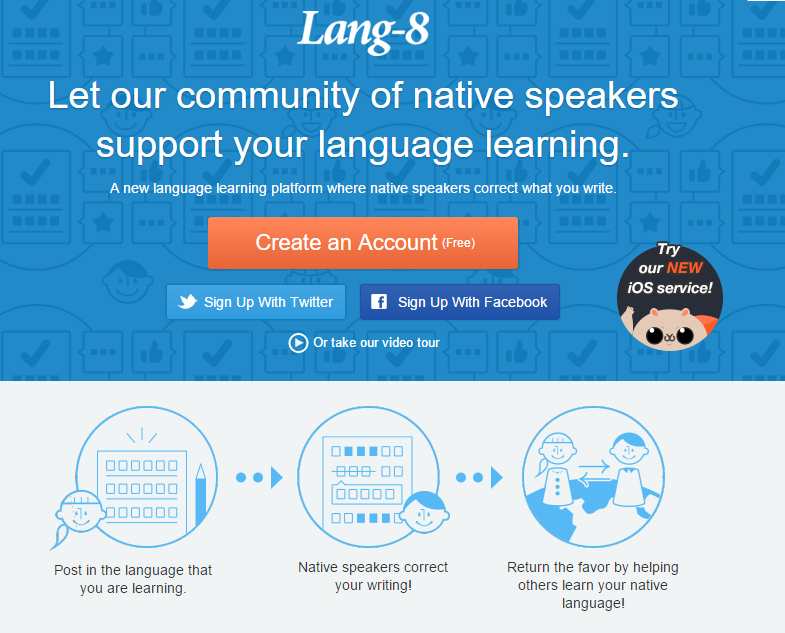 The service is ideal for grammar fans and intermediate speakers who want to improve writing skills.
SEE ALSO: Top 50 US Universities with Online Degrees & Distance Learning
6 great sites to learn English
For non-English speaking readers of our blog, we prepared a list of the most popular websites to improve English language skills.
Britishcouncil.org is a brilliant source which lets adults and children enjoy the process of studying. Here you'll learn English via watching educational videos and playing language games. Also you can leave comments to interact with other students.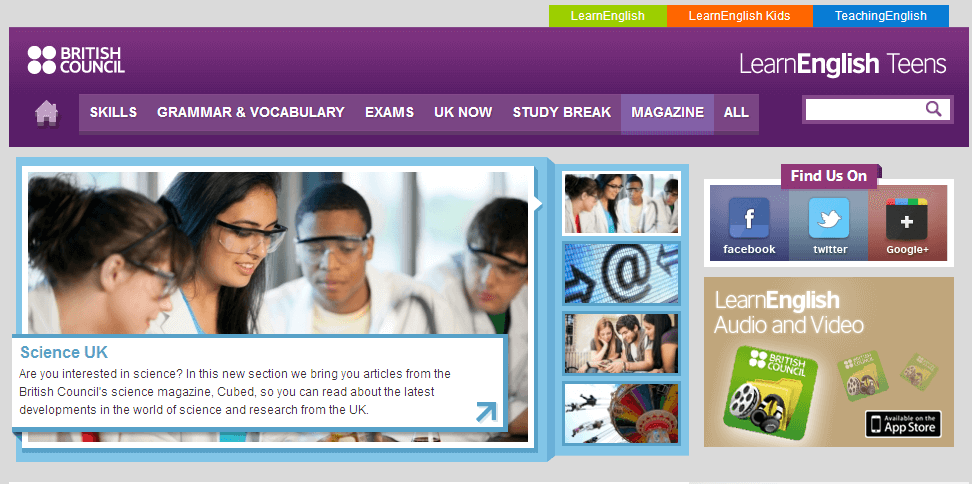 Ego4u.com gives you both theoretical material and its practical appliance. Here you'll find lots of free exercises and explanations, tests, articles, etc.
TheFreeDictionary.com provides a big English language dictionary with thousands of idioms. If you register, you may earn points for reading articles and other activities.
Learn-english-online.org offers an immense number of tasks for dozens of topics. The interface is rather plain, but the grammar material is fundamental.
Talkenglish.com is aimed at improving pronunciation skills for different purposes: business, interviews, traveling, etc. Native speakers can read all the sentences for you, so you just repeat and practice your speaking skills.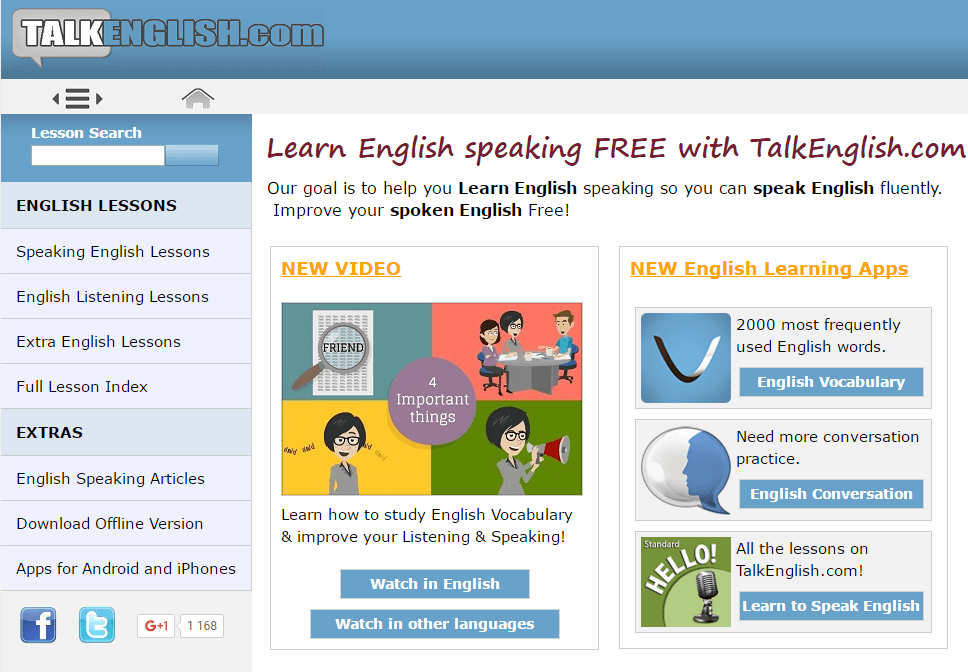 At Situationalenglish.blogspot.com you'll be able to study English through acting out situations and learning a variety of expressions. It collects about 150 articles.
SEE ALSO: Best YouTube Education Channels Worth Following in 2019
4 top websites to learn French online
At Alison.com you'll find various courses for beginners and mid-level French learning students. Just choose one, pass it at your own speed and get a certificate to enclose into your CV.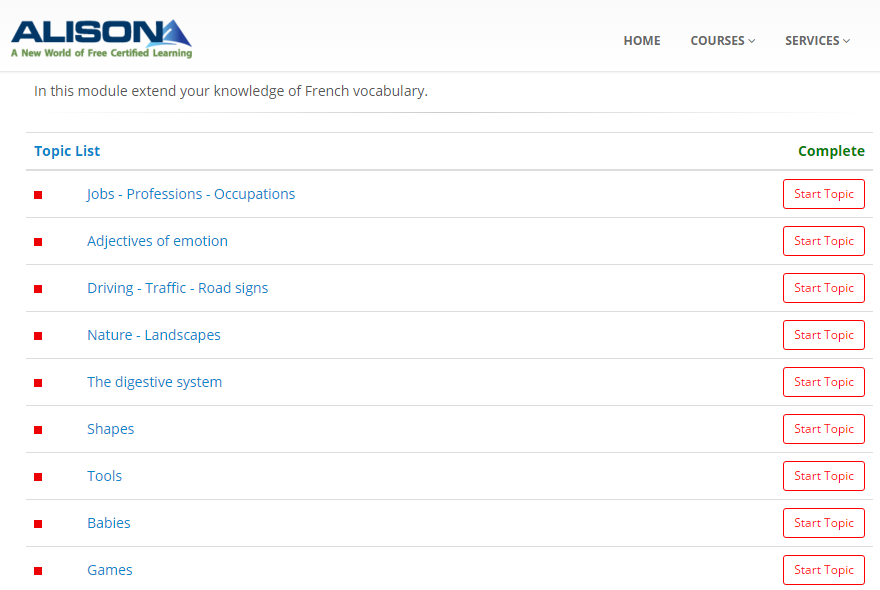 At Frenchassistant.com you can learn and practice French free using online lessons which are full of funny assignments. Thus, you learn and improve your skills in the most effortless way.
BonjourDeFrance.com is an online magazine with exercises, tests and games to learn French. Here you can even sing karaoke in French!
Polarfle.com is a resource for those who want to improve their basic knowledge of French. On the a detective story unfolds. Untangling it, you learn new words and get used to understand spoken language.
4 Websites to Study German
BBC offers various materials for learning a foreign language including German. Here you'll find online lessons with audio, games, vocabulary, grammar explanations and exercises. There are also articles about interesting facts about Germany and essential phrases list.
Deutsch.info is a multilingual website which combines German lessons with practical pieces of advice about living and working in Germany and Austria.
Deutsch-lernen.com offers 10 free online lessons for beginners and 24 German grammar lessons for advanced learners. There are also numerous interactive exercises, a complete introduction to new orthography and 2 online tests to evaluate your German language proficiency.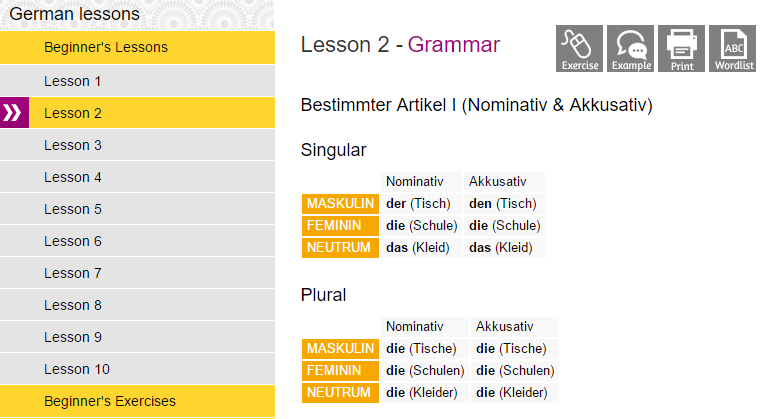 Deutschakademie.de is an excellent virtual school where you can improve your German language skills and learn about German history and places of interest.
3 Best Sites to Learn Spanish Online
With Fluencia, you will discover Spanish step by step. The website offers 500+ lessons to learn conversational Spanish online. All the assignments are funny and interactive.
Learn-spanish-online.de is another good resource to study Spanish grammar and vocabulary. There are numerous educational videos and stories. You also have the possibility to make a virtual promenade throughout famous Spanish cities.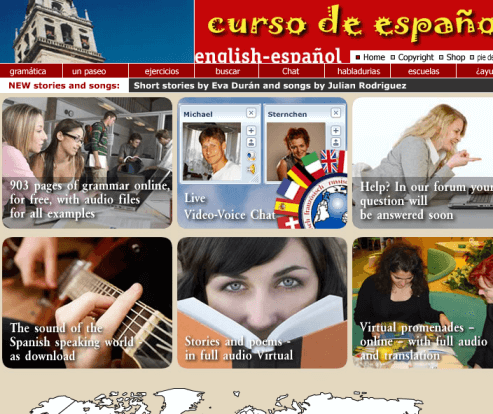 123teachme.com will help you enjoy learning Spanish quickly. It contains dozens of interactive games and activities featuring high-quality images and audio. Free online tools like verb conjugator are a nice addition to the studying courses.
3 Websites to Study Italian
Oneworlditaliano.com gives you an online course of Italian. There you can fulfill topic-related activities, write dictations, read some news in Italian or learn some proverbs and idioms. It's useful for both beginners and advanced learners.
Audibleitalian.com will help you boost your understanding of spoken Italian. The resource offers 10 lessons for mastering some basic Italian phrases which you'll use while traveling through Italy. The topics include greetings, shopping, eating out, hotel, emergences, etc.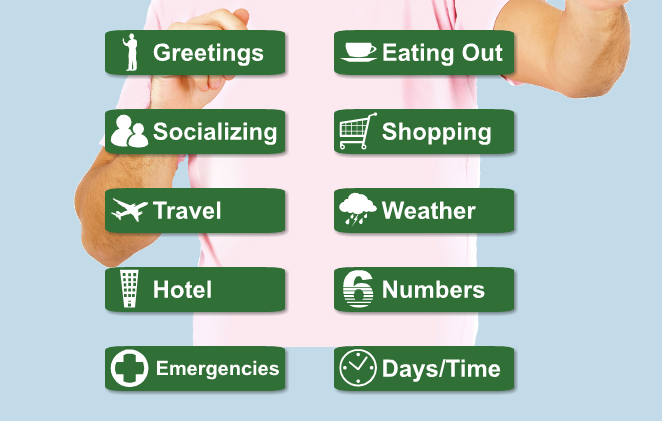 Iluss.it provides educational resources produced by teachers of Italian with years of experience. There are special courses for beginners, travelers, business people and even for teachers.
Which website will you add to the above list?
Comments
comments