FLV is a popular video format designed by Adobe Systems, which can be easily called a standard format for online video streaming and found on such well-known video sharing sites as YouTube, Vevo, Vimeo, etc. Flash videos are viewable in most web browsers.
However, if you want to download a FLV video, you can't do without a FLV converter in order to reproduce the video with a regular PC video player, e.g. Windows Media Player.
Alternatively, you may use a special FLV player to watch Flash FLV videos without re-encoding. Have a look at these 5 free FLV players and choose the one you like most.
SEE ALSO: Top 5 Video Players for Windows Compared
SEE ALSO: How to convert FLV to MP4 free
VLC Media Player
VLC is a well known video player. It's capable of playing a great deal of video formats including FLV, SWF, WebM. The software is free and offers dozens of useful features, such as watching movies with overlaid subtitles, streaming online media, screen recording, etc. You may speed up or slow down the playback, zoom the video and even make some correction for better watching.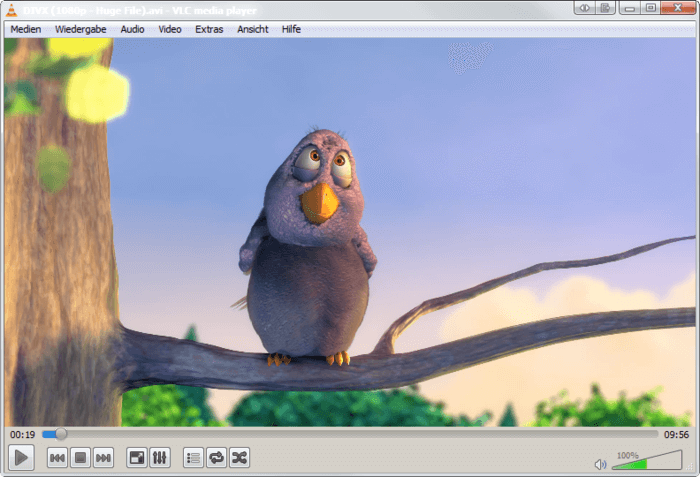 In a word, VLC is ideal as a default video player on your PC, as it deals with almost all known video formats. Moreover, the software supports hardware acceleration for playback.
SEE ALSO: How to Copy a DVD
SEE ALSO: How to Play MKV Files Easily
Download VLC Media Player at VideoLan website.
Tonec Free FLV Player
This is a fully functional software for Windows OS to play and convert Flash videos. The app is lightweight and easy-to-use. You can zoom the player to any resolution and watch videos on full screen. It's also possible also associate FLV and WebM extensions with this app in your system and automatically play this type of files by double clicking on them. The player lets change playback speed, play videos by frames, etc.
The app also allows users to convert FLV files to 3GP, MP3, MP4 and AVI output file formats. Still we recommend you using Freemake Video Converter for this, since in Tonec Free FLV Player video conversion is not the key functionality and may result into corrupted files. Plus, you may watch FLV movies straight in the video converter, without re-encoding.
Still the player is good option for a regular or occasional use.
You may download the app at http://tonec.com/products/freeflvplayer/
FLV Media Player
This utility is a standalone video player for any downloaded FLV content. The tool provides a bunch of features. Thus, it lets scale the window to any size, automatically rotate videos, add subtitles, make playlists, add to favorites and even screen capture the playback.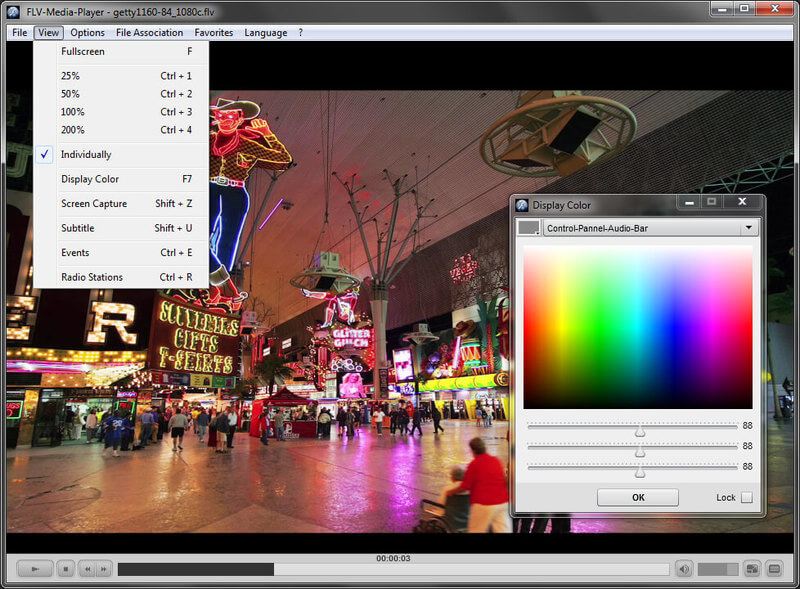 The software also provides the option of colour control, with which you can adjust colours and saturation of your movies. It's possible to operate  FVL Media Player from the command line and use various shortcuts. FLV Media Player also supports H.264, 3GP, MP3, M4A, 3G2, AAC, F4V, F4A, F4P and other file formats.
This player is suitable for advanced users.
You may download the software at http://www.flv-media-player.com/
Moyea FLV Player
Moyea FLV Player is an easy-to-use freeware designed especially for playing FLV files. It can reproduce Flash videos stored on your local hard disc or online via accessing URL of a Flash video directly. You may create playlists in forms of both text and thumbnails, add movies to favorites, change skins and adjust playback settings. The app supports multiple playing modes, such as full screen, shuffle, single repeat, etc.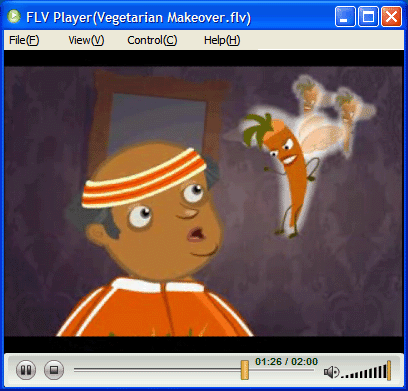 The program is good for playing not only FLV videos, but various kinds of FLV file types including H.264, H.263, On2 VP6 and Nellymoser.
So use this software if you want to play FLV files of rare types like VOB (or use this VOB converter).
Get Moyea FLV Player at http://www.flvsoft.com/flv_player/
Axara Free FLV Video Player
This tool can play most popular multimedia formats, including FLV, On2 VP6, H.264, MKV, MTV, RM, etc. The interface is very simple and doesn't offer a lot of additional features. You may create video playlists or drag the existing ones into the player. Any modifications (resize, fit to window, zoom to 50%, 100%, 200%) of the player windows are available.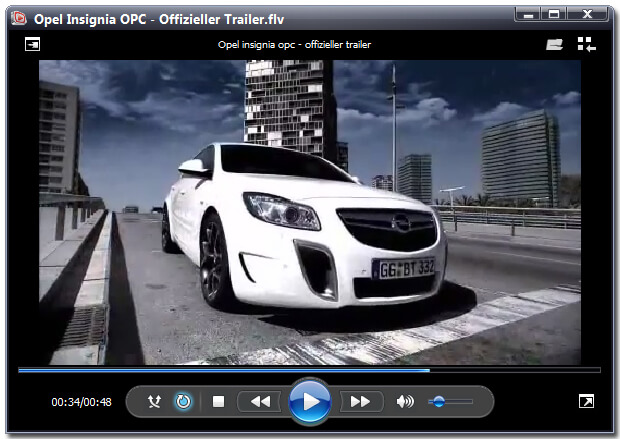 Standard controls allow you to navigate backward and forward through the videos and play them in a loop. You may also associate FVL files with the player during the installation.
This tool is recommended for users who are interested barely in FLV movies playback.
Get the free FLV player at http://www.axaramedia.com/FREESolutions/FLV-Video-Player/
What FLV players will you add here as well?
Comments
comments