Do you take pics with your iPhone? I'm sure you do! The standard iPhone camera app is really nice but has limited functionality making users install other apps with advanced settings to serve their needs. You can find a lot of great iPhone photo camera apps that will let you use your camera both in automatic and manual modes. Here are 6 examples that you can start from.
SEE ALSO: iPhone Camera is not Working: What to Do?
SEE ALSO: 9 Best Apps to Turn iPhone Camera into Fisheye
VSCO Cam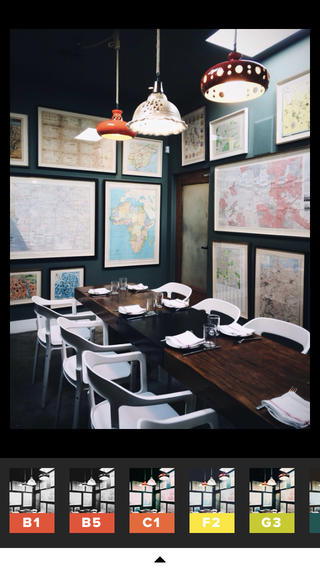 VSCO Cam is a universal app that combines camera, editor and sharing features. When you start the app, you'll be shown a dozen of options. Don't be frightened! You can change to bypass the start screen in Preferences. Thus, it won't appear anymore. When you get to camera mode, you'll see a toolbar with options. Choose parameters for flash, white balance, display orientation and start taking pics. You are also able to manually adjust exposure compensation, focus, shutter speed, and ISO. The app gives a great chance to your fantasy! Please note that you will have to enable the Advanced Mode (ADV) to get manual controls. What's interesting about VSCO, it lets you choose if you want to take photos by taping any place on the screen or the shutter button. You might need it when you need to quickly catch an interesting moment.
When you are done with the pic, it's high time to edit it a bit. Here you can choose among 15 editing presets with various filters and effects. Adjust color balance, shadows and highlights, saturation, sharpen and crop your pics, and use many other functions.
Manual Camera
As it's clear from the title, Manual Camera allows you to choose all the necessary settings manually. The app is simple and plain, yet pretty powerful. For only $1.99, you get full control of shutter speed, ISO, white balance, focus and exposure while shooting a photo. All the options are on the screen, so you change settings right while shooting and have a preview in real-time. Photo adjustments are made through dials and sliders. Use dials to change ISO, white balance, shutter speed and sliders to set other color parameters. Note: the auto mode is also available.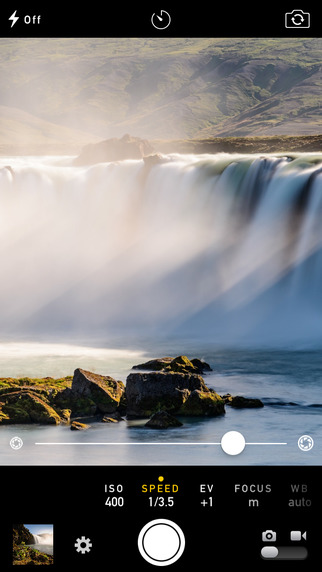 The great option of Manual Camera is its quality of small photo details. The pictures are extremely good. It might be a bit difficult to understand all settings from the 1st time, but it's definitely worth spending time.
Manual Camera is a must have for all those who prefer to control everything to a single setting. Available for $2.99, it'll surely give you an unforgettable photo experience.
Slow Shutter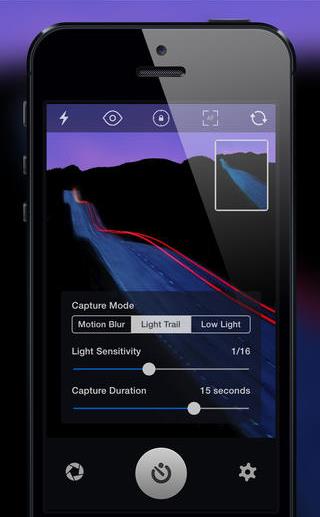 Slow Shutter app is good for all those who like to take pics of night city views. It's available for $1.99 from the AppStore. The app lets you set the shutter speed, what is impossible with the standard photo app, and thus get a longer exposure for your pics. Apart from a variety of shutter speeds, Slow Shutter app has three capture modes to use with different light conditions:
Motion Blur will help you create ghost and waterfall effects by adding blur to your pics
Light Trail is great for shooting fireworks and create car light trails
Low Light should be used in low light conditions to accumulate all the light possible. Note: the longer the shutter speed, the more light the app will accumulate.
There are also 5 pic quality options to choose from, ranging from VGA (30fps) to 8MP (15fps), a self-timer and few editing options. Just keep in mind to hold your iPhone steady to get the best results possible.
To transfer recorded videos from iPhone to your PC, you will need to re-encode them. See here how to convert MOV to MP4 free.
All in all, Slow Shutter is a great app for creative photographers who want to catch night moments.
Cortex Camera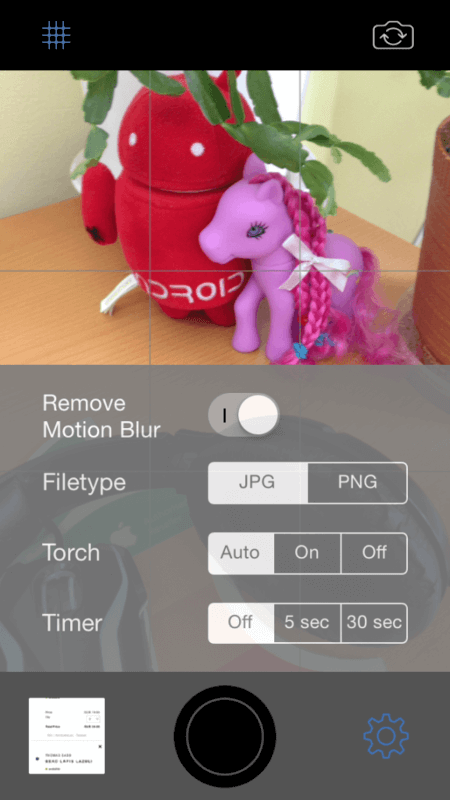 Cortex Camera is a magical app that will help you get rid of blurry low-quality pics for $2.99. As well as Slow Shutter, Cortex Camera also lets you increase exposure time but in a different way. If Slow Shutter and other apps of this kind shots a small video, while creating your pic, Cortex Camera takes several photos of a scene and combines them into one to deliver sharper result. What's great, you don't need to have any tripod here. The app will do the job for you.
Cortex Cam doesn't have a variety of settings. When you launch the app, you'll see the options tab where you can set to keep or remove motion blur, image extension (JPG or PNG), timer and torch. As soon as you choose the necessary parameters, start taking pics. They'll be saved to your camera roll.
The result of pictures is really amazing, so if you stand for high quality, don't miss this photo app. You won't use it every day, but it should definitely be in your phone apps kit for a right moment.
SEE ALSO: Top 10 Photo Collage Apps for Any Purpose
Camera+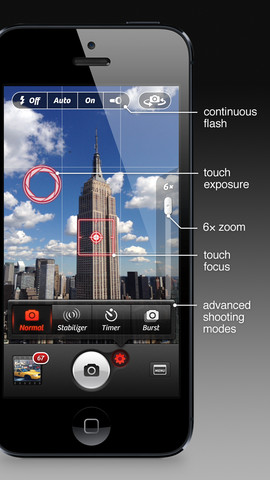 Camera+ is a well know app among photographers. Its number of options is really astonishing. Moreover, the app has been constantly improved with new tools and bug fixes. Here you also have an automatic stabilizer that'll take a pic when your hand is stable. As soon as you launch the app, go to Options to see what you can choose from. Try different parameters to set the best one for your current light conditions.
The interface of the app is like the one of a standard iPhone camera. Thus, you won't find it difficult to use the app. Here you'll get the ISO, f-stop, stabilizer, and white balance. All the adjustment bars are hidden behind slide-up menus, making the shooting area looks clean.
If you failed to do the right job, you can always use filters to adjust your photo. Correct the white balance, crop your pictures and apply effects like sunset, simulated flash, portraits.
To cut a long story short, the app is great for those who need an all-in-one photo tool. You can get Camera+ for $2.99.
ProCamera + HDR & LowLight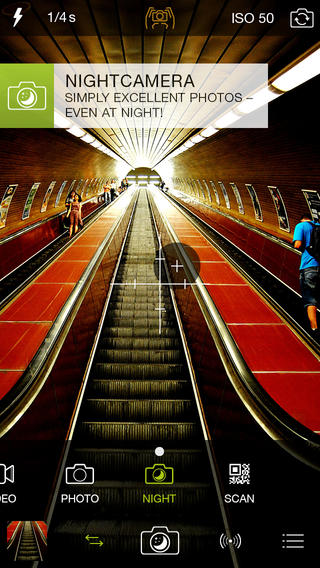 ProCamera is an impressive and one of the most popular photo app for your iPhone. You can get it for $3.99. The app has decent interface which reminds that of a standard iPhone camera app. There are 3 shooting modes you can choose from: photo, video, night. The Night mode lets set a longer shutter and get quite interesting pics in low light conditions. You'll also find a Motion button that is necessary when you need to take a pic of a moving object. ProCamera HDR will shot the photo in the moment when your hand is steady enough.
Among other features you can find exposure and photo separation. That means that you can focus ProCamera HDR on one object (by tapping on it) while the exposure level will be set on another.
The app also contains 76 filters to adjust your pic, rapid mode that lets take 10 shots per second and a great many other options to explore.
What other camera apps do you use?
Comments
comments