Keeping a diary is still a popular habit nowadays. With multiple portable gadgets, it's no longer a problem to write down your every thought or memory at the first onset. No doubt, you may have an online diary or journal, but this means that you have log in into the browser each time you want to access it. It might be a time-consuming procedure for those who want to start writing asap. That's why various apps for iPhone and Android are a good solution here. Have a look at the best diary & journal apps we tested for you.
SEE ALSO: 26 Free Texting Apps for iPhone for Round-the-Clock Talking
SEE ALSO: 10 Funny Apps to Make You Burst into Laughing
5 Best Diary Apps for iPhone & iPad
Let's start with diary apps for iOS devices. You'll find the best free ones below.
Day One

Day One is one of the most famous journaling apps for iPhone which has firmly established at the top for several years already. With it, you may create up to 10 diaries with different designs and add up to ten pictures to each entry. When you create a new note, the app automatically adds a bunch of metadata to it, including your current location, the music you're listening to, your emotions, the weather data, tags and time, etc.
Day One allows you to lock the secret entries with a Touch ID passcode. Besides, if you want, you can export all your diaries in PDF and back up them on your PC or a flash drive. You can also set up custom reminders to help you fill that journal with text every day.
At the moment, the app is free.
SEE ALSO: Best Password Managers: Dashlane, KeePass, Passkeeper
Pros:
multiple diaries;
automatic metadata;
free;
password;
reminders.
Cons:
Moment Diary Tale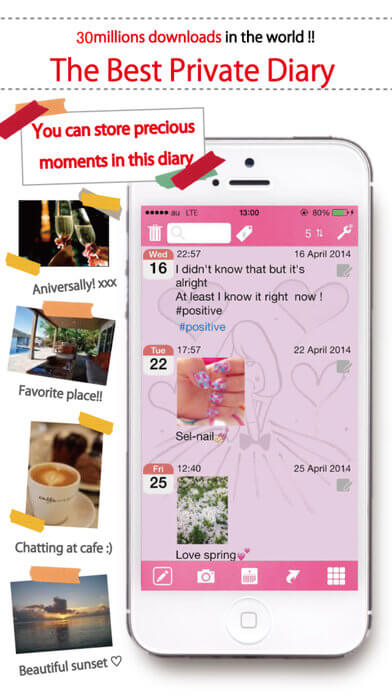 Moment Diary Tale is a diary app especially for young girls who appreciate design in pink colors and easy-to-use layout. There are not many features actually, but this is rather an advantage. All the notes are totally private and won't be published elsewhere, unless you do it yourself.
The app adds a timestamp to each note. It also counts the number of words you type, shows your entries calendar, and lets you add numerous photos to posts, e.g. take photos of your food or daily travels. You can export your notes to your email, back up and restore them from your PC or Mac. Of course, a 4-digit-password protection is available.
Moment Diary Tale is free. Still you may enrich the app design database with paid backgrounds and stickers.
Pros:
free;
password;
fast export.
Cons:
simple layout;
paid stickers.
Grid Diary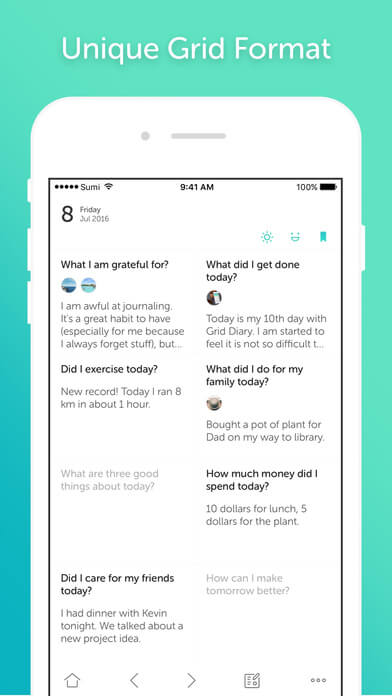 Grid Diary is a well-designed diary app with intuitive interface. All the posts come in grid format what is pretty unusual but comfortable. Naturally, you can add pics to your notes and select a personalized template. What is great, the app provides a full-text search, thus it'll be very easy to find an old post.
The free version lets you backup and restore the entries within the app. While in the paid version ($4.99), you can export your posts to Dropbox and Evernote. The password protection is available in the paid version as well.
To cut a long story short, Grid Diary is a nice personal journal app that is perfect for those who want to have something simple and stylish.
Pros:
Cons:
paid backup to cloud storages;
paid password protection.
Diaro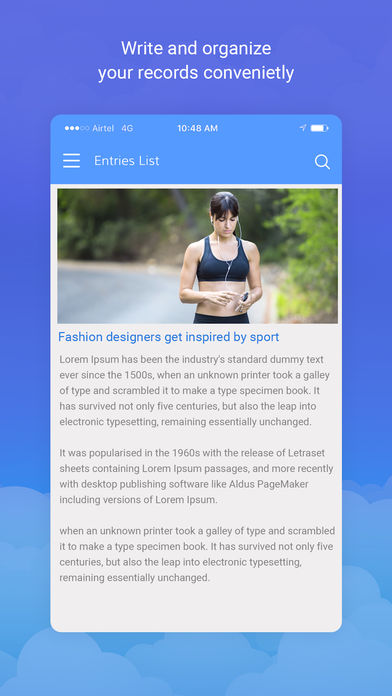 Diaro is another free app which is very similar to Day One. With it, you get one notebook filled with all your entries, a powerful search, and the ability to access your notes from a browser. You may organize your diary entries using folders, tags and locations and add photos and videos to them.
Please note that the free version of Diaro includes ads. The paid one without ads costs $4.
Diaro is good choice if you're just looking for a simple journal app without a lot of features.
Pros:
Cons:
advertising in the free version.
Momento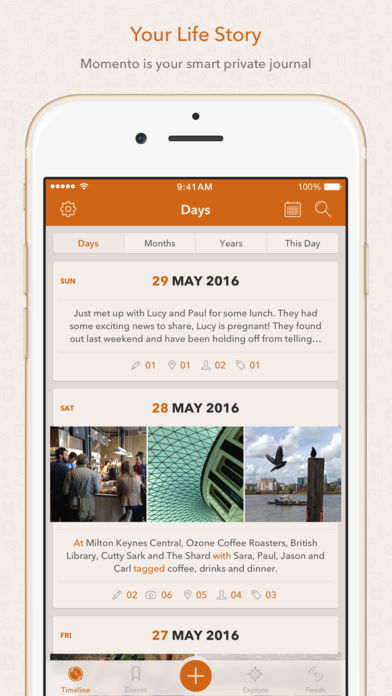 Momento is a smart private journal app that helps you collect your memories. With this app, you can not only write down your memorable moments in just a few taps, but also automatically capture your daily activities, posts and photos from social networks, other apps and devices. Each moment is automatically organized into a beautiful private journal that chronicles your whole life and stays up to date effortlessly.
The app is free for iOS users. This is also PRO version available.
It's a good option for people who used to keep all interesting things and ideas in one place.
Pros:
automatic activities capturing;
custom reminders;
search.
Cons:
paid password protection.
Top 5 Diary Apps for Android
Now let's check what popular diary apps for Android you may use for your aims.
Journey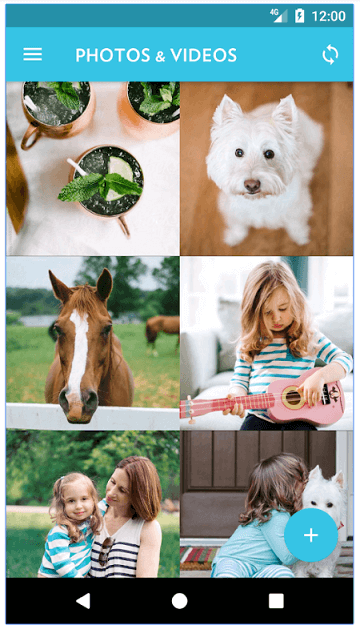 Journey is a stylish diary app for Android that is also available on Chromebook, Mac and Windows devices. The app makes it easy to add entries with visual content. You can also look through your previous notes with a calendar view, or an atlas view that shows your notes based on the location. All the entries are stored in Google Drive. Everything is intuitively laid out.
"Embark on the journey of self-improvement towards better qualities of love, life and health" – the description of the app says. In fact, with Journey, it's simple to capture every moment of your life and keep your private memories forever.
The app is free. There are some in-app purchases which include a night mode and Markdown support.
Pros:
cross-platform;
various view modes;
simple to use.
Cons:
Penzu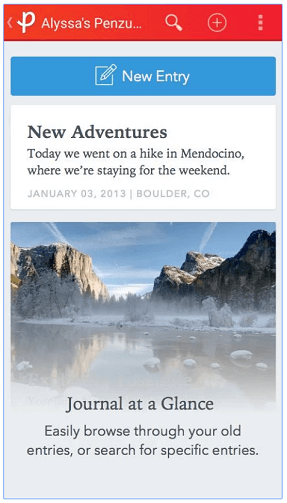 Penzu is a popular all-in-one free diary, journal and notepad. The app lets write entries in a single journal, set reminders, and lock the journal or the whole app with a password or PIN code.
The app also has a web-based version. So you can access your diary from any web browser and other devices.
The app is free, Pro version (that lets you create more than one journal with the ability to lock them with different passwords) starts at $4.99/month.
It's a good choice for those who appreciate minimalism in mobile apps.
Pros:
password;
reminders;
web version.
Cons:
Dream Journal Ultimate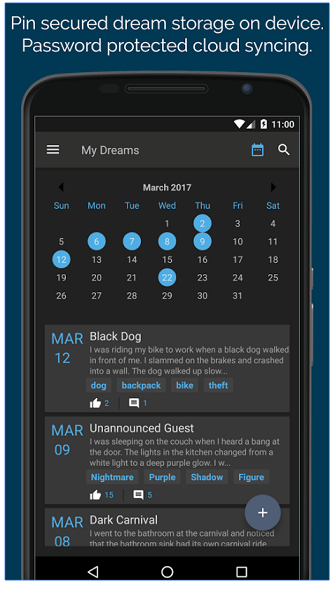 Dream Journal Ultimate, as its name suggests, is specifically oriented on storing people's dreams. The app has a feature called Dream Wall where you can read, like, comment dream journals from other app users. You may also share your dreams on this wall by checking the respective option. To help you remember to write an entry every day, there is an option called Dream Journal Reminder. The app lets secure your dreams with a password and sync dreams across your devices.
This app is free for all Android users.
Pros:
original idea behind;
reminders;
free;
password.
Cons:
Narrate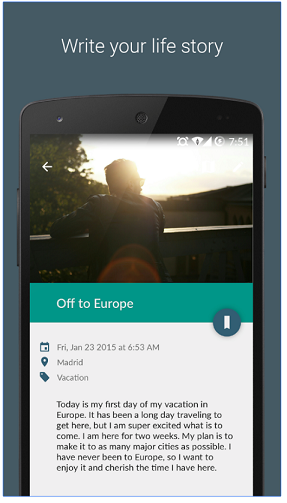 Narrate is an open source app created to record users' thoughts, experiences, and ideas. The interface is minimalistic, still all the basic features are present. You have the ability to add entries, add multimedia content and geo-targeting to them, back up notes to Dropbox or Google Drive and even set reminders for posting. The photos that you take within the app are automatically saved to your camera roll. Narrate comes with a useful feature that lets you restore deleted items.
The app is free, provides several in-app purchases. It's a good choice for students.
Pros:
reminders;
backup & restore;
metadata.
Cons:
Universal Diary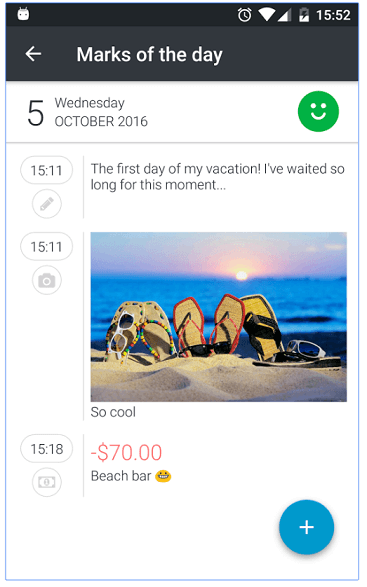 Universal Diary is not very different from the previous diary apps. It allows you add entries with photos and videos (learn here how to convert  AVI files to MP4 for that), set a reminder for creating an entry at a particular time, and lock your notes with a password. Besides, you may export the whole journal to PDF and back up the notes on a SD card or Google Drive.
The app is free. It'll be useful for people caring about backup and security.
Pros:
reminders;
free;
export & backup.
Cons:
And now, do you keep a diary? What app do you prefer? Share your thought in the comments below.
Comments
comments