Akinator is a well-known web genie who claims to know who you are thinking about. Akinator asks a series of questions and then attempts to guess which character the player is thinking of. The accuracy is stunning. Is it really possible to cheat the genie? How does it work? Let's figure out.
SEE ALSO: 20 Funny Things to Ask Google Now
SEE ALSO: 10 Addictive Facebook Games to Play with Friends
A bit of history…
The game is based on the artificial intelligence program created by three French programmers in far 2007. The idea of the game came up to them during their trip to the East. Soon after the launch, the web app became popular worldwide. In 2010, first mobile apps representing the game appeared.
Akinator is now available FOR FREE on iPhone, Android. There is another VIP version which is paid ($1.99) on the above mentioned platforms and serves the same functionality but without any ads.
The web version is also free. On Windows Store there's only a paid version ($1.99).
How to play Akinator?
Step 1. Go to akinator.com or install one of the apps onto your mobile device. Enter your age and hit the Play button.
Step 2. Think of a popular character. It might be an actor, musician, politician, sportsman, TV star, YouTuber, etc. The person may be real or fictional, e.g. a cartoon character.
Step 3. Akinator will ask you a series of questions, with "Yes", "No", "Probably", "Probably not" and "Don't know" as possible answers. Answer them as frankly as possible.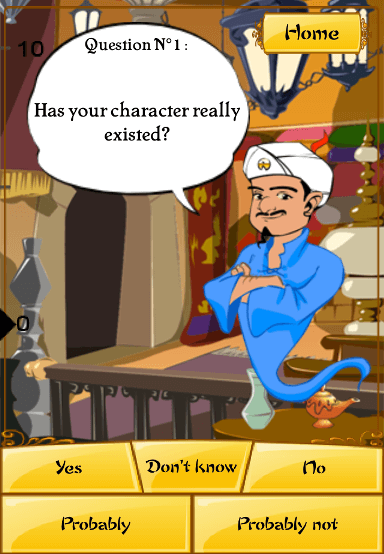 Here are the typical questions it asks:
Is your character a male?
Is your character a real person?
Is your character American?
Is your character living?
Is your character a singer?
Is your character into politics?
Is your character currently more than 30 years old?
SEE ALSO: Siri Answers 60+ Funny Questions
Step 4. Akinator will ask you up to 25 questions in order to guess your character in mind.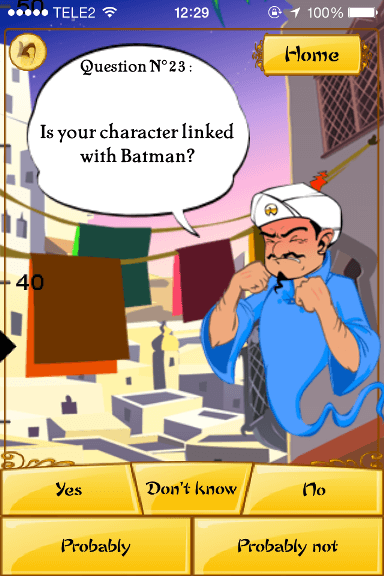 SEE ALSO: How to Put Your Videos & Cartoons on DVD Disc
Step 5. Then it will automatically ask if the character it chose is correct. If the character is guessed wrong three times in a row, then the game will ask the user to type the character's name in order to expand its database.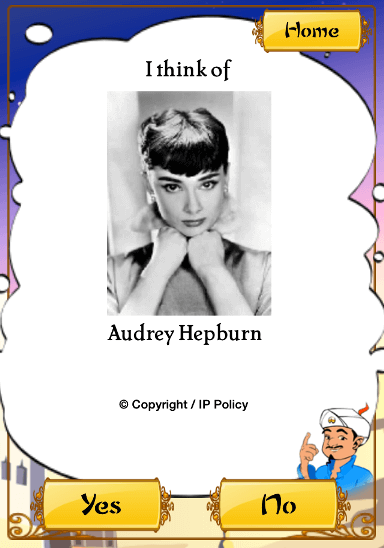 Step 6. When the character is already guessed, you will receive the statistics about how many times it has been played and the date of the last game. You may boast of your results on social media and start the new game asap.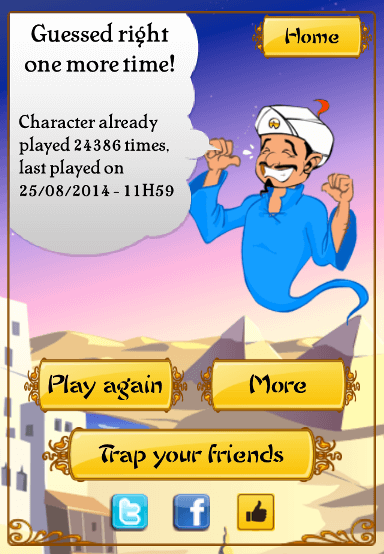 How does Akinator work?
Akinator is quite an impressive time-killer, but the first question people ask when they encounter the game is "How does it work?". How is it possible that a program can guess seemingly any person accurately by simply asking up to 25 basic questions.
According to the site's Frequently Asked Questions section, "Akinator uses the program Limule published by Elokence.com. The algorithm we use is an original creation. How we created it is our little secret." Not much information, really.
But there are some clues in the game itself. In the rare instances when the game doesn't know who you're thinking of after a series of questions, it asks you to upload your character's photo and name in order to add it to its database. With millions of users worldwide, it's a good point to expand the database as much as possible.

Cool options & tricks
In the Settings, you can select the required language for the game. Akinator is supposed to speak 14 major world languages.
You may also create My World of characters and add your characters that are not found.
If your kids play Akinator, too, don't forget to turn the children protection on.

At the end of a game, once Akinator has guessed your character, you can suggest a new question for it by clicking on Add a question. You will have to enter several keywords from your question. Should your question already exists, you could select to add info to it.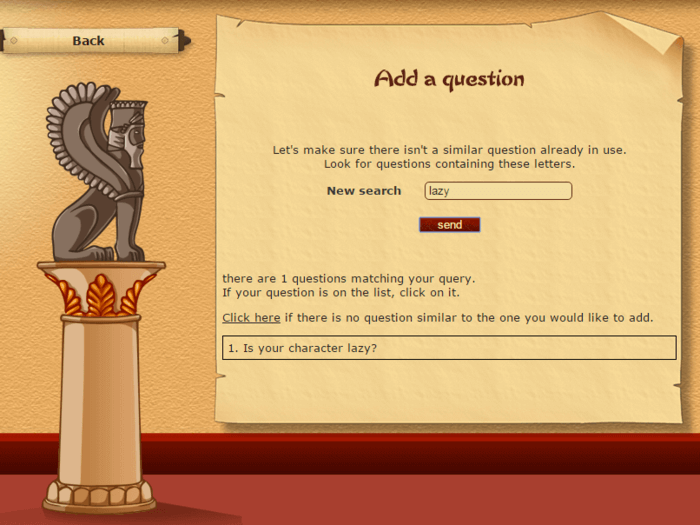 If your question does not appear in the list, hit Click here to add your question and add info to it.
In case you want to cheat Akinator, it will also figure this out quite easily. For example, when you randomly choose answers, the app will tell you about this. Akinator will also guess if you thought of yourself or your family members. So if you really want to defeat Akinator, think of a not so popular character and reply correctly all the questions.
Bonus! If you're a gaming addict & love browsing Twitch clips, learn how to save them fast & easily here.
Good luck to cheat Akinator! Please write what you think of the game in the comments below.
Comments
comments