Karaoke is a popular entertainment for amateur singers or just when you're bored. You usually sing along with recorded music, with lyrics displayed on your screen, and then get your singing assessment. Everyone can sing karaoke at home using a DVD player, special karaoke system or just a PC. The last option seems the most popular one: you can sing karaoke online on special websites or download karaoke songs off the Internet and play them with free audio software.
In this post we'll guide you through:
Top 3 Sites to Sing Karaoke Online
YouTube
YouTube is a great video sharing site to find thousands of free karaoke songs uploaded by other users.
The good:
it's free to sing karaoke online;

you may download any karaoke songs for free with

Freemake YouTube Downloader

;

it's possible to find almost any song in karaoke version.
The bad:
you won't get your singing ability assessed;

most karaoke videos are of 240p or 360p quality, with white lyrics on black background;

a lot of annoying ads on free karaoke videos.
RedKaraoke
RedKaraoke is the largest karaoke community on the Web. Sing up and get access to thousands of online karaoke songs updated every week.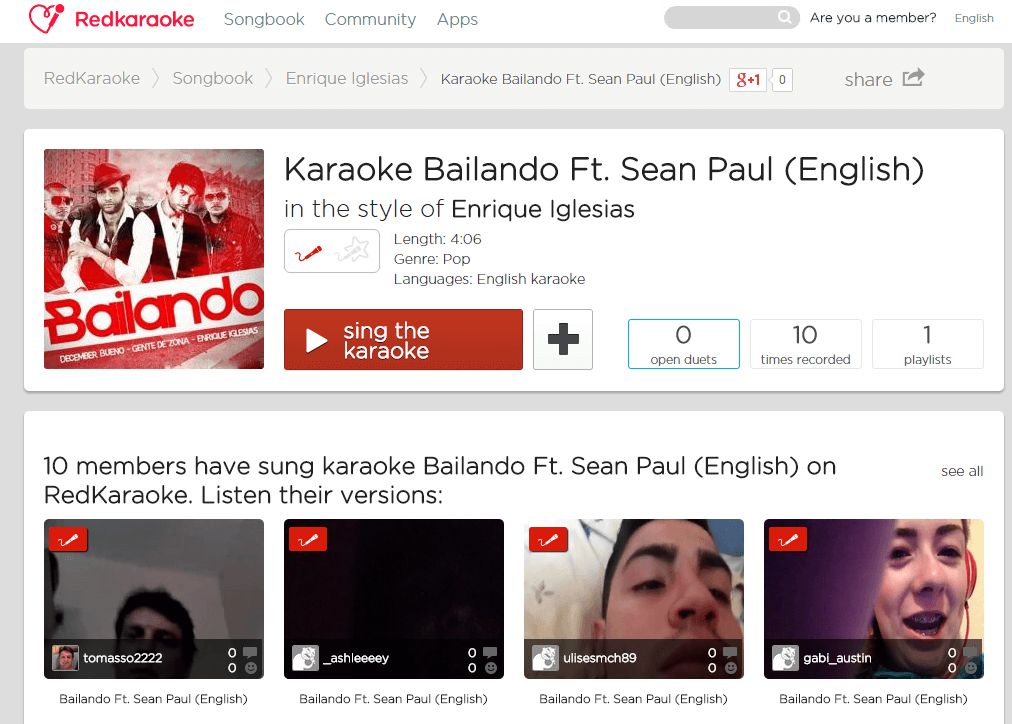 The good:
 45,000+ karaoke songs for online singing;
high quality karaoke music;
VIP membership fees start from $1.99/week;
possibility to record your singing and upload your recordings to the library;
you may follow your favorite musicians or other members and post comments;
apps for iOS, Android, Windows Phone, Smart TV.
The bad:
no free or paid downloadable karaoke songs;
you have to sign up;
Adobe Flash Player is needed to sing and record karaoke in real time.
Karasongs.com
At Karasongs.com you may find and sing online any karaoke song from YouTube.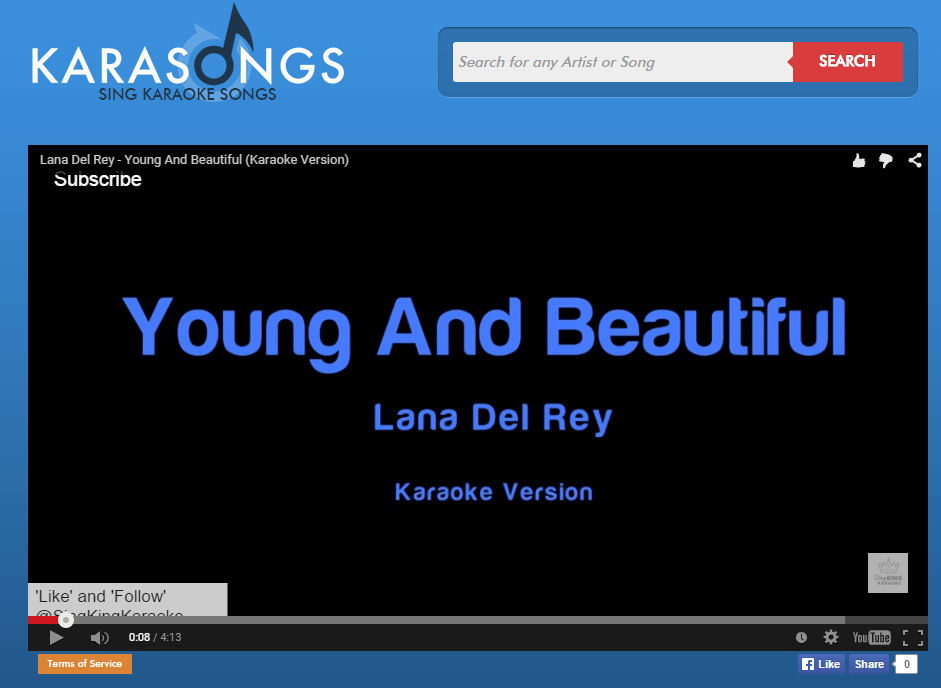 The good:
fast and easy search for karaoke songs;
already filtered and selected karaoke versions of popular songs;
mobile-friendly site for phones and tablets.
The bad:
too much advertising (both on site and YouTube player);
no download optopn as advertised;
slow load times.
How to Download Free Karaoke from YouTube
Step 1. Download and install Freemake Video Downloader.
Step 2. Go you YouTube, find a karaoke song you want to download and copy its link.
Step 3. Insert the link into Freemake Video Downloader.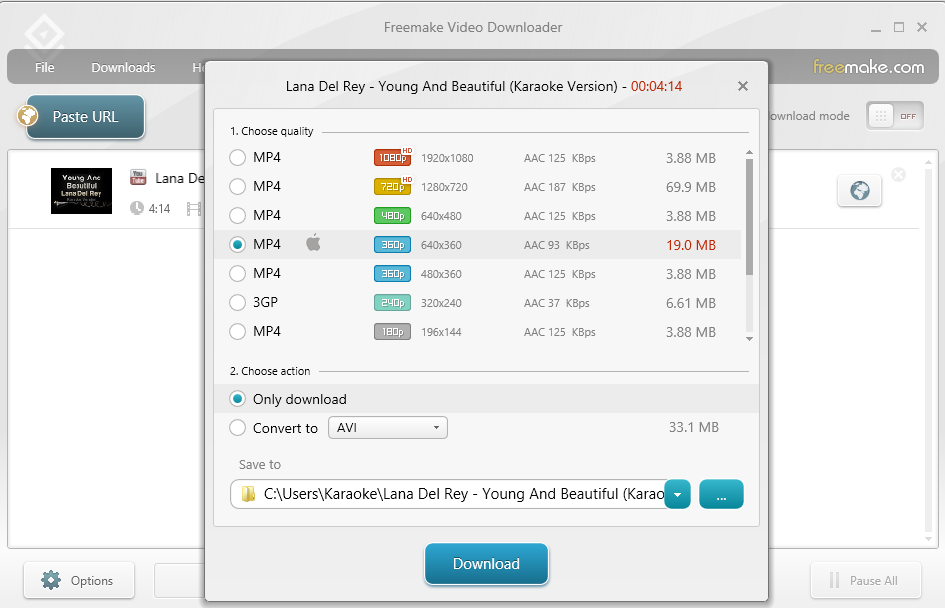 Step 4. Choose the video quality you need.
Step 5. Click "Download" button to save the karaoke video.
3 Best Sites to Buy Cheap Karaoke Songs
The Karaoke Channel
You may download, sing, record, and share karaoke on The KARAOKE Channel. The website has a plenty of karaoke songs to choose from and offers users different kinds of membership.
To get a karaoke song from The Karaoke Channel, you need browse the karaoke list and buy a track you want. Then go Digital Locker (Download Store) of the service, select your song and left-click on a downloadable format (MP3, MP4, WMV) and click the "Save" button to finish download.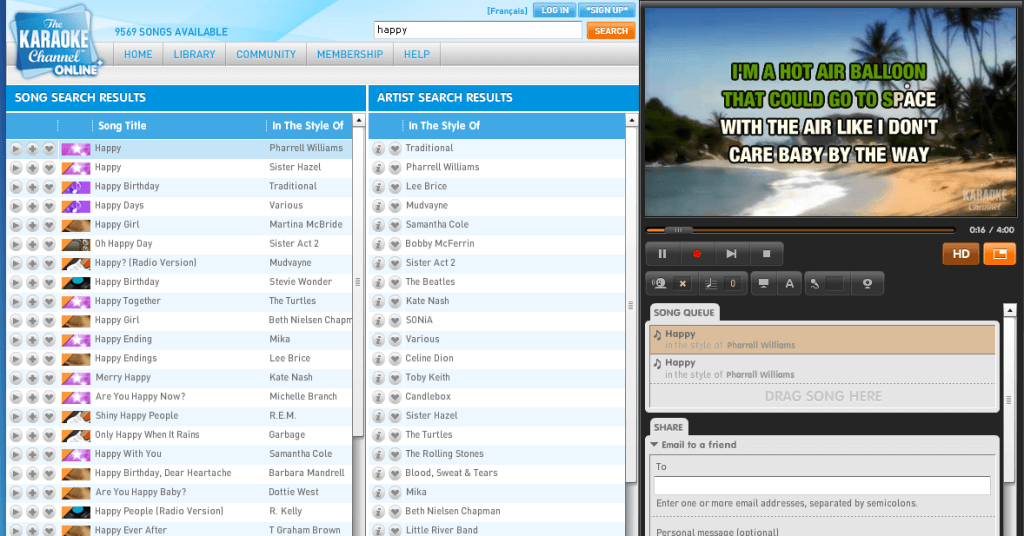 The good:
 8,000+ songs library;
you may sing karaoke in real time, so that other site visitors can see you;
online membership fees start from $4.95/two days;
you can record your karaoke singing;
besides video karaoke files with scrolling lyrics, there are available MP3 samples for music players;
there are The Karaoke Channel apps for iOS, Android, Smart TV, and Xbox.
The bad:
downloadable karaoke files cost $1.45;
black screen as a video background.
Karaoke-Version
Karaoke-Version.com is a popular site with instrumental MP3s. Besides, it offers popular karaoke videos in different languages and of all possible genres. Most of them are paid, though there's also a collection of free karaoke videos.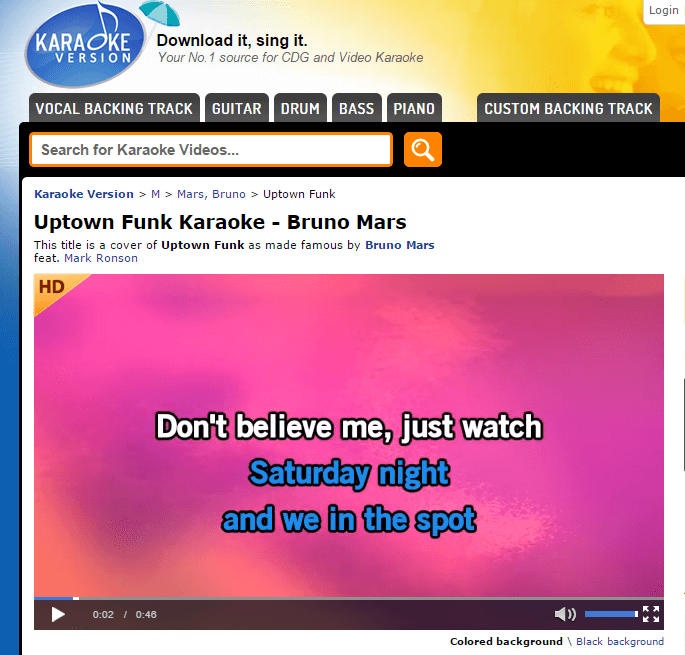 The good:
130+ free and high quality karaoke videos available;

easy-to-navigate karaoke catalog;
the files are downloaded in WMV format;
videos have beautiful backgrounds.
The bad:
most popular songs are paid ($2.99);

signup is needed to download files.
Karafun
Karafun is a free software with over 20 thousands of karaoke songs. Just download and install the program, sign up and enjoy your favorite karaoke music.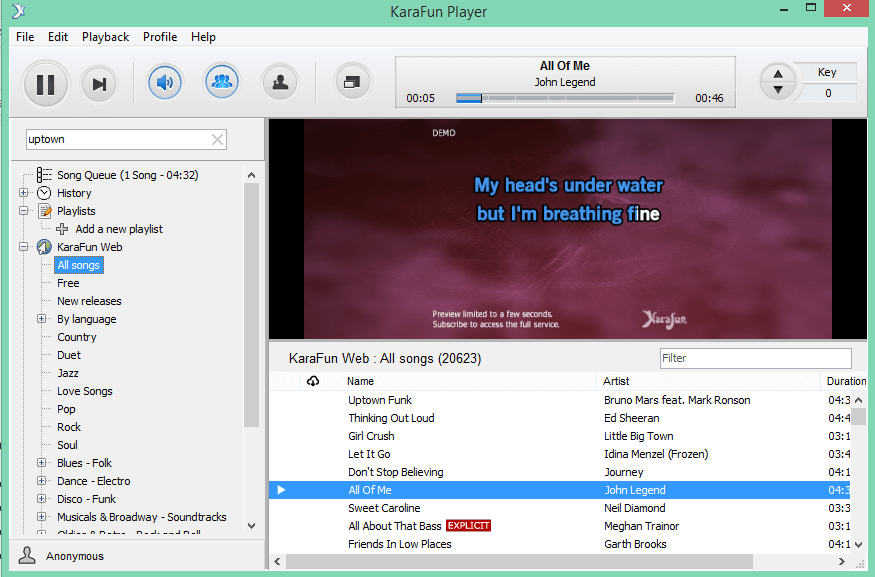 The good:
impressive karaoke collection;
high quality music;
a plenty of setting to customize to individual singing style;
song queue;
possibility to save playlists for offline singing.
The bad:
only demo versions without signup;
pricing plans starting from $5.99 for 2 days.
Bonus! 20 All-Time Karaoke Hits
In case you don't know which karaoke song to sing tonight, have a look at these popular karaoke songs of all time.
#20 Bruno Mars – Grenade
#19 Alicia Keys – If I Ain't Got You
#18 Bon Jovi – Living on a Prayer
#17 Radiohead – Creep
#16 Guns 'N' Roses – Sweet Child O' Mine
# 15 Madonna – Like a Prayer
#14 Cranberries – Zombie
#13 Britney Spears – Baby One More Time
#12 Bruce Springsteen – Born in the USA
#11 Ricky Martin – Livin' La Vida Loca
#10 Let It Go – Theme from Frozen
#9 Salt N Pepa – Shoop
#8 The Eagles – Hotel California
#7 Celine Dion – My Heart Will Go On
#6 ABBA – Waterloo
http://www.youtube.com/watch?v=kEsjWi1SxVQ
#5 Queen – Bohemian Rhapsody
#4 Adele – Someone Like You
#3 Joan Jett & The Blackhearts – I Love Rock N' Roll
#2 Al Green – Let's Stay Together
#1 Michael Jackson — Billie Jean
Further reading:
Comments
comments