School teachers use Animoto.com for education in video slideshow making. Thanks to Animoto simplicity, in 5 minutes kids get awesome online video production experience. The web service lets mix photos, music and videos and turn them into a multimedia presentation that students may show to all class. Absence of software installs, high quality stock photos and inbuilt legal music for slides, fast rendering make Animoto an ideal educational tool for XXI century classrooms. Let's uncover how you can set up Animoto for Education plan.
What is Special in Animoto for Education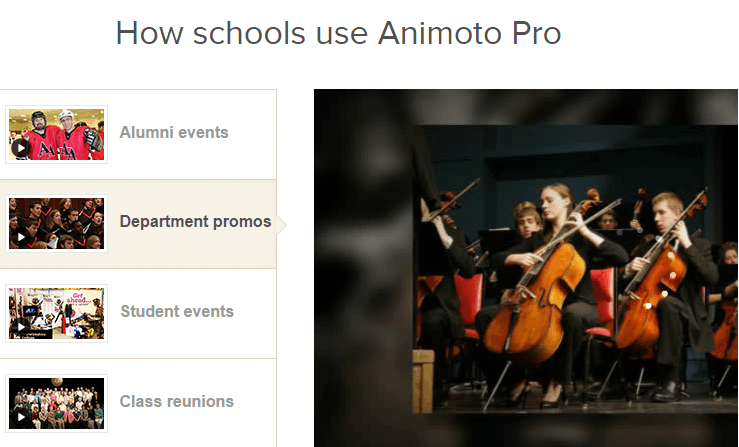 Animoto for Education grants access to Animoto service free of charge to students and teachers with a few limits for 6 months. You have to renew your teacher license each half of the year. Each teacher master account can hold up to 50 student accounts. Each student might upload videos up to 10 minutes in length, with 1 song, and up to 300 photos. Students may download final videos at 360p resolution (non-HD), choose among 50+ basic video styles and 500+ audio tracks.
If students or the teacher want to get more options, then you need to pay and upgrade to Pro account type. No ads are displayed within students/teacher accounts. It's safe for school use.
How to Apply for Animoto for Education
To apply for "Animoto for Education" program, you have to accept Animoto Educational Terms. The agreement states that teacher bears all responsivity for all activity what's going on in students' accounts. A teacher should provide a school email and create a master Gmail account for communication. Teacher must register Animoto accounts for students. Terms clearly require not to use students' names, or any personal details. So, if you have 50 students, you have to make 50 Animoto accounts for students with credentials like "Student 1", "Student 2", "Student 3", etc
SEE ALSO:
How to set up free education Animoto accounts for students
How to create a master Gmail account for Animoto use
How to Get Animoto Promo Code

When teacher application is accepted, he/she is given an Animoto promo code that activates all students' accounts. So you have to enter the redemption code in each account. Unfortunately, Animoto doesn't provide teachers with an easy way to create a school Animoto account. That's why it takes time and a lot of manual work from teacher's side. But when you're done with it, the rest will go smoothly.
How to Make Videos in Animoto
Animoto is one of simple photo to video makers; here's a full list of slideshow makers. In fact, Animoto converts your images, media, and music into a video file. Follow these steps to create an Animoto video:
Log into Animoto account. All students can login into their account simultaneously. Their accounts are independent.
Select a template or style as it's called in the web app.
Add photos from Animoto collection, or from school PC, Dropbox, Google Drive, etc.
Arrange images by drag and drop.
Add a music track from Animoto library.
Finalize your video and wait a few moments while it's being rendered.
Download video onto computer, upload to YouTube, burn to DVD with our free DVD burning software, or embed on your school website.
Seems simple, right? See Animoto video slideshow in action!
We decided to ask Becky Brooks, Marketing Manager at Animoto, to tell us in her own words why teachers should prefer Animoto to other animated video makers.
What makes Animoto so different?
The quality of video and ease of use is what makes Animoto stand out. Animoto offers dozens of video styles hand-crafted by motion designers who have worked in TV and film. The sleek interface on their website and iPhone & Android apps make it very easy to create something spectacular with your photos, video clips and words. We feel very driven by the idea of inspiring and empowering people to share their lives using the magic of video. We have leveled the playing field and brought awesome video creation within reach for anyone with a few photos and a few minutes. See Animoto video slideshow in action!
Do you feel pressure from your peers like SmileBox or YouTube video editor?
The biggest pressure we feel is to push ourselves to create spectacular features and video styles so that our customers are as empowered as possible to share their lives with video. The customer experience is our focus.
SEE ALSO: Compare Animoto to SmileBox and YouTube video editor
If you look at YouTube videos, most of them have no video polishing at all, but millions of views. So is video editing in high demand?
There are indeed tons of incredibly popular videos on YouTube that weren't edited much (or at all), but Animoto is geared more toward creating something you'll want to share with people who mean the most to you – not necessarily everyone. When it comes to important moments like weddings, birth announcements or photos of your kids growing up, we feel having something fully produced is great not only for sharing, but for posterity's sake.
Now almost everyone has an iPhone or an Android phone with a video camera. But why doesn't Instagram for video exist?
With video, you have to have a much more vested interest in watching than you do when you look at a photo. Looking at a photo is fairly passive, whereas with video you have to click and commit to watch. So the mediums of photography and video are just very different both in terms of creating, sharing and consuming. That's probably why there hasn't been an "Instagram for video" yet.
The last, but practical question. Can you share some video shooting/editing tips with Freemake Blog readers?
Always, always, always shoot video horizontally. Video just looks odd when captured vertically.
SEE ALSO: if you happen to shoot a vertical video, use Freemake Video Converter to rotate video!
Try to find something your video capturing device can stabilize on or stay as still as you think you can when shooting as shakiness is definitely not a good thing when it comes to video! You don't need to shoot tons of video to have something really powerful. Most people's attention spans are pretty short, if you have the same shot on screen for too long, the average viewer will grow bored. So definitely be cognizant of how long the same shot is on screen. If you watch TV or film you'll be amazed once you start counting the number of cuts you see within even a 30-second clip of a show or commercial.
SEE ALSO: How to Cut out Commercials from Videos
SEE ALSO: Try our New Free DVD Ripping Software
If you feel convinced, try Animoto for free!
Comments
comments