As you know, Freemake Video Converter is an ultimate freeware for video creation. It edits videos and adds music to your soundless video files. We constantly get one and the same question from novice video directors: "where to download free music for my videos". The same problem bothers PowerPoint presentation makers as well. It's easy to understand your concerns and fears because of all the copyright scandals.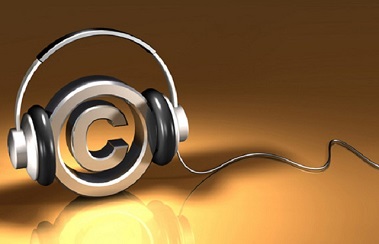 If you use someone's track for your YouTube or commercial video or as a background music for your site without the owner permission, you can get legal issues. If it's YouTube, your video will be deleted and account might be banned. If it's a commercial product or a site, the song copyright owners may sue you and charge extreme fees for each video view. To avoid such awful consequences, you should know that there is free royalty free music under Creative Commons License or custom proprietary licenses. Applying free royalty-free music to your creations, you'll be safe and sound.
SEE ALSO: DRM-protected Audio: All Things You Should Know About It
However, there are several things about royalty free music you should bear in mind:
Royalty free music doesn't have to be free in terms of payment. The sound creator might charge a one-time fee or monthly/yearly subscription for usage of a song.
There are a few versions of Creative Commons License, so you should check which is attributed to your file and read it. Some versions require only a web link or credit for song usage, other licenses don't permit business use, and others don't allow you to sell derivative works out of original tracks.
If you see a track on public domain that requires a credit in exchange for the video production and you can't provide it, you'd better select another music service.
Sometimes YouTube Content ID system blocks even free royalty free music, so be ready to give a link to the license in dispute with Google.
Today, we present top 10 websites and apps which permit to download royalty free music, free background music for videos, free music samples, loops and songs for your videos & YouTube masterpieces.
1. Audiojungle
Audiojungle is a royalty free music stock ideal for commercial needs. Like photo stocks, Audiojungle is a marketplace where professional musicians sell their works as royalty-free files. Each author sets a proprietary license and restrictions for a file, so make sure to check it. There are over 21,000 music tracks, samples, loops, sound effects and a flexible search filter. So you can pick a desired price, tempo, length, vocals, category. Obviously, all audio files are paid, but there's a special section called "Free files". Here each month you can download a high quality audio track free of charge. So don't miss this opportunity!
2. Freemake YouTube Converter
Freemake YouTube Tool is a better option for personal use or non-profit offline sharing. The program grabs YouTube music videos and turns them into MP3. Later, you can add music to a video with the help of Freemake Video Converter. Unfortunately, the software can't differentiate royalty free and non-royalty free tracks, so it's not a good solution for business.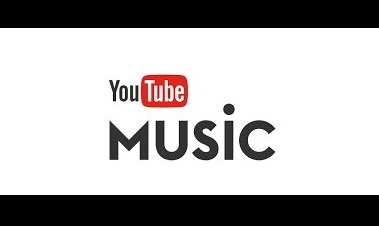 3. YouTube
If you plan to prepare and upload mute photo slideshow to YouTube, then you can use a substantial YouTube Audio Library. Go to YouTube video editor, select your video and switch to video editing mode. Here you should click the Audio tab and search for free music. Don't forget to save your video editing results. YouTube fulfills the library with a huge number of tracks that match YouTube policy. If you add any of these songs to your video, your account should be safe. However, ads may be displayed above your video and a song credit will be automatically shown in the video description.
SEE ALSO: How to Remove Audio from Video
4. Jamendo
Jamendo has a vast collection of free legal music as we told you before. However, there is a music stock of royalty free tracks for commercial use. Click the Explore Catalog button and start browsing by genre, tags, mood, speed, duration, language. The cool thing about Jamendo search is the ability to find similar tracks with one-button click. It will let you enlarge your suitable tracks list. Next to each track you can see its license: personal, standard or large.
5. Vimeo
A top YouTube competitor, Vimeo offers dozens of royalty free music files on sale, see the full description in our previous post. Visit Vimeo Store and click the Advanced Filters link under the Search button. Then, among licenses select a Creative Commons License type that suits your needs. Thus, you'll narrow your search results with only right tracks.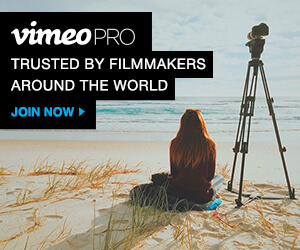 6. Last.fm
Although, Last.fm streams music, it has special section called Free Music Downloads. Here you can get folk, classical, rock or pop music in MP3 format. There are no filters or search options, just a long list of songs. All 220+ tracks are of good quality and pretty lengthy for 3-4 minute video footage. However, Last.FM Terms don't say anything about tracks distribution or further use. So no one guarantees that your account won't be compromised if you upload your video with Last.FM free audio to YouTube or Vimeo channel.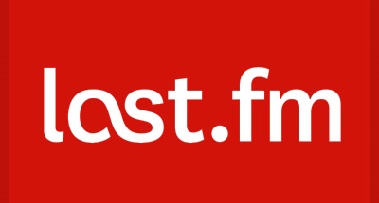 7. SoundCloud
Another place to get free royalty free music with a clear license is SoundCloud Creative Commons Group. Here you can download tracks for $0 which have the Download button on the player. If you click any song title, a new page with full track description and license type will open. Please be aware that certain tracks are permitted for commercial use and others are not. So click on the Creative Commons License sign under the description and read the details.
8. Media College
Media College is a well-known site among all video editing amateurs. Here you can find many tutorials on video editing, ask questions on the forum, and get free media files. Among them, Media College has several decent audio tracks for your use, so check the Music, Sound effects and Audio tones pages. Fortunately, all files go as public domain items. The site policy states: "If a file's permission type is listed as "Public Domain" or "PD", this means the file is completely free of copyright, royalties and attribution obligations. You can download the file and do whatever you like with it." Isn't it a perfect solution for video creators?
9. Partners in Rhyme
Partners in Rhyme website hosts free WAV music loops ready for YouTube use. The site owners keep a permission for YouTube use above tracks to prevent any YouTube disputes. Thus, don't forget to save a copy of this policy and a music sample onto your computer. The process is as easy as it can be: right-click on a sample and select the Save link as… option in your browser. Besides, Partners in Rhyme allow you to use the loops in any commercial project, including TV and movie broadcasting with a credit to their site.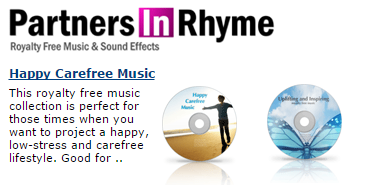 In case the format of the downloaded music doesn't match your goal, feel free to change the container with our Audio Converter free & fast.
10. TemplatesWise
TemplatesWise also offers free music loops for slides for personal and educational use. However, the owners of the website have already converted all music into MP3 for you. Thus, you need to pick up a category on the website homepage like dance or jazz, choose an audio track and click the Download link among Tags. Please note that you have to give a credit to this site, if you take TemplateWise loops. An example of embed code is available under each track.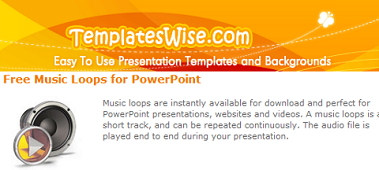 8 More Royalty Free Music Sources
Surely, the list of background music sources for videos can be endless. Many musicians offer royalty free music files on their personal sites free of charge or for a small fee. For example, audionautix.com and joshwoodward.com. We also recommend exploring options at:
incompetech.com
dig.ccmixter.org
freemusicarchive.org
musopen.org
brainybetty.com
freepd.com
And where do you get music for your videos & slideshows?
Comments
comments