Video production is not an easy and cheap matter. A short video for your YouTube channel or website may cost several thousand dollars if you address to professional video studios. No doubt, there are free and low-cost alternatives which can be easily mastered by any web user. A self-made cartoon or an animated video is one of the options.
Animated Video Makers: Pros & Cons
Animated videos are illustrations existing in a purely fictional world. They don't have actors, set and stages. But this doesn't prevent then from telling great stories.
Animated cartoons are frequent on YouTube, since everyone can make them with online tools and ready design templates. The templates include characters, scenery, voices, music and sound effects. You can even cartoonize yourself. Marketers, freelancers and business owners can easily tailor the styles for their own needs.
So you don't need to order a professional cartoon from a design studio or draw it yourself. Online cartoon makers are easy to use and will save you a lot of time and money. Here are more advantages they provide:
animation templates look professional;
you don't need to dub videos;
templates are usually done in high resolution;
pricing plans are scalable;
characters look engaging and funny.
However, there are several disadvantages:
the more difficult a template is, the more it costs;
you can hardly go beyond the designed scenery;
sometimes you should adjust the plot of your video to template possibilities;
learning curve is rather complicated.
Animated videos can easily help reach your goals, as this format is highly versatile and flexible.
Top 7 Cartoon Makers
To tell the truth, there are not so many affordable solutions to create a cartoon yourself. I tested around 15 animation makers and sorted the best of them. See the results of the comparison in the table below.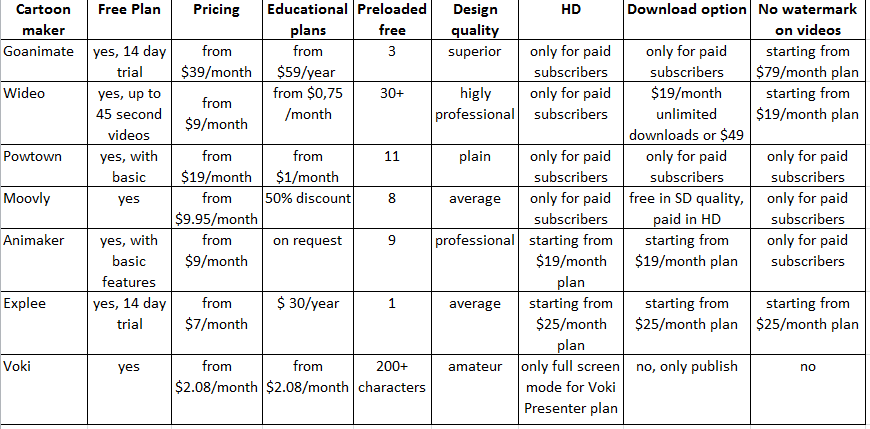 Alongside with personal and corporate plans, every tool offers a special discounted subscription for educational institutions. So those cartoon makers can rightly referred to the best tools for teachers and students.
Now let's review the solutions in detail.
1. GoAnimate
GoAnimate is a very popular cartoon maker. You don't need to have any special video production knowledge to make most of it. The final videos look like professional cartoons.
If you register an account, you'll get 14 days of GoPremium Plan which costs $79/month. The plan allows you to make Full HD videos and easily export them. A cheaper GoPublish plan leaves a GoAnimate logo on the animations.
How to make a cartoon with GoAnimate?
Sign in and click the orange Make video button.
Select a pre-loaded theme: "Business-friendly", "Whiteboard Animation" or "Business as Visual".
Go to the video maker and bring your cartoon plot into life. Choose characters, props, background, music, etc.
View GoAnimate tutorials to get extra tips.
Add extra scenes and set duration for each of them.
Once you're ready, click Save, pick up Save and close and you'll get to the video export options.
Choose what you want to do with the video: dowload as MP4, post on YouTube, share in social media, send the video via Whatsapp, etc.
Note! Free trial plan allows you only to copy and share the link to the video. If you don't want to pay, you may use Camtasia to record the video. However, a watermark will be present.
SEE ALSO: Watermark a Video Free: How to Add Custom Branding to your Clips
Resume: Goanimate is an ideal solution for small and mid-size companies promoting their products with videos. It's also good for freelancers and professional YouTubers who earn their living by video production. The only drawback is that it's expensive and free trial plan has a lot of restrictions.
2. Wideo
Wideo offers a plenty of free and stylish templates for videos up to 45 seconds. To make longer videos, you need to upgrade (from $9/month).
The templates suit well for business presentations, product promos, video ecards, showcases. You can pull your own logos and backgrounds to render your company style.
To make a cartoon with Wideo, do the following:
Sign up or sign in and click +New Video button.
Choose a free template and hit "Edit". If you want a template that marked as "Premium", first upgrade.
Name your future video.
Make an animation by adding text to slides, insert new objects, music effects, set intervals.
Have a look at Wideo guides to assist you with the editor.
When you're done, you can download the video as MP4 for $49 or buy a monthly subscription for $19.
The video will be present in your account, so instead of downloading, you may embed the ready video to your site using the ready embed code.
Resume: Wideo is perfect for business owners of all ranks and amateur video makers. The obvious disadvantage is the necessity to pay for file downloading.
WHAT'S NEXT: Best Photo Collage Makers
3. Animaker
Animaker is a stylish cartoon maker. It is a perfect solution if you don't care much about your video plot. Just add text to slides and the tool will do the rest of the job for you. If you choose the $0 pricing plan, you'll be able to create SD quality videos up to 2 minutes, without the download possiblity.
How to make a video with Animaker:
Sign up and press the Create a video button in the upper right corner.
Select a template and fill it with your content. Visit Animaker Tutorial section to get some tips and tricks about the editor.
Once you're over with the video, click Save and find the gear wheel sign in the upper right corner.
Choose Export option and upload you video to YouTube. To download a video, you have to buy at least Personal plan ($9/month).
Resume: Animaker suits small and mid-size companies and all kinds of product marketers. Affordable pricing plans are combined with decent graphics.
4. Powtown
Powtown lets create animated videos in the form of business presentations, explainers and slideshows. A free account offers 11 royalty-free styles, but it comes with a watermark on videos, in non-HD quality and with no download allowed.
How to use PowTown:
Register an account and click Start now.
Pick up a template and create a cartoon. Add text, characters, effects, transitions.
Once you're ready, click the Export and download button in the upper right corner. For free you can upload the video to YouTube or Wistia. The download option is available for premium users.
The Powtown editor seemed me a little bit slow, still the design gallery is rather impressive, it's definitely worth trying.
Resume: I'd recommend Powtown rather for students and teachers to create amateur video presentations. As for the business needs, this solution has rather plain graphics. Though it's easy to get a Powtown video from YouTube with YouTube Video Downloader.
5. Moovly
Moovly is another solution for presentation-like animated videos. The key difference from other tools is that here you can get additional sounds or objects for credits which you earn by doing simple actions like profile completion. A free account allows users to make unlimited number of videos, up to 10 minutes each, in 480p quality.
How to create a Moovly video:
Create an account and complete your profile.
Press New Moov and enter the info about your future video.
Select a style and edit the project.
After you finish, click Save and go to your profile.
Select the moov you've just created and click Details to open it.
Choose Download or Publish. To download the video for free, you need to pick up SD quality and Moovly watermark option. Othterwise, the tool will ask you to complete your billing details and proceed with checkout.
Resume: the tool is very easy to use, but the designs aren't too professional. It's ideal for educators and enterpreneurs dealing much with all kinds of presentations.
6. Explee
Explee offers only one blank template for an animated video. Still it's enough to create a basic video presentation or a product promo. 14-day free trial doesn't require any credit card information.
How to do a cartoon with Explee:
Register an account and click Start Blank
Choose a background, characters, props and make them animated.
Here is the section of video tutorials to learn Explee basic features.
Click Export and choose the video quality you want to save.
Wait a bit until the explee is being produced. After that you and get the embed code for your site or share the video link in socila media or by email. To download a cartoon, you need to buy the "Professional" plan ($25).
Resume: Explee is for the amateur video makers who don't care much about design quality and need a fast result. Plus, when I did a cartoon with Explee, I found the interactive tutorial very annoying.
7. Voki
Voki is advertised as an educational tool that creates talking characters. Indeed, it's hard to produce a real cartoon like we could do the the above solutions. However, this tool is the simplest among all reviewed here. Voki offers three different products:
free Voki for making speaking characters,
Voki Classroom ($2.50/month) for managing a class and engaging students to educate in an interactive manner,
Voki Presnter ($2.50/month) for making and sharing Voki presentations.
Whatever plan you choose, you will surely get a new experience of teaching and studing as Voki makes it very exciting.
How to create a Voki:
Sign in and click Create a new Voki.
Choose a character and tune your hero look, hair, clothing, accessories. By "give him a voice" you can make the character speak.
Change the background if needed.
When you're ready, click Publish and name your video.
Then you can send the video to a friend, share on social media or publish on your site with the embed code.
Resume: this solution fits only educational aims and can hardly be used by business owners.
All in all, I hope you make a cartoon with one of these amazing cartoon makers. Share your findings in the comments below.
Discover also our new DVD ripping software Free DVD Ripper to keep your DVDs collection safe and in good quality.
Comments
comments