Pixlr photo editor is an online alternative to Adobe Photoshop Express. It lets you work easily with layers, filters, masks, brushes and other tools like desktop software, but for free! Back in 2012 no one could imagine that Adobe suite would be available online, thus the alternative software by famous Autodesk team became so popular, especially among Chromebook and Linux users.
Now in 2015 Pixlr suit contains 5 versions:
Pixlr Online, a professional photo editing web app;
Pixlr Express, an online app for quick fun picture enhancing (like adding frames, stickers and effects);
Pixlr Desktop for Mac and Windows PC, a downloadable offline version of Pixlr Online;
Pixlr-o-Matic, a set of mobile apps for iPhone, iPad and Android
Pixlr Touch Up, an offline extension for Google Chrome
SEE ALSO: Photofunia – Funny & Simple Photo Editor Online
Today, we'll focus on flagship Pixlr Online photo editor and its key features in comparison to Adobe Express. It is a great choice if you don't want to deal with software installations. However, the photo editing web app is based on Adobe Flash player technology, so it won't work on Apple mobile gadgets. Fortunately, unlike many Flash-based photo editors, Pixlr is very fast and powerful.
If you are familiar with PhotoShop, you'll get used to Pixlr interface in two seconds. Compare Adobe PhotoShop Express interface and Pixlr screenshots below, the apps are almost twins: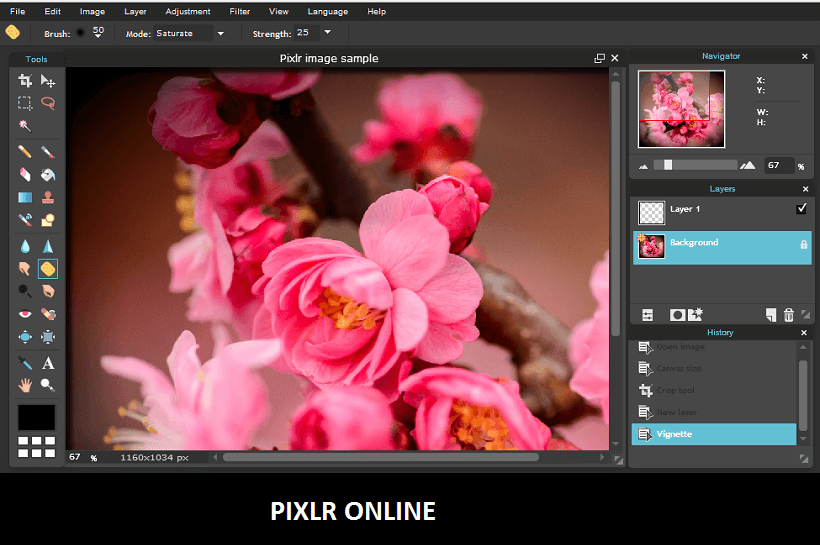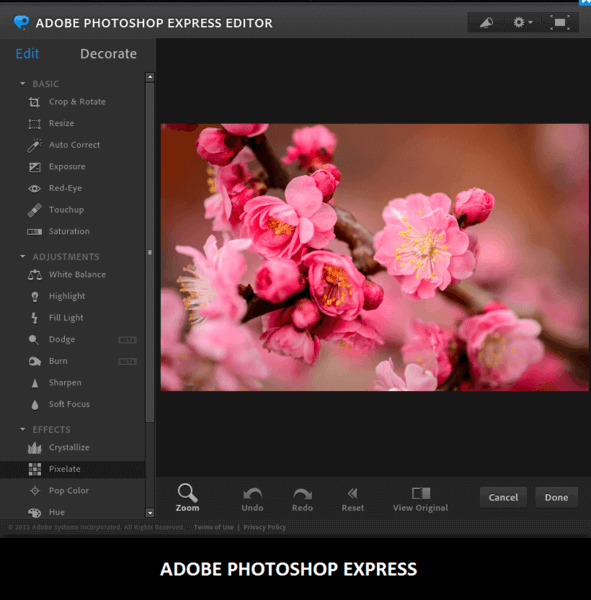 In Pixlr, there are Tools on the left, Properties for every tool at the top of the left corner, History on the right and Options in the tool bar. You can arrange the workplace to your taste since there are no fixed tabs.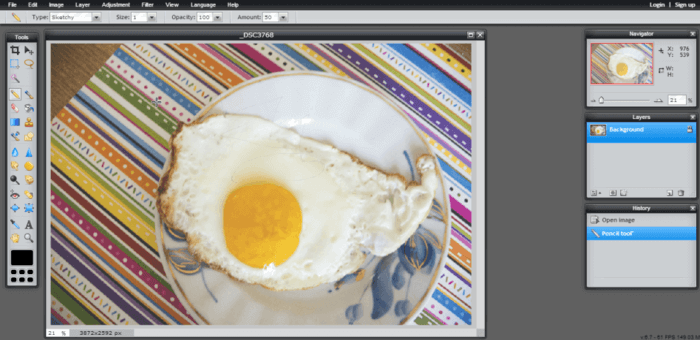 Pixlr allows you to upload a photo from your PC folders, URLs or Pixlr Library. You can create an account and store your pictures there for fast access from any device like with Adobe Creative Cloud.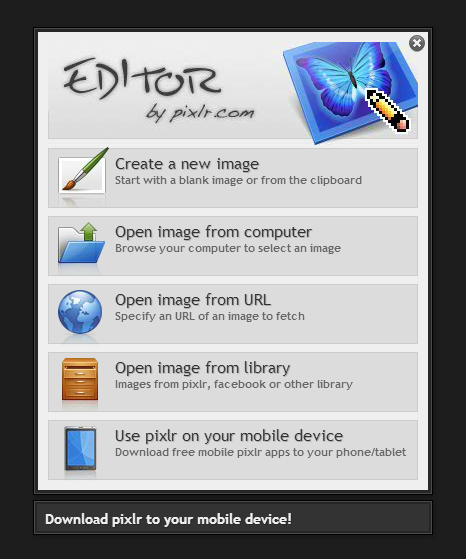 Add a picture and start editing. Use Tool bar to apply pencil, brush, rubber, tilt. Here you can also add some text or crop the image. Unlike its counterpart, Pixlr offers advanced features as masks, clone stamp, dodge tool, wand tool for online use. You can't find such options in Adobe Express.
SEE ALSO: Best Free Video Cropper Software

If you've made a mistake, you are always welcome to turn to History. Click on the last right action and all your following movements will roll back to the clicked one.
Every tool has its properties like Opacity and Amount, which can be tuned above the image.

The tool bar provides us with different manipulations upon pic. In the Image tab you can rotate canvas or flip it. So, this unit is for "physical" enhancement.

Edit means copy-paste, selection and transformation actions. By the way, shortcuts are available and they correspond to those of Photoshop's.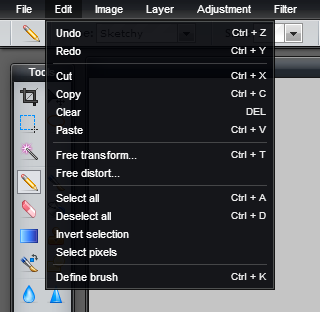 Layer is the tab for merging layers, adding masks or some other images as layers. Having learnt how to work with layers you'll be able to merge different images the way you want.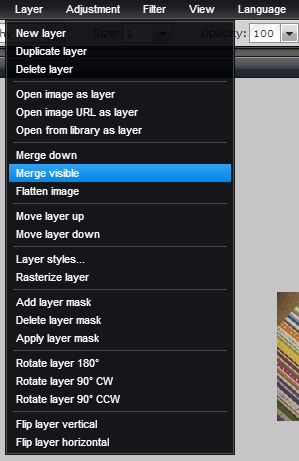 In Filters you'll discover blur, sharpen and artistic filters for editing your image in one click. So this option is suitable for tyros of photo-editing.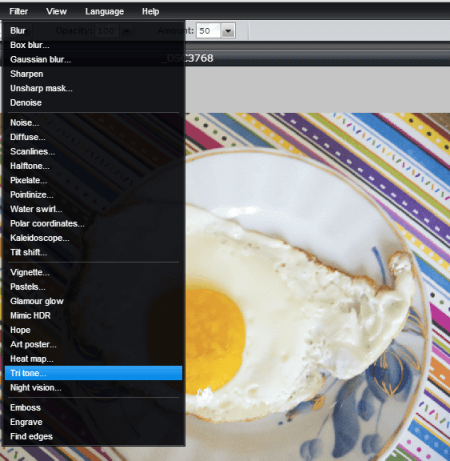 As other pro online editors, Pixlr enables you to work with Gradients, tweak Opacity and adjust Colors.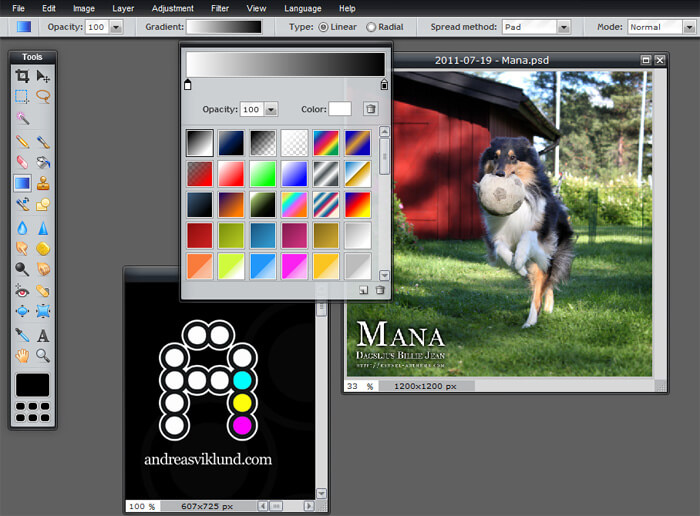 As for the drawbacks, both Pixlr and Adobe PhotoShop Express don't support RAW formats. And this is a pity, because most high quality cameras create RAW pictures, not JPEGs since they are much more suitable for enhancing. Besides, some users complain that processing huge images in Pixlr might be cumbersome. That's why it's better to shrink image before editing. Check our guide on how to resize an image. All in all, Pixlr is a good Photoshop alternative for users of "A2" editing level. And do you like it?
Comments
comments