Since Blockbuster, the most popular rental service, has been closed, there remained a great number of movie fans who are now searching where to rent movies online. Fortunately, there are a lot of alternatives. Nowadays websites will prompt you what to rent, suggest movies on demand and even deliver them to your PC. Let's compare most popular services and choose the best one for you.
SEE ALSO: 5 Top-Rated Free Video Players for Desktop Compared
SEE ALSO: 5 Cool Video Players for iPad to Watch Whatever You Want
Here is a brief description of all the important details you should pay attention to while choosing a video rental service.

Now, read more about each of these sites.
RedBox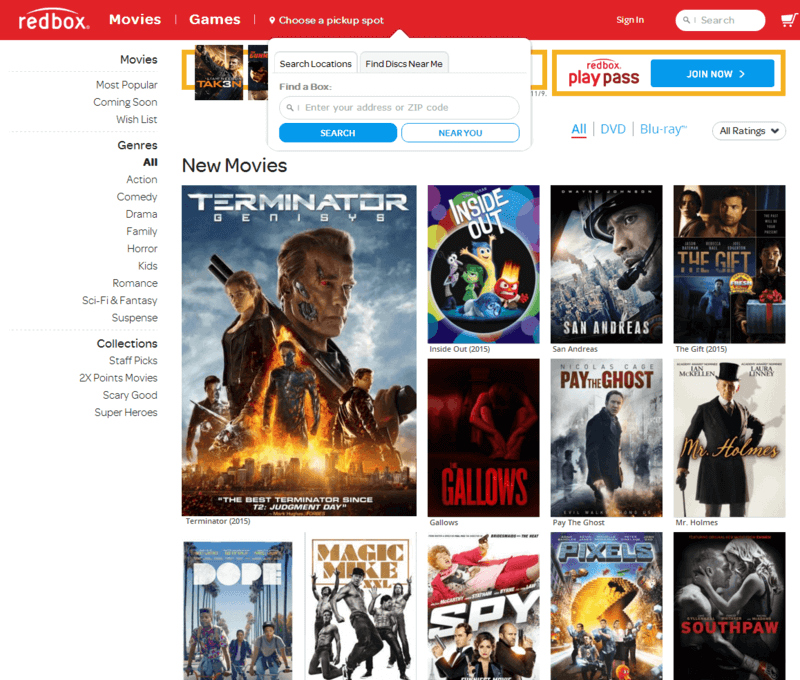 Price: $1.64 for DVD, $2.18 for Blu-ray.
RedBox is not a typical service for movie renting where you pay money for subscription or a video and then can stream it for a couple of days. RedBox lets you book…an original DVD copy or Blu-ray disc and collect it from any kiosk.
The amount of movies is pretty much huge and includes both old and new films. You can search for the discs by genre or use a search line in case you know what movie or actor you want to see. For those who can't make a choice, there is a trailer for each movie. So, you can check a short preview before renting a disc.
When you made up your mind:
Choose a disc type (DVD or Blu-ray). Please note Blu-ray discs require a special player, they won't play on your DVD system.
Choose a pickup point to collect your disc.
Click Continue.
Add you login data or create an account.
Proceed to check out.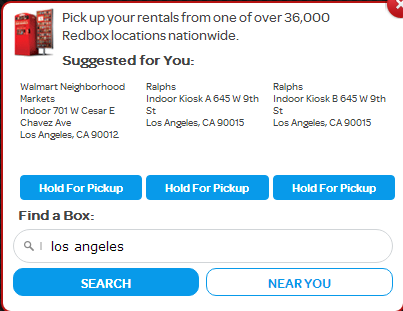 As soon as you paid for your order, go to the kiosk and get your DVD. Don't forget that you should return the disc before 9 p.m. the next day or you'll have to pay extra charge. If you want, you can rent a disc for several days. Maximum rental period for a DVD and Blu-ray is 17 days.
SEE ALSO: How to Rip DVD to MP4 free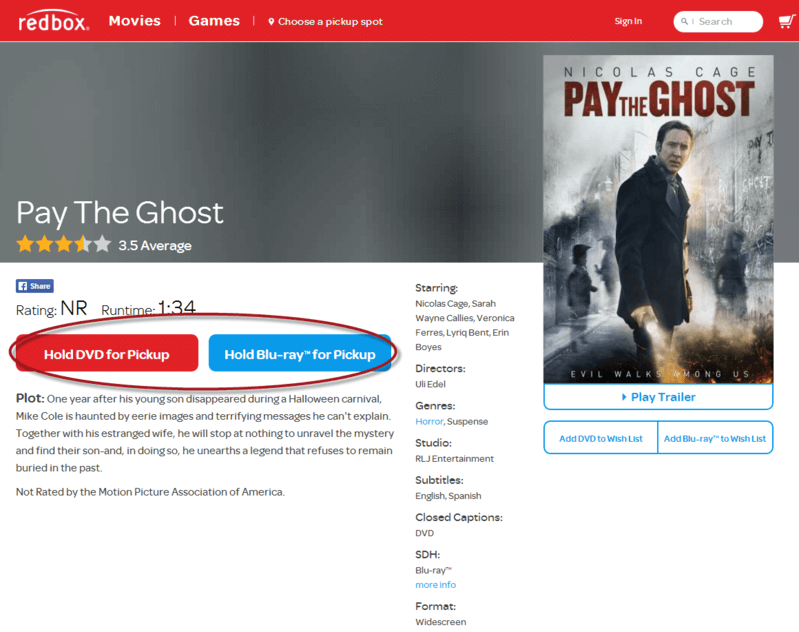 RedBox also provides free iPhone and Android apps to make your experience even more comfortable.
To cut a long story short, RedBox is great for those who are addicted to physical discs and don't mind going outside to get them.
Netflix
Price: from $7.99 to $11.99 per month.
Netflix is one of the most popular sites to rent movies online. It holds a great collection of movies and TV series that you can enjoy on your TV, PC or portable devices.
To start with, you should create a Netfix account. The site offers three account types: Basic, Standard and Premium.
Basic account will cost you $7.99 per month. Here you can watch non-HD movies and the number of screens you can watch on at the same time is limited to 1.
Standard account lets you watch HD movies and 2 screens for $9.99 per month.
Premium account is available for $11.99 and includes Ultra HD quality and 4 screens to watch on simultaneously.


All three accounts provide a free trial month, so you can try them before purchasing.
When you made your choice, proceed to movies. If you have a concrete idea what to watch, just type movie title in the search line. Alternatively, you can search for a movie or series to watch by genre.
For you comfort, Netfix has great free apps for iPhone, Android and Windows Phone. Thus you can watch movies 24/7 in any place with a good Internet connection.
All in all, Netfix is a great resource with wide movie choice, user-friendly interface and plenty of additional info such as cast, length, subtitles languages, etc.
Vudu
Price: $2.99-$5.99 for a 2-day rental. Movies are also available to purchase.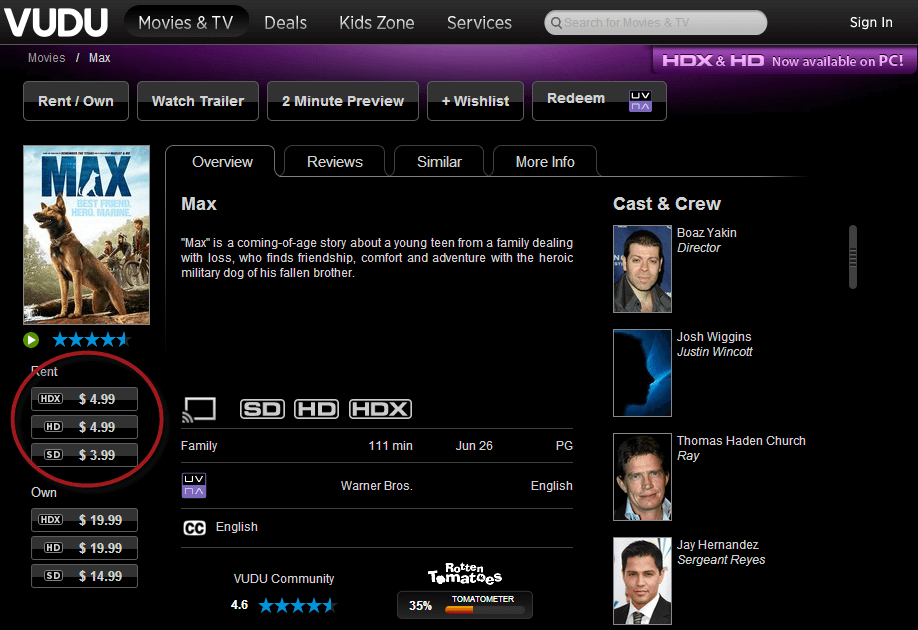 Vudu is must-visit for all HD movie lovers. The site provides a great choice of HD and HDx movies and TV series to any liking.
To watch films on Vudu, just follow these steps:
Create a free account or sign in with Walmart account if you have one.
Browse for movies and TV shows.
Choose the necessary video quality and click Rent or Own depending on whether you want to rent a movie or to purchase it.
Proceed to check out and pay with your credit card.
That's all! Now you can enjoy high-quality movies on PC, iPad, TV and other devices. Vudu supports s lot of gadgets with how-to set up guide for most popular ones such as PlayStation, Xbox, Roku, Chromecast, etc.
If you wish, you can choose to create an UtraViolet account which you can use to store your movie library and share it with friends.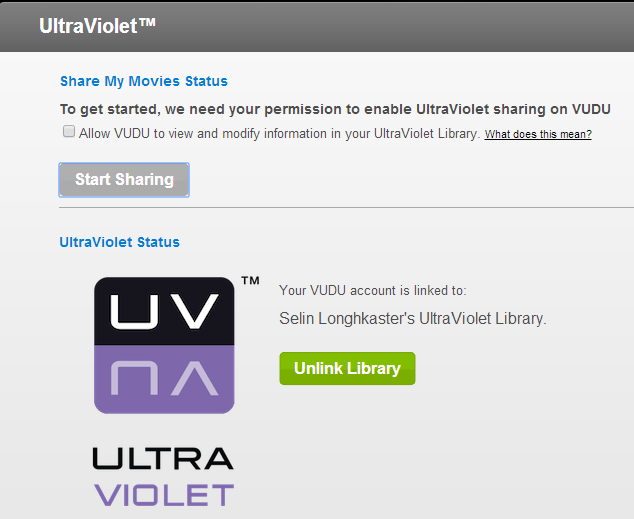 Go for Vudu in case the quality is everything for you.
YouTube Movies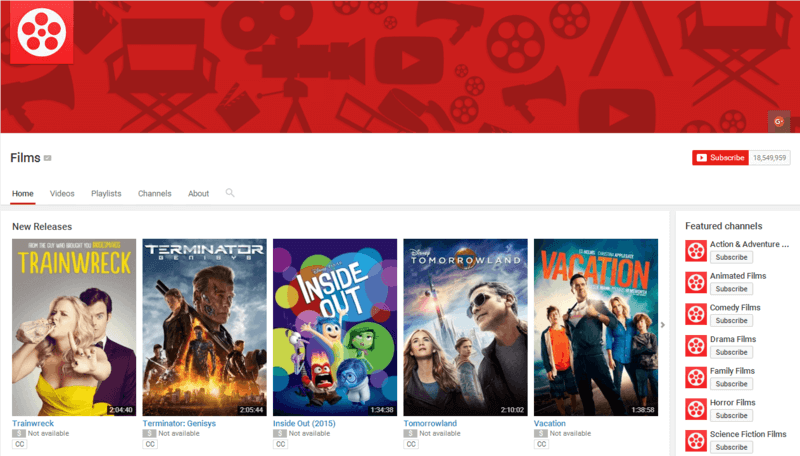 Price: from $0 to $5 for a movie.
Not long ago, YouTube launched a new service – YouTube Movies which lets your purchase and rent films online. Although, the collection is not huge, there is something to choose from.
Unfortunately, there is no genre choice or other filters. Thus, you should either search for a movie by title or browse through the entire channel to find something to watch. To make your search a little bit easier, YouTube Movies proves a number of playlists like 2015 Oscar Nominees, 2015 Golden Globes, This week's Top New Movies and many more.
To rent a movie, simply:
Log in with your YouTube account data.
Choose a movie and click to open it.
Click Rent green button in top right corner.
Choose a quality if available.
Pay for the movie.
As soon as you made a payment, you have 30 days to start watching your movie. Please note, that you should finish watching in 24 hours!
Choose YouTube Movie if you rent movies rarely and don't want to bother your head with creating accounts on other sites. There are also a couple of free movies to choose from. By the way, do you know that you can easily save them for offline watching with free Freemake Video Downloader? Check this guide to learn how to do it. And don't forget, you can download only free YouTube movies! You may even burn them onto a DVD with our free disc burning software.
Amazon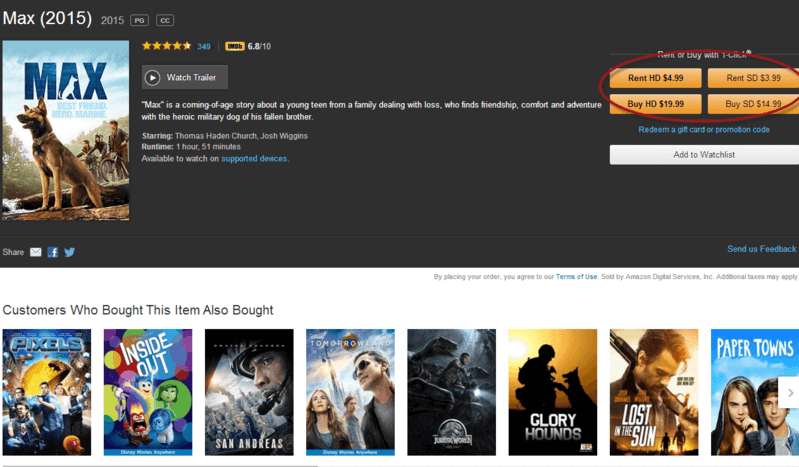 Price: from $0 to $3 for a movie.
Amazon Instant Video is one of the most well-known sites for renting videos. It provides you both with HD and SD movies of any kind.
Amazon movie collection proves to be one of the best. Here you can search for movies by genre, mode, actor, director, and theme. You can also filter the results by decade, price and customers' reviews.
The procedure of renting is pretty easy:
Create Amazon free account or enter with your login and password.
Open a page with a movie you want to buy or rent.
Choose one of the renting options.
Accept Amazon Terms and Conditions.
Proceed to check out.
Like with YouTube, you have 30 days to start watching your movie after purchasing. However, you should finish watching it in 24 or 48 hours depending on a particular title.
All in all, Amazon is a great source for movies if you don't mind paying for each movie separately instead of having a monthly subscription.
iTunes Store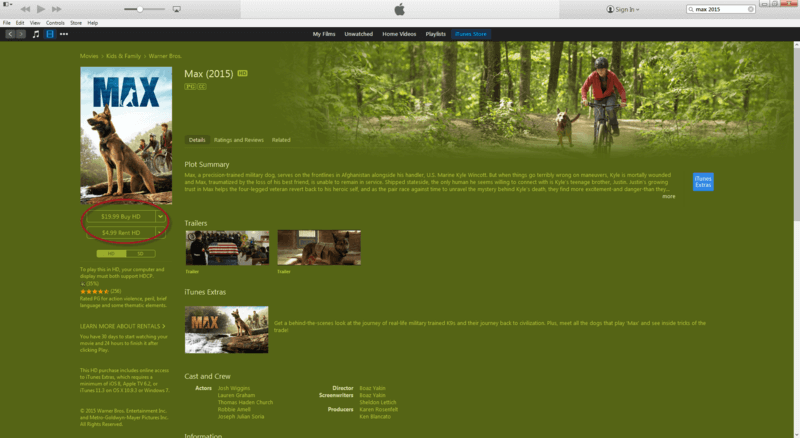 Price: from $3.99 to $4.99 for a movie.
Apple movie collection is not that enormous as Amazon's one but it is great for Apple gadgets owners. All the movies are ready for playback on Mac, iPad or iPhone, so you don't need to convert them before watching.
To rent a movie from iTunes Store, you should:
Download iTunes free software if you don't have it.
Log in with your Apple ID.
Search for a movie by genre, collection or just browsing through the top.
Click on a movie title to open it.
Choose a quality.
Click the Rent button.
Again, here you have a month to start watching the film and 24 hours to finish it after you clicked Play.
Choose this source if you want to easily watch movies on your Apple gadgets.
Google Movies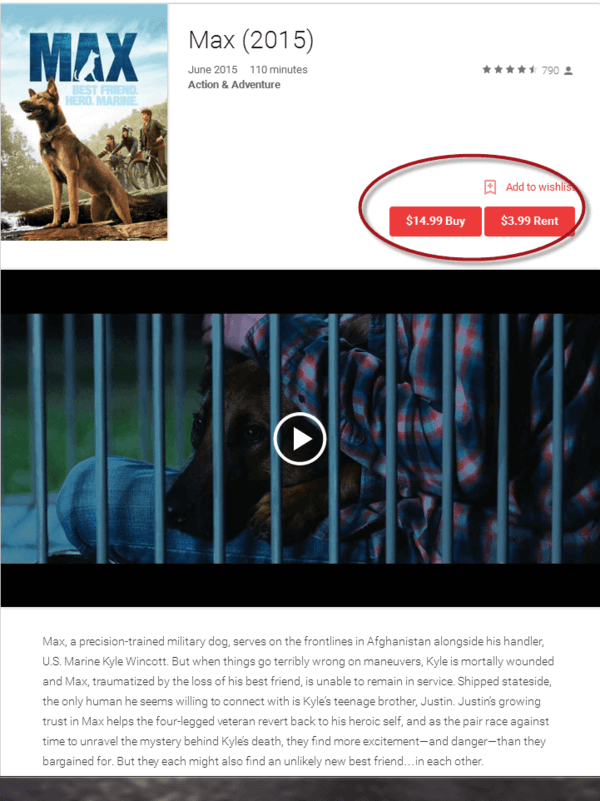 Price: from $0.99 to $4.99 for a movie.
Google Movies is one more nice source for renting films. This time, it'll be more comfortable for Android users who already have access to Google Play.
The site hosts an average collection of films including old and new releases. However, not all the movies are available for renting. Some of them you can only purchase. Check also for the 99¢ Movie Rentals to get films with discount.
Renting procedure is not difficult at all:
Log in with your Google account.
Browse for movies by genre or check Top Charts.
Choose a movie you want to rent.
Click the Rent red button.
Pay the necessary sum.
Your rental period is again 30 days with 24 hours for complete watching.
Go for Google Movies if you prefer watching movies on Android devices.
MGO

Price: from $1.99 to $5.99 for a movie.
MGO is a movie rental service with a pretty design and a great films collection. There are a lot of categories available. You can search for videos by genre, recommendations or check deals tab for discounts. Whenever you rent or buy a movie, you earn special points that you can use later to get up to 80% discount for your future orders.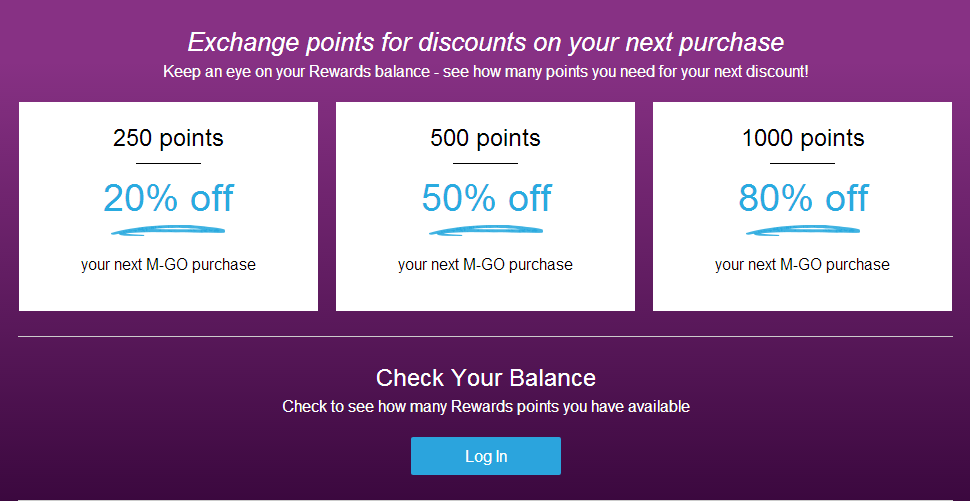 If you want to rent a movie on MGO, follow these steps:
Create an account.
Open the page with a movie you want to rent.
Select the necessary quality (HD or SD).
Click Rent to get the movie
MGO offers a great number of supported devices to watch movies on. You can check for the complete list here. As soon as you rent a movie, you get 30 days to start watching it and 48 hours to finish the film.
There is also a free app for iPhone and Android to help you enjoy movies on the go.
Although MGO prices can be a bit higher than on other rental sites, the points system and the amount of devices it support may seem a nice compensation.
Vimeo On Demand
Price: depends on the movie owner
Vimeo on Demand section offers a collection of movies from independent studios and directors. Here you can browse movies by genre or check Vimeo Team's recommendations.
Each movie has a short preview, description and information about available languages and subtitles.
Whenever you decide to rent a movie here:
Create or log in with your Vimeo account.
Choose a move.
Click the Rent button.
Enter your credit card details and pay for your movie.
Please note that you won't find popular Hollywood blockbusters on Vimeo and the movie choice is not too wide. But if you want to watch something extraordinary or simply adore authors' movies, check this source.
Hulu Plus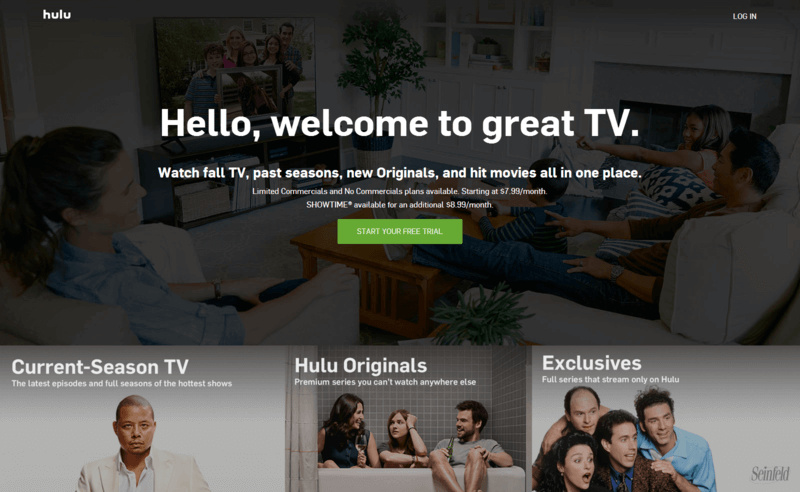 Price: $7.99/month or $11.99 per month without ads.
Hulu Plus is a perfect resource for TV series fans. It gives you access to almost all possible TV shows and lets watch them on iPhone, iPad, Apple TV, Android, Roku, Xbox, PlayStation and, any other portable devices.
To enjoy your favorite TV shows whenever you want simply:
Create a new account.
Pay for the subscription.
And that's all! Now you can discover new episodes whenever you have time.
Hulu Plus is a great option for addicted TV lovers. It will help you keep in touch with your favorite TV programs.
Where site do you like more? Share this post with your friends and make them also know where to rent cool movies.
Comments
comments