Freemake Video Converter can do some basic video editing operations: cut unwanted video parts, join files, or rotate video. With Gold Pack release, it also got the option to delete black bars. Still it has never pretended to be a fully-featured video editor, it's a video converter first of all. So if you want to edit your video footage above the mentioned options, you'll need a fully-featured video editor for Windows.
SEE ALSO: Best iPhone Video Editors for Professional Movie Producing
To tell the truth, it's very hard to find both free and easy-to-use video editing software. We all know and love Windows Movie Maker for its ability to combine dozens of useful editing features like adding text to video, making slideshows, changing sound track of a video, adding filters or effects and much more. Since Windows 7 OS release, it's no longer pre-installed on Windows OS, but available as a part of the downloadable Windows Essentials suite.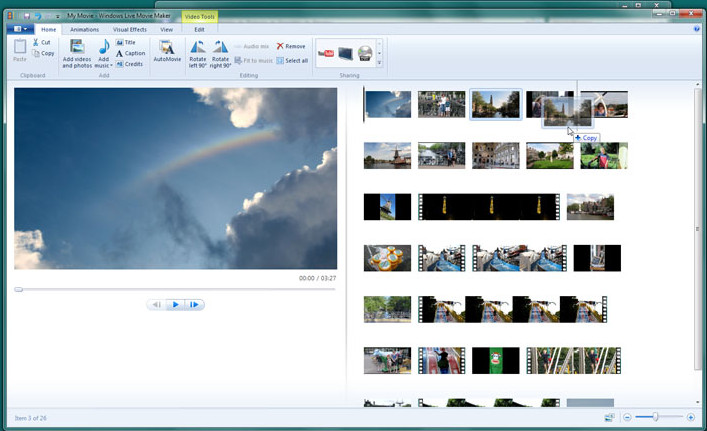 SEE ALSO: 5 Easiest Ways to Add Captions to Video Free and Fast
Perhaps, Movie Maker is the best video editing software which is genuinely free with such an advanced set of features. Let's compare Windows Movie Maker with other popular free video editors for Windows and find out their pros and cons.
YouTube Video Editor
Online YouTube editor is the best video editing option for those who prepare video footage for their YouTube channel. With it, you can:
add filters and change video colors;
add a slowmo or time-lapse mode;
trim, rotate and join several videos;
add or change audio track;
add annotations, cards, subtitles, or closed captions.
In a word, it provides everything you'll need for turning your YouTube content into professionally looking videos and engage your audience.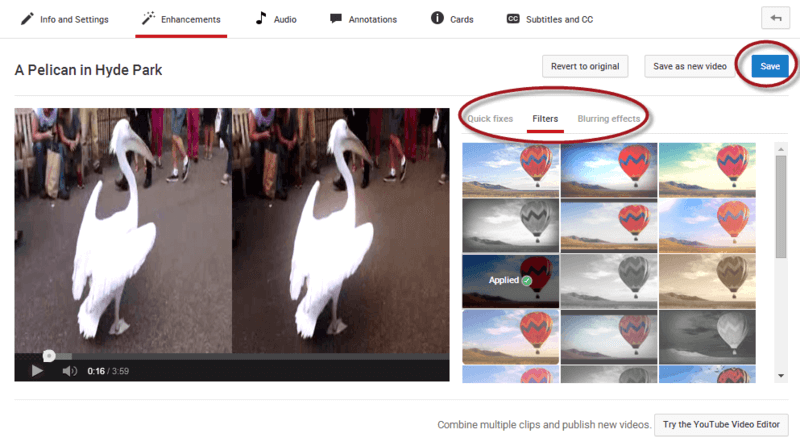 Pros:
no software installation needed;
all features are free;
auto-improvement mode;
easy-to-use.
Cons:
See how to use YouTube Video Editor here:
Lightworks
Lightworks is a professional video editor which offers two versions: free and Pro ($24.99/month). The only difference between the versions is that with the free one, you can export your projects in MP4 format to YouTube and Vimeo. Still this is not a problem for Freemake Video Downloader users who can rip any YouTube or Vimeo video off the Internet. The free Lightworks version provides the following video editing options:
realtime effects;
color correction;
video trimming;
multicam video syncing;
text effects (with a special plugin).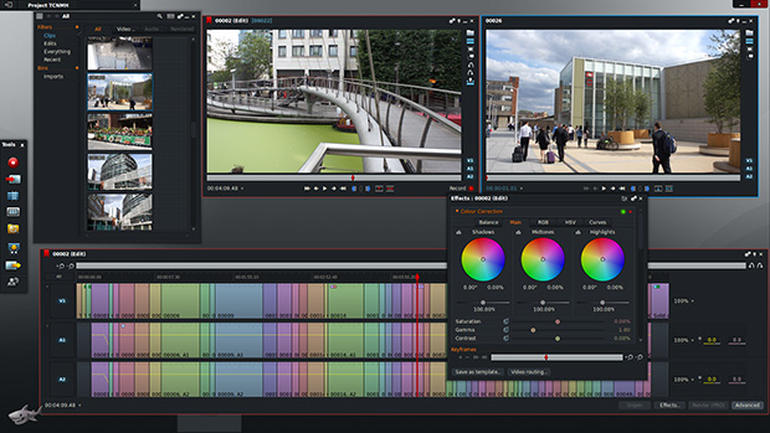 Pros:
auto-saving options;
broad format support;
light usage of system resources;
100+ ready effect presets;
non-linear video editing possibility.
Cons:
difficult for a novice user;
Full HD video export only to Vimeo only.
The software is also available for Mac and Linux OS. Find out how to use Lightworks on this video tutorials page.
VirtualDub
VirtualDub is an open-source and completely free software for Windows OS. It has a bit utilitarian interface and may seem uneasy to master, still the software is great to do difficult video editing operations:
delete, add, reorder video parts,
crop side bars,
convert to grayscale,
rotate video, etc.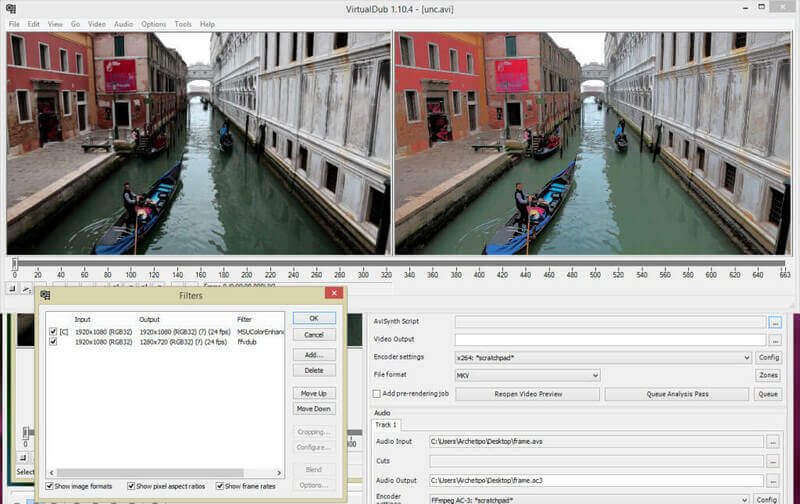 Pros:
video capturing option;
can be extended with third-party video filters;
support for the majority of popular video codecs;
batch-processing capabilities for processing large numbers of files.
Cons:
poor interface;
rare updates.
This video guide will help learn how to use VirtualDub:
VSDC Free Video Editor
VSDC Free Video Editor is a powerful video editor which may seem a bit complicated for amateurs. Still the advanced functionality is worth time spent on digging into the program. The tool lets users:
cut video and combine multiple cuts;
add effects and transitions;
reshape and modify the video picture;
change and edit video sound;
capture the desktop.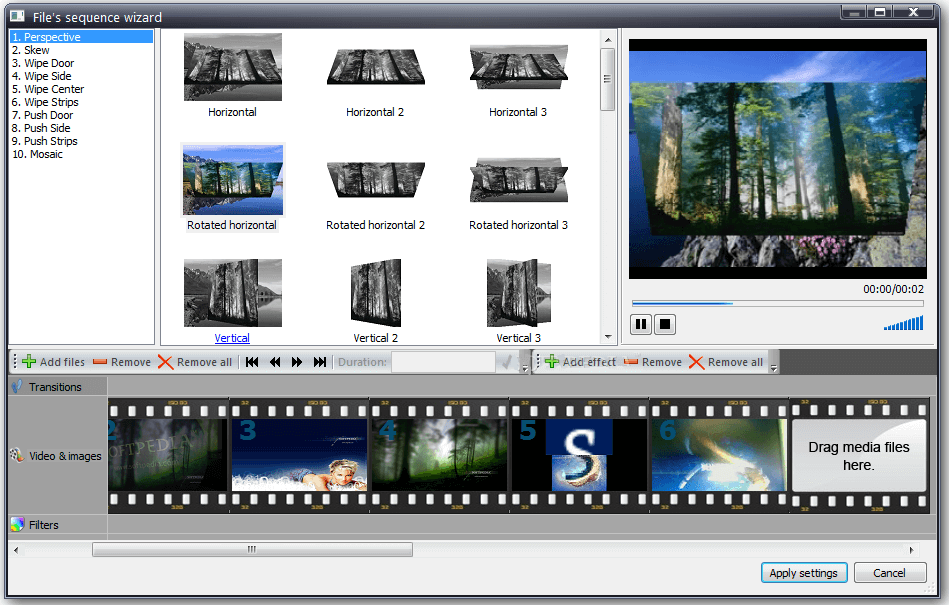 Pros:
non-linear tool;
outputs for a variety of devices;
built-in DVD burning tool;
create diagrams of different kinds, including 3D diagrams;
you can create your own effects.
Cons:
steep learning curve;
adware within the installation.
Check out how to deal with the software here:
WeVideo
WeVideo is a web-based video editor. It offers several pricing plans: from Free to Business and Education ones. With a free account, you may create and edit videos up to 720p resolution, download them to your PC, Dropbox or social media channels. However, the WeVideo logo will be placed on your output video. If you want to get white-labeled content, switch to a paid plan ($10-39). Full HD videos can be exported by users with a Flex $10 account for $3 per export.
With WeVideo editor, you'll be able to:
change aspect ratio, resolution;
trim video;
add video effects and transitions;
correct color;
change and edit audio;
insert text onto a video.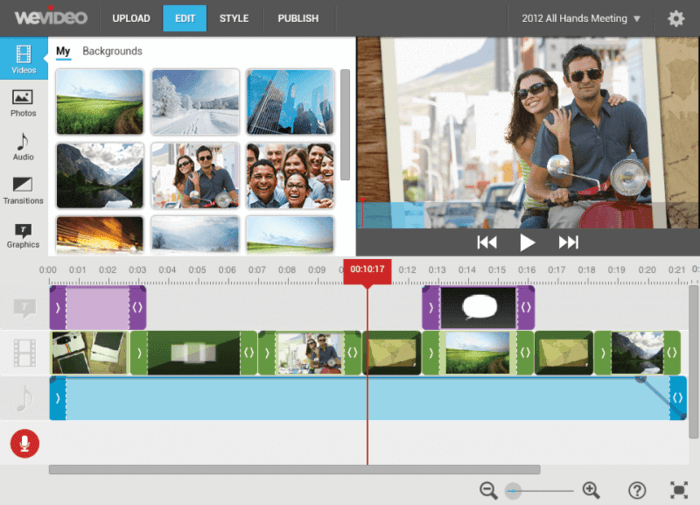 Pros:
simple and intuitive;
direct upload to the cloud;
no software download;
large soundtrack library.
Cons:
some features (slowmotion, green screen) are available only for paid users;
low resolution with a free account;
watermark on video.
Visit WeVideo Academy to learn how to use the video editor.
Avidemux
Avidemux is another GPL-based free video editor. It's not overloaded with features, still, with it, you can perform numerous video editing operations:
cut video;
apply visual effects;
transcode videos to other formats;
insert or extract audio streams into/from a video file;
rotate video;
add and edit subtitles, captions (check for more info here).
Avidemux is available for Mac and Linux OS's as well.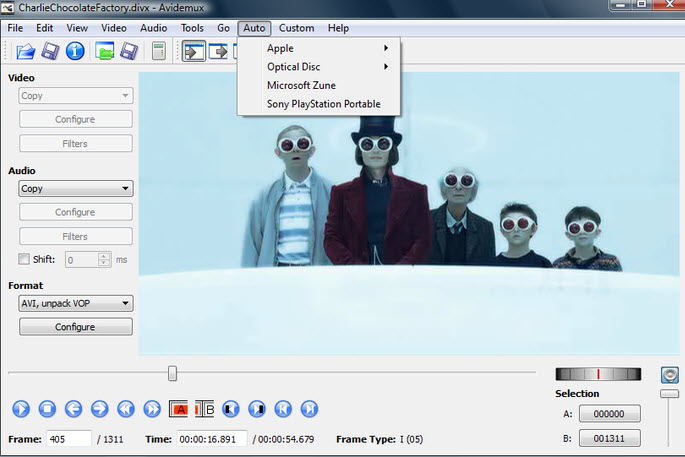 Pros:
lightweight and easy to use;
capable of non-linear video editing;
command line interface for advanced users;
large selection of filters.
Cons:
Follow this video guide to get most of the Avidemux:
What is your favorite video editing tool?
Comments
comments