Standard YouTube app and some players don't allow you to play YouTube music in the background mode on iPhone. It can be rather uncomfortable when you want to chat with your friends, enjoy funny Instagrams, or simply read your favorite ebook and listen to music tracks at thee same time. Let's learn how to play YouTube in background on iPhone.
SEE ALSO: 9 Best Music Streaming Apps for iPhone to Get Tons of Music
SEE ALSO: 10 Best Music Players for Android and iPhone
There are two main ways you can get YouTube music on iPhone in the background: an app and a simple trick.
Listen to Music in the Background with the App
Free Music Mgic is a marvelous app that let's you steam any YouTube audio absolutely free. The app searches for high quality tracks and brings them to your iPhone. If you wish, you may turn on a video line or enjoy an audio track with a cover art.
Download Free Music Mgic from the AppStore.
Launch the app. Find a track you want to listen to by an artist's name, an album title, a genre or even a hashtag.

When you are done with the choice, tap the Play button and then just press the Home button on your iPhone. You can also search for an audio book on YouTube if you type its title in the search.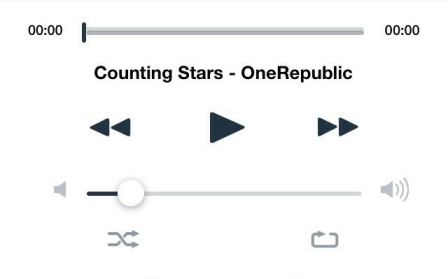 As you can see, Free Music Mgic allows you to use different apps and listen to music pieces at the same time. But that's not all! Thanks to this app, you can easily find coll new tracks and bands in a  couple of taps. Just type a hashtag or a genre in the search bar (#top100, #rock, #happy, etc) and get tons of great tracks for any liking.
Listen to Music in the Background with a Browser
If for some reason you don't want to get new apps, you can use Safari or Google Chrome to listen to YouTube audio. Follow the steps below:
Launch Safari. It is the default browser for iPhone. If you wish, you may use Google Chrome instead.
Go to YouTube.com and search for the necessary video.

Play the video and then press the Home button. The playback will stop.

And now swipe up to open the Control Center. When it appears, tap the Play button to listen the music from the video.

Hide the Control Center and launch any other app you need.
Please note that if you have the official YouTube app installed on your iPhone, the browser will redirect you to the app. To prevent this either delete the app or follow the steps below:
Open Safari and go to YouTube site.
Once redirected to the YouTube app, double tap the Home button and swipe up to close the app.
Go to Safari and search for YouTube. Tap the YouTube site from the results.
When asked whether you want to run the YouTube app, tap on Cancel.
As an alternative, you may download YouTube songs with MP4 to MP3 Converter Windows.
Which option do you prefer?
Comments
comments