Most people nowadays prefer to stream music instead of download it onto their phones. However, there are also a lot of those who don't want to depend on the Internet connection and prefer to listen to their own offline music collection. If you belong to the second group, here are best music apps for Android and iPhone that you may use to enjoy your favorite tracks.
SEE ALSO: 10 Incredible MP3 Sites to Download Music From
SEE ALSO: 5 Great MP3 Download Tools to Get Music Free
Android Music Players
Google Market offers a great variety of both free and paid Android MP3 players. Let's have a look at most interesting ones.
Poweramp Music Player
Poweramp is the most popular Android music player. If you are serious about music, you should definitely have it on your phone. It has almost everything you might need. Apart from the basic music player features, Poweramp also lets you change skins, support album covers and track lyrics, and provides an awesome 10-band equalizer. You can use the latter to tune your sound in the way you need. Moreover, the app allows you to save all your equalizer settings to use them with different headphones.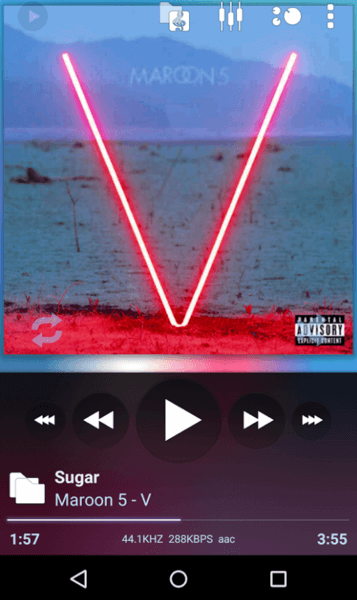 Poweramp supports almost all possible audio formats. It means you don't need to convert your audio before uploading it to your phone.
Unfortunately, the app is not free. It'll cost you $3.99 for a full version. There is also a 15-day trial available.
SEE ALSO: 12 Effective Free and Paid Ways of Compressing Any Audio File [TEST RESULTS]
BlackPlayer Music Player
BlackPlayer is one more music app that you can use to listen to your favorite tracks. Like Poweramp, it has a stylish interface with customizable themes. Here you will find a 5-band equalizer to tweak your output sound. Try a variety of audio effects to make your tracks play in a new way.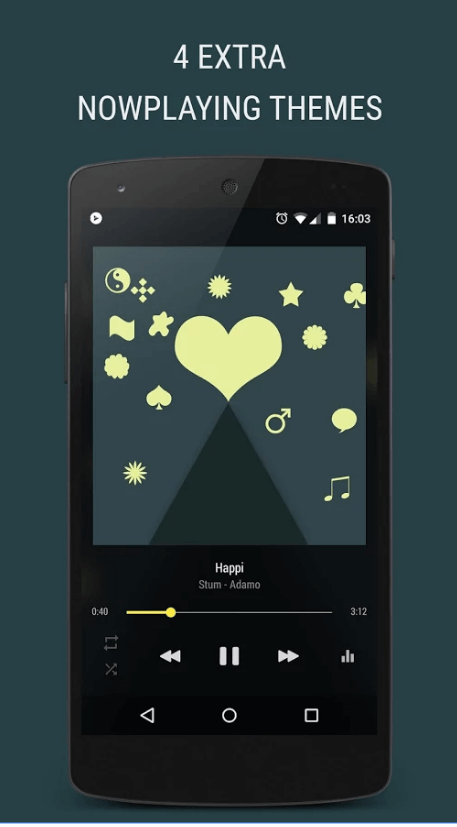 BlackPlayer supports most popular audio formats including FLAC and embed lyrics. Thus, you may sing together with your fav band right away without opening the lyrics in a browser tab. If you wish to edit a track, there is a built-in ID3 tag editor.
This music app has two versions: a free one and a paid one ($0.50) with more cool features.
SEE ALSO: Best Program to Convert FLAC to MP3
SEE ALSO: 12 Effective Free and Paid Ways of Compressing Any Audio File [TEST RESULTS]
Rocket Player
Rocket Player also comes in two versions. Both come with a clean and bright interface and all the necessary controls such as Play/Pause, Stop, Forward, Rewind, etc. Like the previous apps, Rocket Player has a lock screen widget that lets you control the playback without entering your phone password. Apart from this, the app supports podcasts and video playback.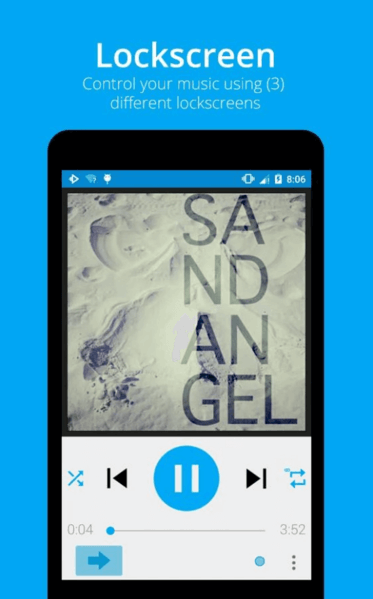 A paid version will give you move supported audio formats, album covers and a 10-band equalizer just for $3.99.
Shuttle Music Player
Shuttle Music Player is a lightweight free app with some extras for paid users. It comes with a 6-band equalizer, lyrics support, gapless playback, and even a sleep timer. A lock screen widget is also available. Shuttle Music Player be a perfect music player for those who need a simple app with a few additional features.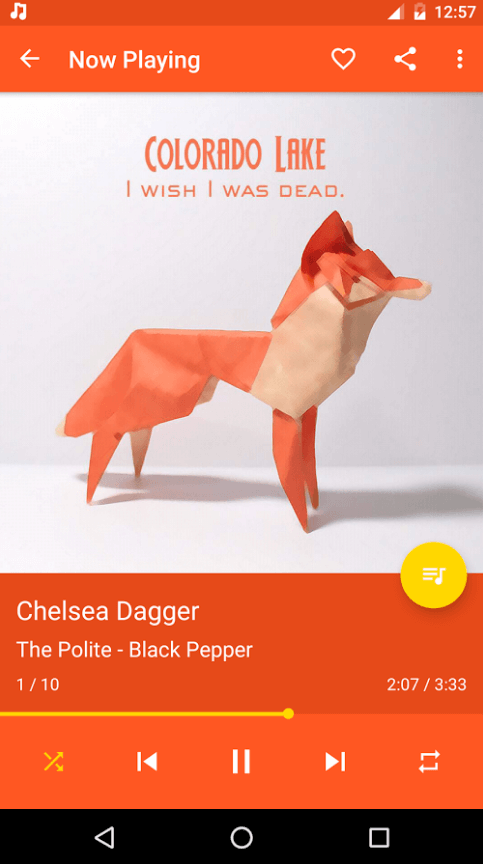 With a paid version you'll get more design themes, ID3 tag editor and Chromecast support. It'll let you play the music on your home TV set.
PlayerPro
PlayerPro is one more popular music app for Android users. Like Poweramp, it's full of features and settings that will make your listening experience unforgettable. Here you'll find album cover and lyrics support, great interface customization, ID3 tags editor, lock screen widgets, sleep timer, voice commands support and many more. A 5-band equalizer will help you turn your sound just the way you like it. Moreover, there is an ability to change tracks by shaking your phone.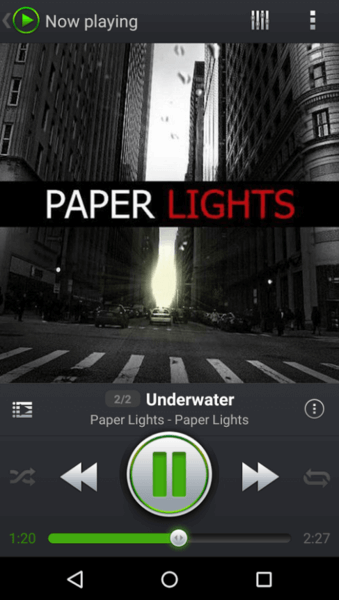 A special free DSP plugin will add a 10-band equalizer with 15 customizable presets. If you need something fully-featured and extraordinary, PlayerPro should be your choice.
iPhone Music Players
SEE ALSO: 8 Best Apps to Download Music on iPhone
Although default iPhone music player has a good design and all the needed options, it lacks additional features that can make your listening experience better. Let's check what alternatives you can get.
Free Music Cloud App
Free Music Cloud App is not a simple music player. It's main feature is the ability to download music from your Dropbox and Google Drive accounts. If you don't have much free space on your iPhone, just save all the music to your cloud storage. After this download only the tracks you need at the particular moment. The app can also sync your music library with your Dropbox account updating your music collection right after you add new tracks to Dropbox.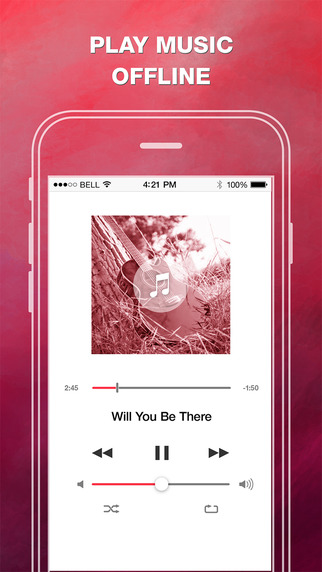 All in all, Free Music Cloud App is a free tiny app with light and stylish interface like that of a default Music app.
Ecoute
Ecoute app uses your existing music library, so you don't need to specially upload tracks into the app. Apart from the basic options, the app lets you add songs on the go and reorganize your current playlist with ease. If you want, use filters to group songs by artist, composer, genre, playlist, and so on.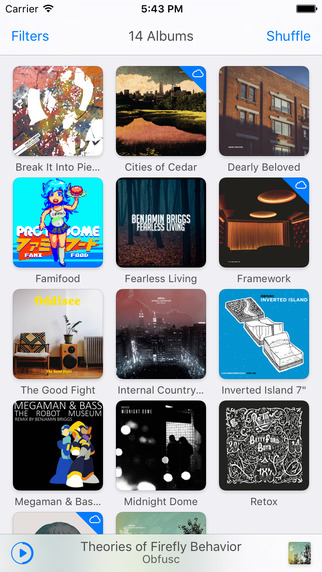 Ecoute doesn't have themes like Android app, but it offers you day and night mode that can be enabled both automatically and manually.
The app is available for $0.99.
VOX Music Player
Vox music player is pretty well-known among music lovers. It supports a good number of popular audio formats such as  FLAC, APE, WAV, ALAC, MP3, WMA, OGG, etc. The app gives you a personal cloud space where you can keep all the music you want. Of course, you are free to download the tracks right into the app for offline playback.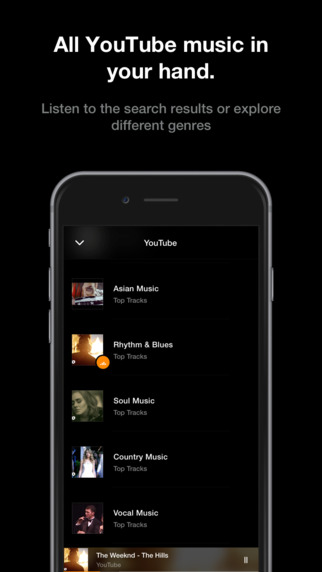 As for the extra features, here you'll get online radio, equalizer, gapless playback, gesture-based interface and social media network support. It means you'll be free to share your music with family, friends and colleagues.
Vox will cost you $9.99 monthly for its cloud storage.
TapTunes
TapTunes is one more great app you can use to listen to music on your iPhone. It's design is pretty much similar to those of a default music player. Thus, it'd be easy to get used to it. The app heavily depends on artworks to display albums. To get a really cool looking app, make sure all your albums have high quality covers. TapTunes will also provide you with 5 different styles to display your music library.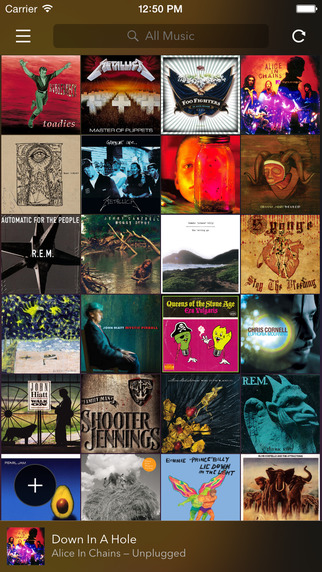 The app is extremely easy to use. You can do almost everything in a couple of taps: drag albums, control the playback, add and delete songs from playlists, and many more.
If you are looking for something light and colorful, this app is right for you. Download TapTunes on your iPhone for $1.99.
Listen
Listen is another minimalist music player you can use "without looking at". The design is very interesting. The app shows one big circle with an album cover in the middle of the screen and a seek bar around the circle. To get the controllers, tap and hold the circle. The app doesn't require precise gestures making it extremely easy to use Listen while driving or running.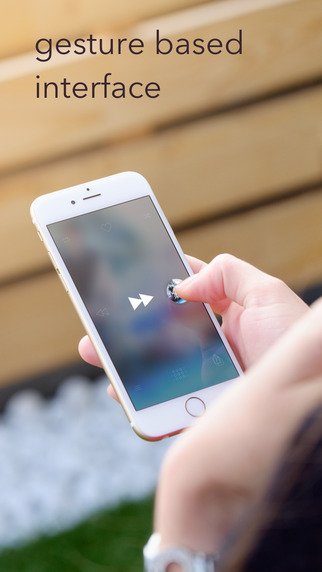 Listen supports your offline music in MP3 format. However, if you are looking for something new, you may subscribe for online radio for $2.99.
Which player seemed attractive for you?
Comments
comments