Looking for some fun? Funny apps for iPhone as well as funny games is the best help against boredom. They are full of hilarious content: jokes, quizzes, quotes, pictures, memes, videos. All you need to do is to select a free fun app and start browsing. Even if you are in a sad mood, check these 10 funny apps for your iPhone, and I bet you'll burst into laughing immediately.
SEE ALSO: 35 Best Funny Animal Videos on YouTube
1. 9GAG
9GAG is a popular fun pictures website that we've reviewed before. It has a special app for iPhone that facilitates access to the website photo gallery. So get the app and enjoy fresh geeky humor, daily portion of black humor and acute memes. You won't even notice how time flies while you are browsing Troll memes or Grumpy Cat pics. Don't forget to save the funnies pictures to your Dropbox account and share them with friends!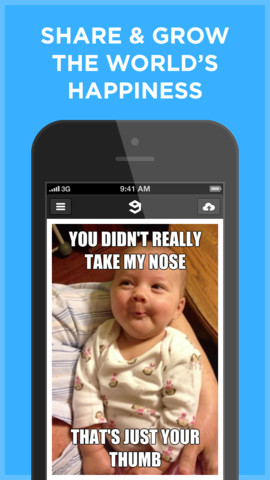 Download 9GAG on the AppStore
2. BuzzFeed
Of course, you know BuzzFeed, one of the most popular fun sites. Do you also know it has an iPhone app? BuzzFeed iPhone app will deliver all noteworthy and funny things from all over the Internet into your gadget. Here you can find latest political jokes, YouTube videos, fresh pics of movies and music stars and much more. You can choose a section you are interested in or check tab to get the latest news. If you don't have time to check everything you want, simply bookmark the quiz or article for future viewing. As well as 9GAG, BuzzFeed app lets you share the most interesting content with your mates right from the app.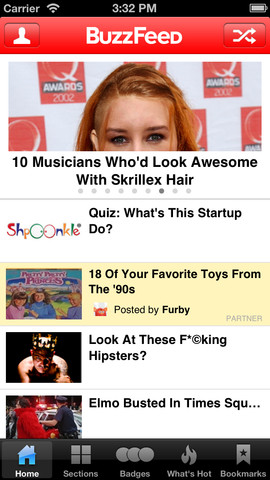 3. Talking Tom
Talking Tom is a sweet cheerful kitty who lives in your Apple iPhone or Android and talks to you. This creature is almost a modern Tamagotchi. You can play with this cat, feed him, tickle, sing songs with him, etc. The game has become incredibly popular and now more "parts" are available. You can get more experience and adventures with Tom or play with his friend Angela. If you don't know how to make your kids silent while you are cooking or cleaning the house, download this app onto your iPhone or iPad and let Tom take care of everything.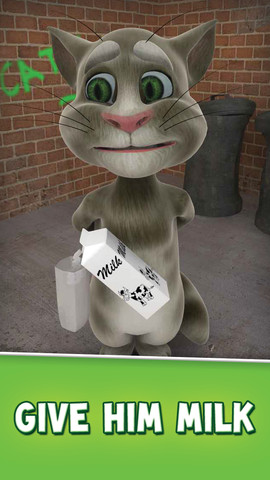 Install Talking Tom on your iPhone
4. iFunFace
Do you know JibJab? Yes? Great! iFunFace is similar to the online fun video editor. With iFunFace, you can put face into a funny character and make your own video. Simply upload a pic from your iPhone library or take a new one, cut your face from it and choose a character. Cropping the face will take you some time to master but once you are good at it, it'll take you just a couple of seconds. So take your iPhone and create the funniest short video ever. After you are done, you can share your video on YouTube, Vine, Vimeo, Instagram, Coub, Facebook and other social networks. Or convert it from M4V to MP4 to save on your PC.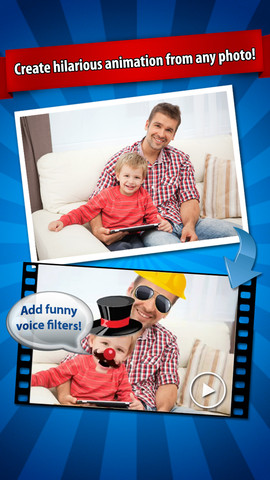 Get iFunFace via iTunes
5. iFunny
iFunny app can capture you for hours. iFunny shows up random funny photos and you vote for each pic. Don't forget to have a stable Internet connection to have fun with this free app. You can also create a pic of your own and send it to your friends. Please note, the app contains mature content, so you'd better keep it away from small children.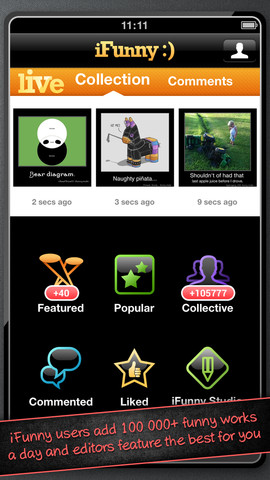 Try iFunny from AppStore
6. Dragon Detector
Do you like fantasy movies and games? Have you ever dreamed to see a dragon? Now you can do it with Dragon Detector. This app provides you with a personal 3D dragon that can fly and breathe fire. The dragon responds to you movements. For example, you can push it to walk or put on a flat surface to land. Moreover, Dragon Detector includes an option that will help you see all the dragons that are flying around you at the moment. Don't skip this app!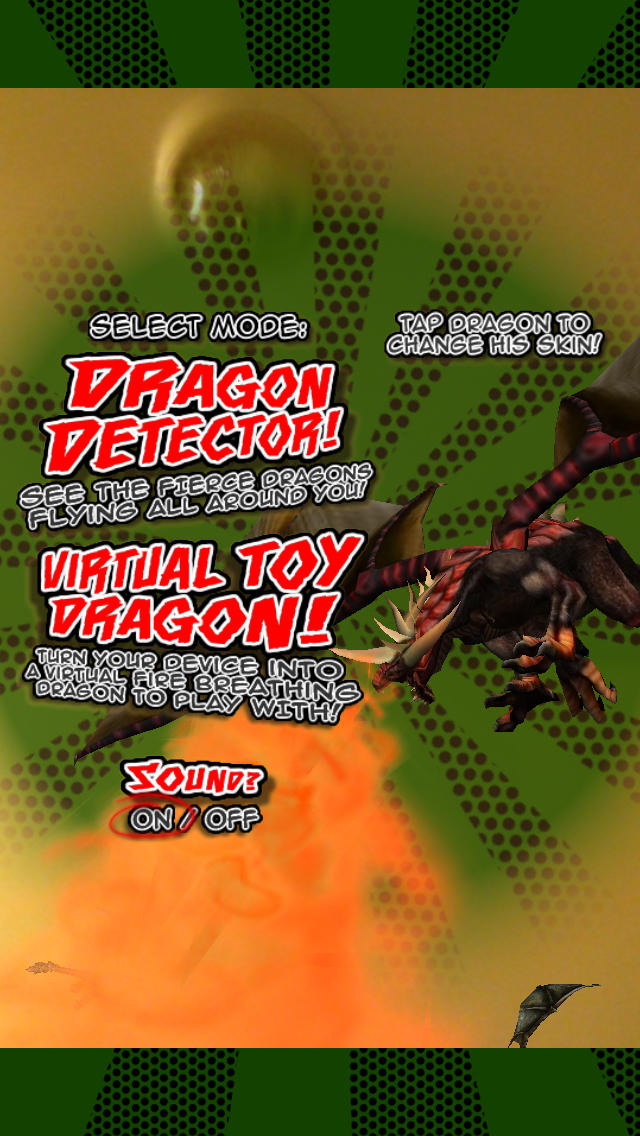 Download Dragon Detector via iTunes
7. Instant Buttons
Instant Buttons is a prank app for iOS. The app produces funny sounds. If you have no words to express your feelings, just hit an Instant Button to explain your mood. The app will also help you prank your friends. Just wait for a special moment, a party or any event and tap the necessary app button in your pocket.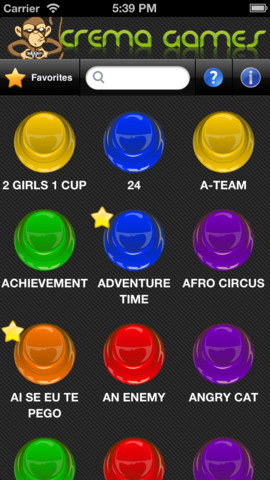 Install Instant Buttons via Apple AppStore
8. Reddit Pics HD
Surely, everyone is familiar with Reddit, a top online community or forum where you can discuss almost anything from science to humor. Reddit Pics HD app keeps best funny images from the community, so you relax and laugh. You can explore new pics, top or hot ones. If you have a great funny pic on your iPhone, upload it to Reddit and check how many votes and comments it'll get. By the way, in case for some reason your connection is slow, you can choose to browse low resolution pics instead of high resolution ones.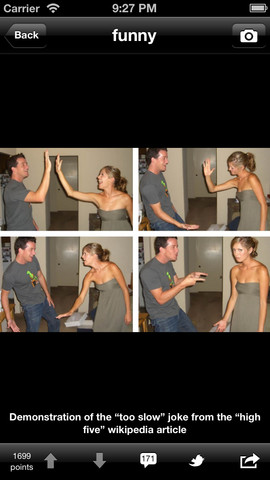 Grab Reddit Pics HD from AppStore
9. LOL Pics
LOL Pics is a competitor to iFunny. The free app represents humor in form of pics. Here you can see funny picture quotes, autocorrects, or Tumblr pics. The pic choice is really substantial. There are dozens of categories to choose from: Fail compilations, Celebrity LOLs, Stupid Auto Correct, Motivational Posters, Pimp of the Day and many others. You can rate, comment on the pics you like or don't like, save pics to your iPhone camera roll and of course share them with friends.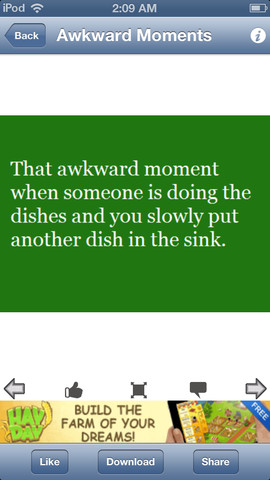 Download LOL Pics in iTunes
10. Musical.ly
Musical.ly is one more app to create funny lip-sync videos. What you need to do is to shoot a video (up to 15 seconds), then choose one of the 3 effects: slow-motion, time-lapse, hyper speed. You can also set various filters and effects. After that choose one of the music tracks or even add a track of your own and the video is ready. What's great about Musical.ly is its huge collection of music tracks. Here you'll find a track of almost any genre: pop, rock, rap, etc. Just let your imagination flow. Share your masterpiece with friends on social networks or make it private.
And what funny apps do you use to cheer up? Share them with us in comments.
Try also! New DVD burning software to record videos onto a DVD fast & easily.
Comments
comments