Selfie is your self-made photo. We should confess: almost everybody makes it. Even Barack Obama has been caught taking selfie. You can shot a simple selfie pic with a default iPhone camera app. However, to achieve best quality and more likes, you should edit your photos with a special selfie app. Let's see the best ones we've collected for you.
SEE ALSO: iPhone Camera is not Working: What to Do?
SEE ALSO: 10 Superb Photo Editors for iPhone & iPad
Face Swap Live
Face Swap Live is a popular thing that makes it possible to exchange faces with family, friends or even celebrities. The results are utterly funny and unpredictable. In case you wanna face swap with your mate, follow this guide:
Download and run Face Swap Live app on your iPhone.
Grab your mate and take a common selfie. Tape the Two-Faces button to swap faces. Alternatively, you can choose a celebrity face from the catalog or upload a pic from your photo library.
Tap the Camera sign to take a selfie.
Your selfie will be saved both to iPhone Camera roll and to Face Swap photo library.
All in all, Face Swap is a tiny app that will let you create the funniest selfies ever. However, you'd better have a friend by your side to make the pic look more interesting.
This app is also available for Android for $0.99.
MSQRD
MSQRD app can easily turn you into a zebra, panda, zombie or any other creature. It also allows you to face swap with your friends. Let's see how to use this app.
Download and install MSQRD on your iPhone.
Choose whether you want to take a photo or shot a video.
Select one of the masks from the catalog: Faces, Fun, Movies, Sport, etc.
Share your pic on Facebook, Twitter, Instagram or save it to Camera roll.
When you are bored and want to have some fun, don't skip this app. It'll for sure make you laugh. Exchange funny selfies with your friends and decide who is the best fox or Batman.
SEE ALSO: Convert MOV to MP4 Free
Prisma
Prisma is the latest trend for selfie addicts. The app lets you turn usual selfies into artworks using artistic styles of Picasso, Munk, Chagall and many others. To create a masterpiece, follow theses steps:
Download and start Prisma on iPhone.
Add your ready selfie or take a new one.
Select one of the filters at the bottom.
Wait till the app does the job for you.
Choose of the sharing modes: Camera roll, Facebook, Instagram, VK.
Prisma is definitely a must-try app for creative people who keep on searching for something new.
Download Prisma for Android here.
Instagram
No doubt, Instagram is the most popular selfie app. It can be even called a pioneer of a selfie genre. Even if you don't use it, you've for sure heard about it and have seen thousands of famous square pics. In case you finally want to join Instagram, that's what you need to do to share a good selfie:
Download Instagram if you don't have it.
Take a pic within the app or add an old pic from your Camera roll. Tap the Next button.
Choose one of the filters. If necessary, make advanced adjustments: change color balance, blur the pic, add shadows or lights, etc. Tap Next again.
Add your description and select where you want to share the pic.
When you are done, click the Share button.
For sure, Instagram may help you create amazing pics. However, it doesn't have any option for appearance correction.
If you have an Android phone, get Instagram for Android.
YouCam Perfect
YouCam Perfect is a great app for all those who can't live a minute without taking selfie. It offers you a full suite of editing tool to make your photo outstanding. The app is very easy to use. What you should do, is to:
Download YouCam Perfect on your iPhone
Launch the app and take a pic by choosing an icon with a camera.
Then choose one of the filters: Galaxy, Auto Tone, Natural, etc.
Tap the Pencil button at the bottom of the app to access advanced settings.
Here make all the necessary edits: apply more effects, enhance nose and eyes, remove acne, or add blush.
When you are done, tap the Edit button to add frames, blur, crop, use Magic Brush and other tools.
As soon as your selfie is ready, tap the Save button and upload your pic to Instagram, Twitter or any other social network.
All in all, YouCam Perfect is a must have for every devoted selfie taker. A free version contains some ads, but you can get rid of them via in-app purchase.
YouCam Perfect can ve also installed on Android.
Microsoft Selfie
Microsoft Selfie is a new selfie app developed by Microsoft. The app is designed to improve photo parameters like color balance, skin tone, and lighting. It detects age, gender and enhance the pic automatically. Let's see how it works:
Download Microsoft Selfie and run it on your iPhone.
Take a pic of yours. The automatically uses your front camera.
Choose and apply an effect you like.
Click the Save/Share button to save your pic to a Camera roll or share it via Message, Mail and social networks.
Yet Microsoft Selfie is very simple, does a good job improving your picture quality. And what's great, being free, it doesn't have ads.
B612 – Selfie from the heart
B612 is one more that will help you enhance your selfies. It offers a huge number of filters for any liking. It's a bit more complicated than the previous apps, but let's have a look at it and see how it works:
Download and run B612 on iPhone.
Choose a pic from your photo library and apply one of the filters.
If you want to take a new pic, you should choose a filter beforehand. You can correct it by taping the little Arrow sign at the bottom of a pic.
Each pic gets a logo. Select a logo style you like by tapping on the logo image at bottom right corner. You may choose the one less notable.
When you finish with the editing, share your pic on Instagram, Twitter and other services.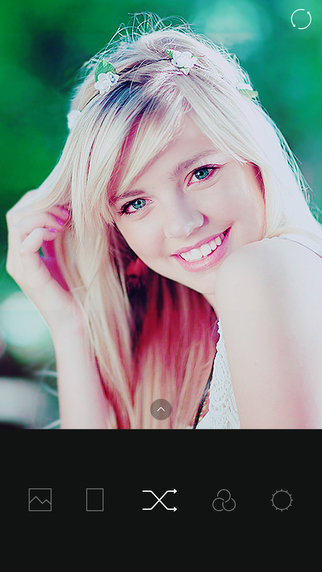 All in all, B612 app is worth having on your iPhone. However, you should spend some time to get used to its controllers.
Android users can download a corresponding version of B612 here.
PIP Camera
PIP Camera will help you take unusual selfies to amuse your friends. The app really differs from all the others. It lets you create "pic-in-pic" selfie with cool effects. To try this app,
Download and launch PIP Camera on iPhone.
Choose whether you need a Classic or a Collage mode.
Take new photos or add the ones.
Select filters for all the pics.
Save the result and share it with your friends.
Go for PIP Camera when you are tired of similar images and effect or simply want to surprise your friends.
Photo Wonder
Photo Wonder reminds of YouCam app since it also lets you enhance your appearance. Here you can enlarge your eyes, make your body slimmer, add tone and perform a lot of other actions as well as simple photo editing like cropping and rotating. To make a good-looking selfie with Photo Wonder, you should:
Install Photo Wonder on your iPhone.
Choose Edit and add your photo. You may also choose Filter Camera to take a new pic, add a filter and share it right away.
Check Beauty, Decoration, Effects and other tabs to make your enhancements. All the adjustments are made manually. You should point your eyes, teeth, breasts and so on.
Add frame to your image.
The tap the Next Step button to share your pic.
Photo Wonder is a perfect app for those who enjoy picture editing and prefer to have as many manual settings as possible.
Bestie – Beauty Camera for Selfies
Bestie is one more app to take and edit selfies. Like most of the previous apps, it allows you to make simple corrections to make your selfie outstanding. The procedure is really easy:
Download and launch the app on your iPhone.
Select Selfie mode.
Add your selfie into the app or take a new one. You can do it by tapping on the screen. If you take a selfie within the app, you should adjust your skin tone before shooting a pic.
Click the Pencil button to make corrections. Change your face contour, eyes size and remove acne.
Like in B612, choose a logo style for the pic.
When you are done, tap the Share button to save your pic and upload it to social networks.
Bestie is a simple selfie editor for those who need to make small enhancements in a quick way.
Get the Android version here.
The MomentCam
If you haven't already tried The Moment Cam cartoon style, it is a must for you. Take a selfie and then make a moving emoticon or an imaginary pic. Let's see what you can do here:
Download and run The Moment Cam app.
Add your selfie or take a new one.
Choose a cartoon style.

Adjust your face to the style, set its shape and hair style.

When creating comics, try different options to get something new. 

Your pic may be designed in different colors and styles. 

Save your pic and share it online.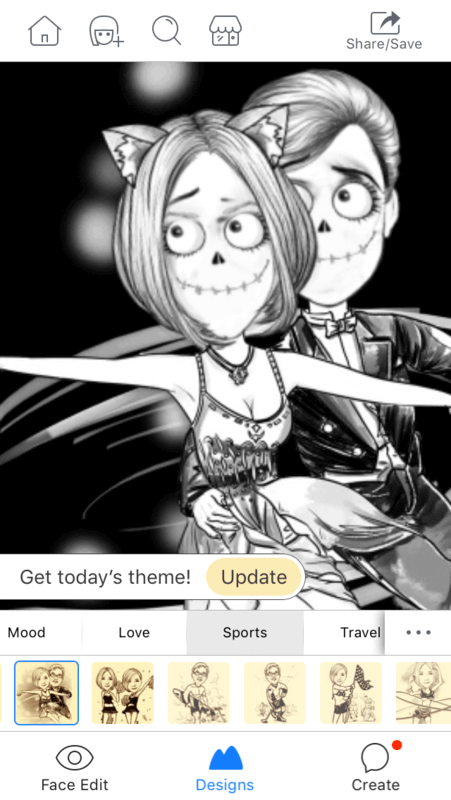 All in all, The Moment Cam is more a collage app with a lot of themes and characters to try on. There is no opportunity for editing your real image.
The Moment Cam for Android users is available here.
What are your most successful selfies? Impress us in the comments below!
Comments
comments