If there is The Vampire Diaries or your favorite film on but you are away, you have no other choice but to watch live TV on iPhone. Nowadays, there are many ways to enjoy TV on iPhone. For example, cable companies and TV networks provide great apps that let stream TV on iPhone on the go. Everything you need is a subscription. Please note you'd better stream TV series on iPhone when you are connected to Wi-Fi, otherwise you might spend a huge sum.
Download TV Shows for iPhone with Freemake
In case you don't want to pay for TV series and shows, simply download them from YouTube, Dailymotion or Vimeo and transfer to your iPhone. You'll barely find the latest series there, still there is a big choice of old videos and recordings like Charmed or Beverly Hills 90210 or even Hélène et les garçons episodes. To save them onto PC, please follow these simple steps.
Download free Freemake Video Downloader.
Install and launch the software on your PC.
Go to YouTube, Dailymotion or Vimeo and find a video you want to save.
Copy video link and paste it into Freemake Video Downloader.
Choose MP4 format and quality and click Download.
In a couple of seconds, the video will be download onto your PC. Then simply add it to iTunes and sync iTunes with your iPhone. Now you can enjoy your favorite TV shows on your phone without Internet connection. To prepare desktop videos for watching on iPhone, follow this tutorial on how to convert MKV to MP4.
Stream TV Shows on iPhone with Apps
Streaming TV on iPhone is a simple matter that you can perform in a couple of steps. Let's learn how to do it:
Download one of the apps from the list below.
Launch the chosen app.
Get the subscription where necessary.
Choose series that you want to watch.
Enjoy watching TV series on your iPhone
Now, here is the list of the apps you might like.
Netflix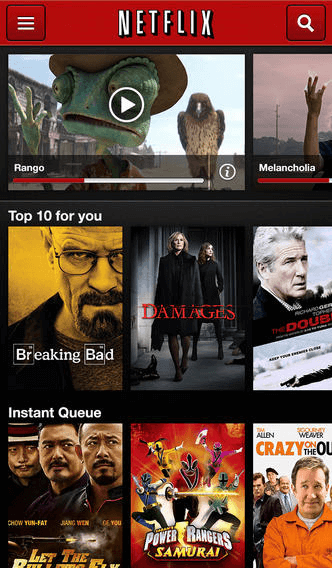 Netflix is a well-known and widely adored TV bro. It doesn't stream your favorite channels but collects all most popular TV shows. Netfix iPhone app gives you data on every episode you are going to watch and shows it in high-resolution. It also offers you an eternal number of HD movies to rent. Isn't it a pocket cinema house?
The service is great those who search for a complete set of series of their adorable shows.
The subscription will cost you from $7.99 to $11.99 per month depending on a plan.
Hulu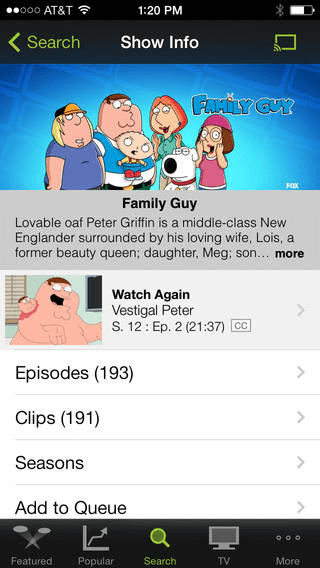 Hulu seems to be very-very similar to Netflix, though it is designed in green, not in red. The process of TV streaming is absolutely the same: episodes, TV shows and series, information about every piece and comfortable watching. Even in full-screen.
So, it's up to you to decide, whether Netflix or Hulu suits your mood more, they are both great apps for watching TV on iPhone.
A monthly payment will be $7.99 or $11.99 depending on a plan you need.
A&E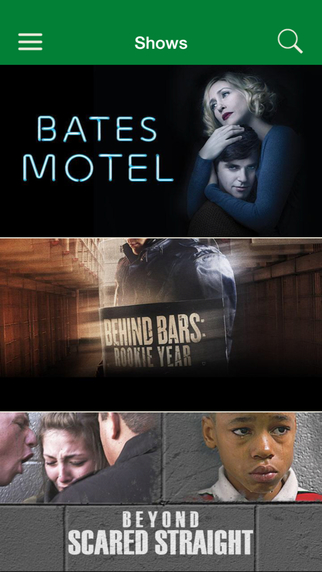 A&E is an app that belongs to A&E Television Networks Mobile. If you enjoy the First 48, Bates Motel, Duck Dynasty and other popular A&E shows, this app is what you need to have on your iPhone. The app is free and easy to use. Simply login with your account, choose a show, an episode or a bonus video like deleted scenes and start watching. What is special about this app is that it provides a number of videos for free. It means you don't need to insert your login data.
The price depends on your television provider.
TBN Mobile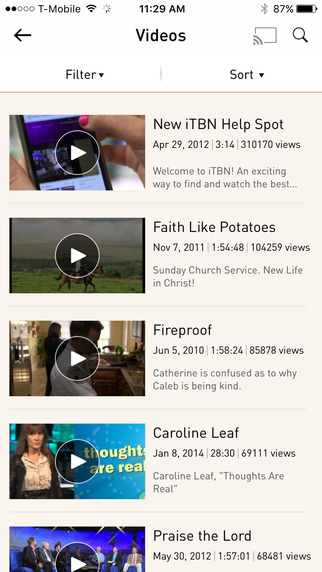 TBN Mobile is a brilliant app, which shows what's on right at the moment, as well as the TV schedule. The latter can be filtered by date and channels. Besides, you're welcome to read some info before streaming a video.
But the choice of the channels is not so huge. So, this is a TV app for a common user, willing to find something to watch.
Cartoon Network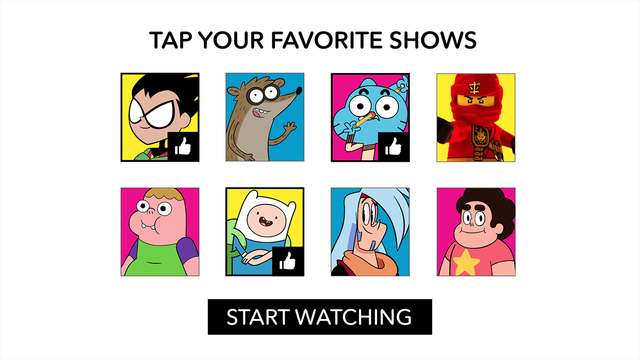 As it's clear from the title, Cartoon Network will offer you a variety of cartoon series to watch both alone or with your kids. The app will be perfect for fans of Teen Titans Go!, The Amazing World of Gumball, Steven Universe, Clarence, Adventure Tim and other animated shows of this kind.
Like with all the apps above, Cartoon Network is free for downloading and the price depends on your television provider. The channel is available on almost all most popular ones including AT&T U-verse, BendBroadband, Blueridge, Cable One, Cablevision Optimum, Charter and many others.
Spectrum TV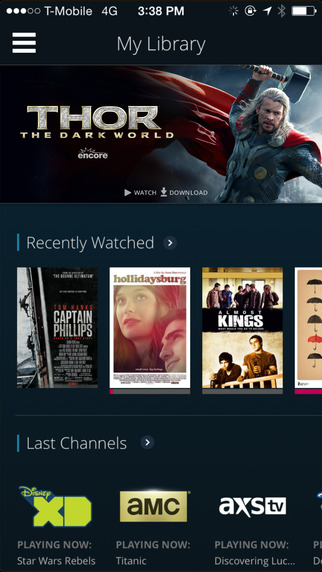 Spectrum TV is an app provided by Charter Communications. It offers a number of great shows and videos that are even available for downloading. You simply need to be subscribed to Showtime, Starz, Encore or MoviePlex plans. In case your connection is great, you can watch live and On Demand videos right on the go.
Spectrum TV also offers a kid zone with a padlock option that won't let your kids access other areas of the app while they are watching kids shows.
Moreover, there is a sport zone that lets you follow sports games in real-time. Isn't it great? Nonetheless, we recommend to use special sites to stream sports on iPhone.
The subscription starts form $29.99 per month.
Crackle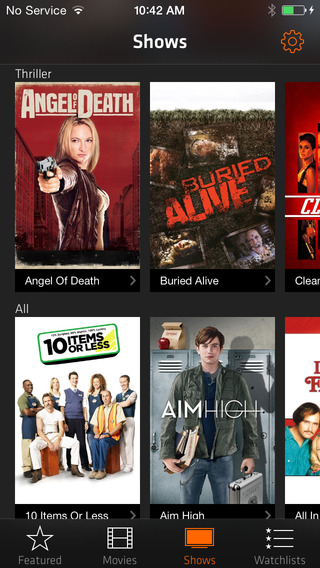 Crackle was made for you by Sony Pictures Television. Here you can find full-length movies, thousands of TV shows and even anime. And all this has been produced by Sony! Besides, original series created by Cracks are also available. Enjoy Jerry Seinfeld's Comedians in Cars Getting Coffee, Chosen, Extraction, Cleaners, Sequestered, Sports Jeopardy and many more.
And do you know what's the best about this app? Both app and its content is absolutely free. Yeah, you can watch any episode or movie without paying a cent. You'll get some ads during the playback, but there is nothing to complain about. Simply take care about your data plan.
CBS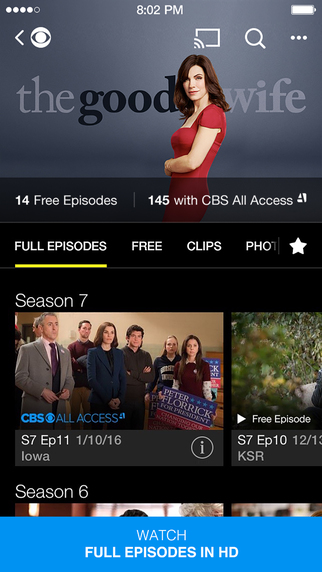 CBS is one more great app you can use to watch TV on iPhone. Follow Blue Bloods, CSI, CSI: Cyber, NCIS, The Good Wife, The Big Bang Theory, Madam Secretary, 2 Broke Girls, Mike & Molly and other TV shows. If you have an CBS All Access plan, you can enjoy primetime episodes in HD the next day after the release.
The app lets you create a personalized list of your favorite shows and can send you push notifications when new episodes are available. The only drawback of this app is that it contains ads both in the app itself and in its content.
The subscription price starts from $5.99 per month.
Crunchyroll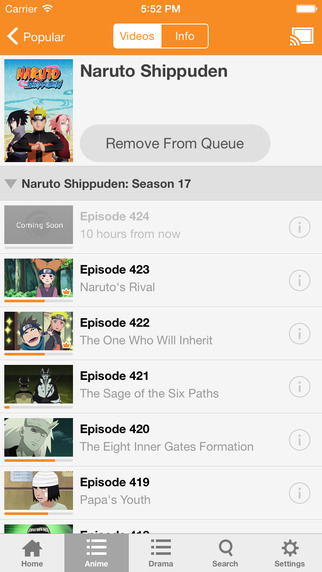 Crunchyroll is perfect for all anime lovers since it contains over 25.000 anime episodes. Naruto Shippuden, Sword Art Online, Attack on Titan, Bleach, Kill la Kill, Hunter X Hunter and many more. You can enjoy your favorite anime for free right away or get a Premium account ($6.99 per month). It'll come without ads and will bring you new episodes 1 hour after their arriving in Japan. Moreover, you will get an access to HD and DVD quality videos.
The CW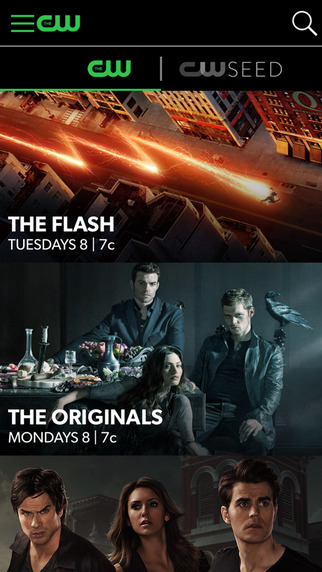 And finally the last, but not the least is the CW app. Like Crackle app, the CW is absolutely free. With the help of this app, you can stream such shows as The Flash, Jane The Virgin, The Vampire Diaries, Arrow, iZombie, Supernatural, America's Next Top Model, etc. Here you can also get behind the scenes videos, interviews, extras and other bonus videos.
Of course, there are commercials here almost like on TV, but when you get new episodes almost right away and for free, it's not that important.
What other TV apps do you use? let us know their pros and cons in comments.
Comments
comments