Smilebox is a great way to share happy moments of life in the form of beautiful multimedia creations. It's not another tool with funny ecards, stylish slideshows or invitations. It's much more. The idea behind Smilebox is to brighten anyone's day, show your care to your nearest and dearest. With Smilebox, you'll be able to create and send
Now let's look at the key Smilebox options in detail.
SEE ALSO: How to Make a Cartoon Yourself
SEE ALSO: How to Edit Photos for Fun with Photofunia
Is Smilebox free?
Smilebox is not a web service, it's a software for Windows & Mac. So you need to download and install it to your PC. The tool is clean, without any ads in the installer.
Once you install it, you'll be offered to register an account.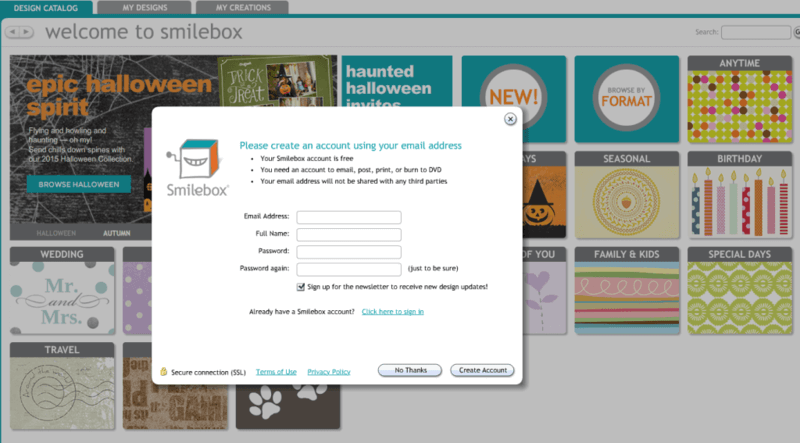 Still it's not a necessary step. You can choose "No, thanks" and proceed to the functionality without signup.
Smilebox offers two types of accounts:
free with limited designs;
paid Club Smilebox for $3.99/month, billed annually, with 7 day trial.
There's a difference in options between the acconts: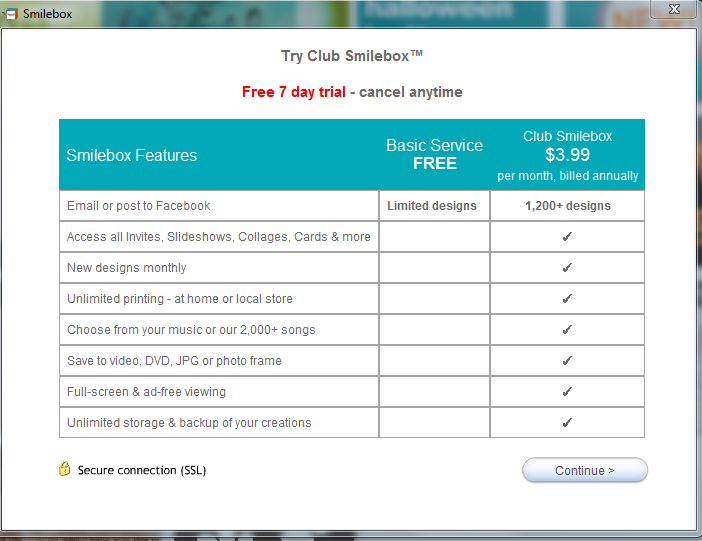 To strat the trial, you need to enter your billing information.
How to use Smilebox?
As soon as you make your decision concerning subscription, you may start to explore the software possibilities.
On the welcome board choose a topic for your future creation among: Wedding, Baby, Travel, Halloween, Birthday, School, Pets, Holidays, Sports, etc.
Then select what you want to do: a slideshow, invitation, collage, book, etc. Alternatively, you may start browsing the templates.
Choose a template using various search filters: Most Popular, Free, Premium, Style, Newest. Keep in mind that you can't use premium templates with a free account.
Choose a template. Click the button Personalize and add your text and photos to the template.

Click Save and name your project. Preview it to make sure everything is OK.
Select a way of delivery: digital or printed.

With a free account (yes, you need to sign up here if you didn't do it before), you can email your creation or post to Facebook, Twitter, website or blog. The content will include advertising.
Alternatively, learn how to make a photo slideshow with music using Freemake software.
How to Make a Collage with Smilebox
Smilebox provides dozens of collage templates for any taste. Follow the steps below to create your own collage with Smilebox:
On the welcome board choose Browse by format, then Collages.
Select a design and click Personalize.
In the upper left corner click Get photos and videos. It lets upload content from your PC, Facebook or iPhone (Smilebox app for iPhone is required).
Drag and drop photos to the collage template and play with photos layout and background. If you don't like the template, you may change it via the Return to Catalog button.

Preview your collage, post or save it.
How to Send Greeting Ecards with Smilebox
Smilebox offers to send colorful e-cards of high quality to anyone. See how to do this:
Click Browse by format, then Greetings.
Choose a design.
Customize the sample. Add a photo, text, soundtrack. Choose the font and color theme.
Preview the card to be sure.
Choose the way to congratulate your recipient: email, Facebook, etc. Enter the info and share your ecard.
How to Make a Slideshow with Smilebox
Smilebox is often called a slideshow maker. Perhaps, this is because it offers a great deal of free slideshow templates of high quality. Do as described below:
Tap Browse by format, then Slideshows.
Find an appropriate design, use filters on the right.
Click Personalize.
Edit the intro slide. Then add your photos and videos to next slides. Add notes to slides.

Set the background music and slideshow speed.
Save, preview and share your slideshow.
If you have a free acount, you may save the slideshow in video format using Camtasia.
How to Make a Scrapbook with Smilebox
You can create amazing scrapbooks and photo albums using Smilebox software. Follow the steps below:
While browsing designs by format, choose Books, then Scrapbooks.
Select a template and add your content: photos, videos, text.

Add a music track if necessary. Or you may choose a track from Smilebox collection: 70s Folk, Mellow Pop, Upbeat.
Once finished, preview the book.
Choose a way to save it: email, social sharing, DVD, JPG, printed book. The last 3 options are only for Premium users.
SEE ALSO: 18 Ways to Get Royalty Free Musiс for Your Visuals
How to Create a Calendar with Smilebox
In case you need to make a digital or printable calendar for you or your friends, do as described below:
Browse By Format, select Calendars.
Choose a design (unfortunately, all of them are premium).
Add your photos and text.
Preview the draft and choose the way to get it: a digital copy or a printed one. You can even order a delivery for your printed calendar right in the software.
To sum it up, Smilebox is an awesome tool which comes up extectations by 100%. With it, you can also create Facebook covers, thank-you letters, announcements, newsletters, flyers and much more. The only drawback is that most designs require the premium $3.99/month subscription.
Still we recommend you to go ahead and try Smilebox today!
Don't Miss! Try our new DVD Copy Software to turn your DVDs into digital & share everywhere
Comments
comments