Music videos on YouTube attract the attention of millions of users worldwide. Various billboards and charts take YouTube view stats into consideration while issuing the year-end charts.
Let's view what music videos became hits in 2018 and 2019. Don't forget that you can download those videos free with YouTube video downloader. Alternatively, you may use our software for media download and convert the clips into MP3 format or download whole music collections containing these songs.
If you save the music clips on your PC, you may further change their format to an audio one using MP4 to MP3 Converter Windows.
SEE ALSO: 20 Most Viewed YouTube Music Videos of All Time
Top Music Videos 2017-18
2017 was the year of musical discoveries. A lot of new artists appeared and gathered the record number of YouTube views for their debut clips. Find below the most popular YouTube music videos of 2017.
10. Migos – Emmitt Smith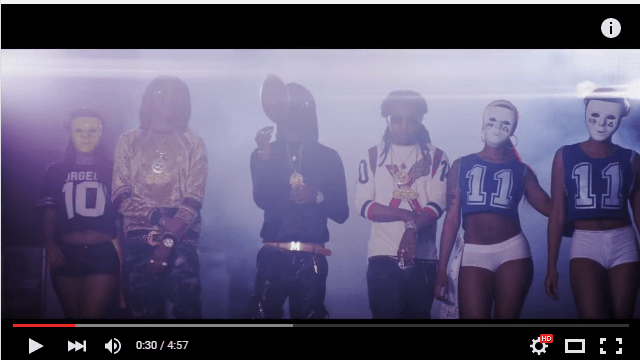 Can fit 2 plus 2 in my Phantom
Your pockets look like they got cancer
I just bought a brand new Mercedes from Haiti and set it on some Walter
Published: Mar 7, 2014
Views: 980,064
In case you don't know Emmitt Smith is a professional American football player. The song by Migos with the exact title is a new tribute to former NFL star. The song is just a fun!
9. One Direction – Happily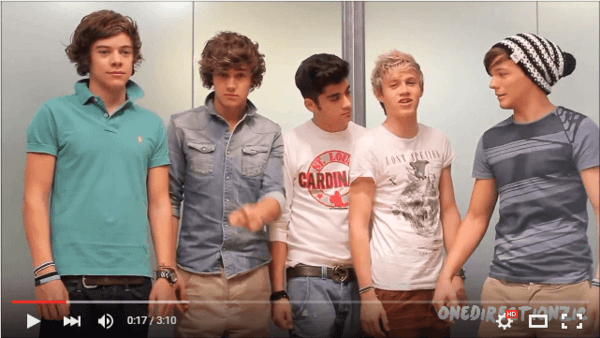 I don't care what people say when we're together.
You know I wanna be the one to hold you when you sleep
Published: Jan 10, 2014
Views: 7,048,212
"Can't stop smiling" is the only thought that will cross your mind while you are watching this video. Though it is not an official video, a lot of YouTube users rated it even higher.
8. Usher – Good Kisser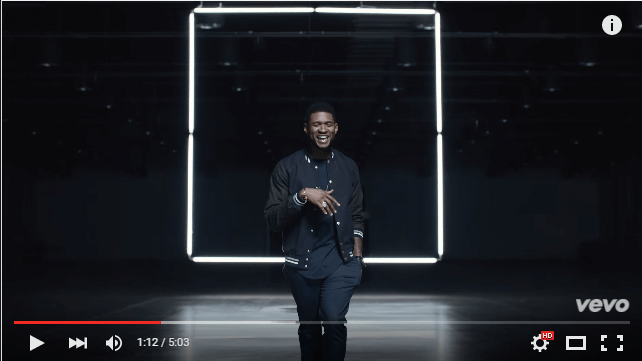 See, I told her
The devil is a lie
Published: May 5, 2014
Views:  35,976,880
According to one popular music magazine, this R&B song has lyrics of "praising one particular set of lips", and sets the scene with lots of "specific imagery". The respective music video shows Usher dancing and drumming.
7. Little Mix – Salute
Ladies all across the world
Listen up, we're looking for recruits
If you're with me, lemme see your hands
Stand up and salute. 
Published: May 1, 2014
Views:  78,003,711
This is a spectacular music video representing military women. Though they are warriors, they are still very hot dancers.
6. Jennifer Lopez – Same Girl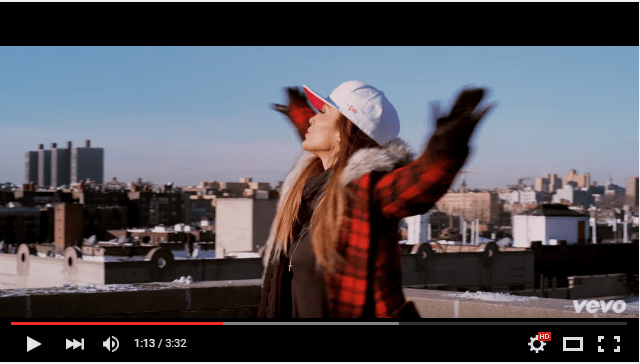 I had to thank God 'cause he chose me
I'm still the same girl
Published: Jan 31, 2014
Views: 18,337,851
This video is J.Lo's "love letter" to her hometown, New York. The clip depicts Jey Lo walking, dancing and talking about herself being "the same girl".
5. Lady Gaga – An ARTPOP Film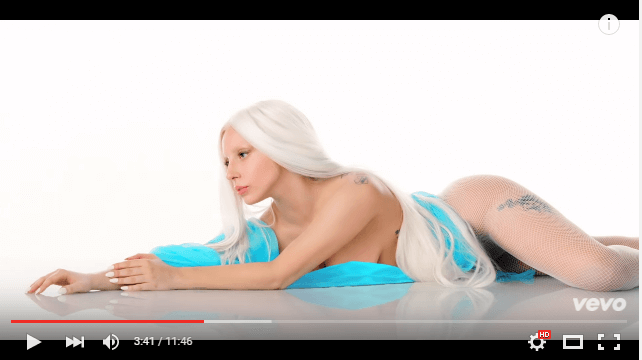 Love is fly, I've flown my beaches with lover's side
The color's palette you choose
Can profit you
Published: Mar 22, 2014
Views: 73,561,190
This video is so Lady Gaga's – expressive, explosive and exceptional. Lady Gaga's fans will definitely appreciate it.
PRO Tip: You can make a collection of your favorite music videos by converting them from FLV to MP4.
4. Justin Bieber – Confident feat. Chance The Rapper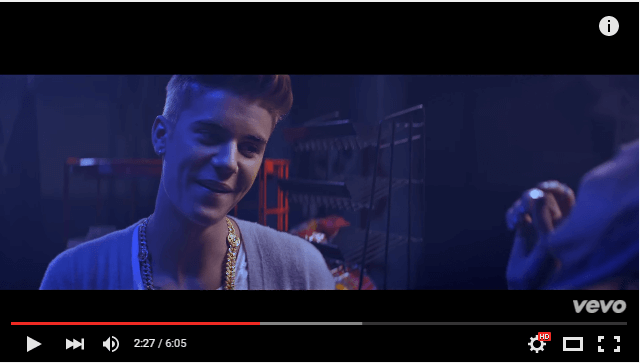 Like a fantasy in front of me
I think that something special is going down.
Published: Jan 29, 2014
Views: 196,177,014
This one is a romantic and well-staged video by Justin Bieber. In it, Bieber tries to seduce a young woman in a gas station, but he fails. The singer spends most of video following her around, singing and dancing.
3. Machine Gun Kelly – Mind of a Stoner feat. Wiz Khalifa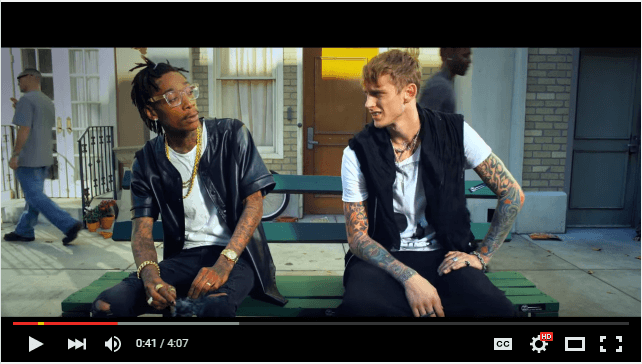 And the same days that I'm happy
Is the same days that I'm mad
Published: Feb 10, 2014
Views: 68,653,576
In this video, the two rappers are sitting on a bench and discussing their life goals.
2. Shakira – Can't Remember to Forget You feat. Rihanna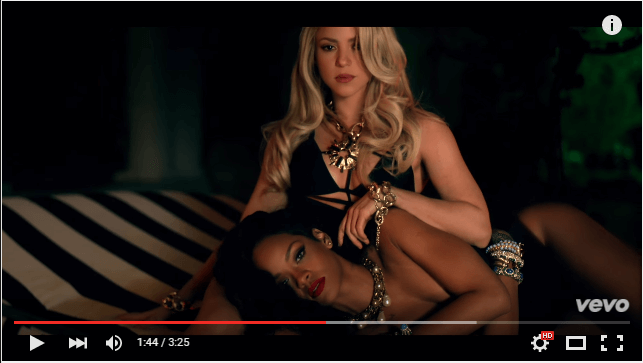 "You part of me now, you part of me
So where you go I follow, follow, follow"
Published: Jan 30, 2014
Views: 678,903,690
This is the second popular YouTube video of 2014. It received more than 17.1 million views during its first 24 hours of availability.
1.  Katy Perry – Dark Horse feat. Juicy J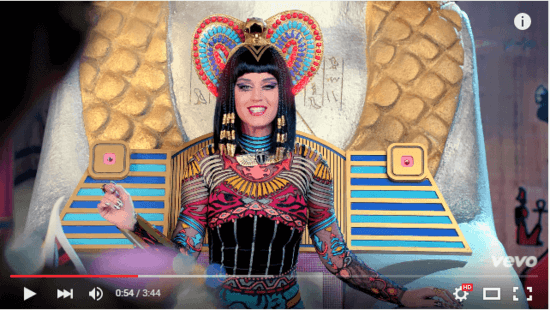 This love will make you levitate
Like a bird
Like a bird without a cage
But down to earth
Published: Feb 20, 2014
Views: 1,374,088,402
And the most popular YouTube video of 2017 is Katy Perry's "Dark Horse". Katy is starring as an Egyptian queen of ancient times. In the interviews, Katy says that in "Dark Horse" she wanted to be a witch warning a man not to fall in love with her.
SEE ALSO: 5 Great MP3 Download Tools to Get Music Free
Top YouTube Music Videos 2019
The best music videos this year were dominated by pop and hip-hop artists. Almost all top music videos were published on YouTube in the first half of the year. Find the music stars of 2018 below.
10. Silentó –  Watch Me (Whip/Nae Nae)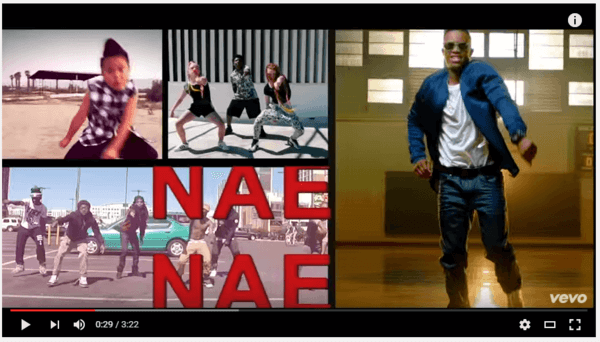 Now watch me whip (Kill it!)
Now watch me nae nae (Okay!)
Published: Jun 25, 2015
Views: 815,752,730
Teenage Atlanta hip-hop artist Silento marked his first chart entry with this track. The song is very dynamic and energetic.
9. Adele – Hello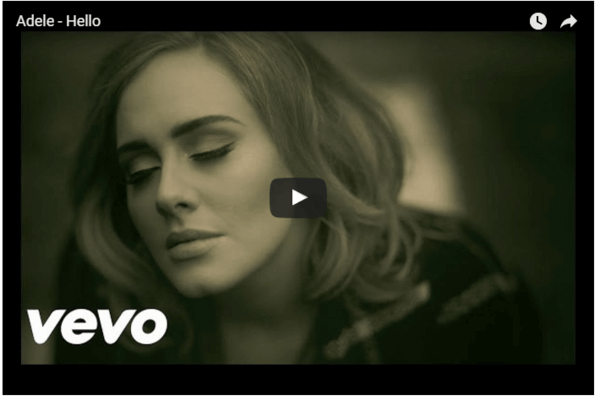 When we were younger and free
I've forgotten how it felt before the world fell at our feet
Published: Oct 22, 2015
Views: 1,470,537,749
"Hello" is Adele's first song released after her three-year leave. The track is very deep and touching. Vevo reports that this music video was the first to attain 100 million views in the shortest time.
SEE ALSO: How Much Will You Pay for Music Next Year? [Music Industry Infographic]
 8. Fifth Harmony – Worth It feat. Kid Ink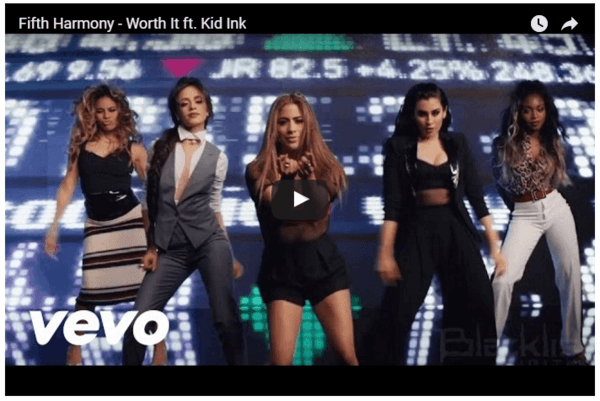 Give it to me, I'm worth it
Baby, I'm worth it
Uh huh I'm worth it
Published: Mar 28, 2015
Views: 782,430,660
This is the girls band's first international successful single peaking in numerous world charts. "Worth It" is written from the perspective of a woman telling a man that she's "Worth It".
7. Sia – Elastic Heart feat. Shia LaBeouf and Maddie Ziegler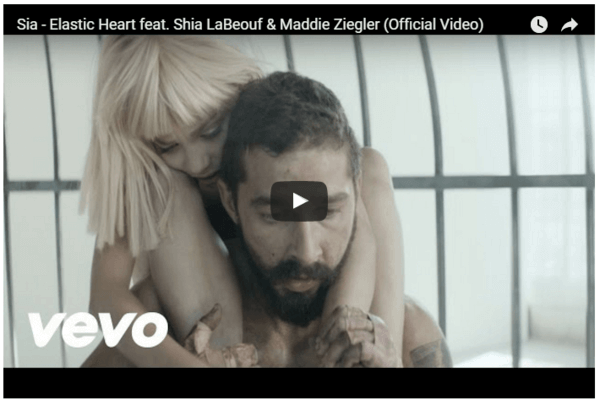 Well, I've got thick skin and an elastic heart,
But your blade—it might be too sharp.
Published: Jan 7, 2015
Views: 605,801,082
"Elastic Heart" is a song by Australian singer Sia taken from the soundtrack for the movie "The Hunger Games: Catching Fire". The music video has become very controversial.
6. David Guetta – Hey Mama feat. Nicki Minaj, Bebe Rexha and Afrojack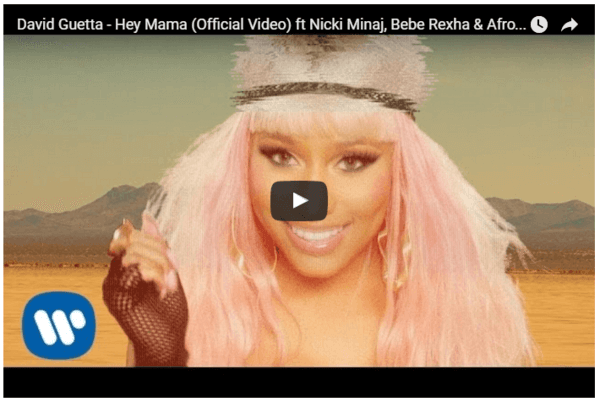 Be my woman, girl, I'll be your man
Be my woman, girl, I'll be your man
Published: May 19, 2015
Views: 693,150,677
This is an island-flavored tune by the famous French DJ with Nicki Minaj's vocals. The plot of the music video starts in a desert and ends in the water full of sharks.
5. Taylor Swift – Bad Blood feat. Kendrick Lamar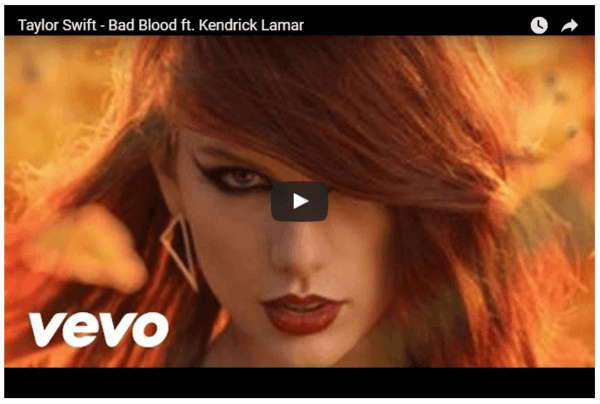 Now we got problems
And I don't think we can solve them
You made a really deep cut
And, baby, now we got bad blood
Published: May 17, 2015
Views: 861,206,212
"Bad Blood" is the singer's fourth Hot 100 No. 1 single. The lyrics of "Bad Blood" describe the betrayal of a close friend. The music video won "Video of the Year" and "Best Collaboration" at the 2015 MTV Video Music Awards.
4. Major Lazer & DJ Snake – Lean On feat. MØ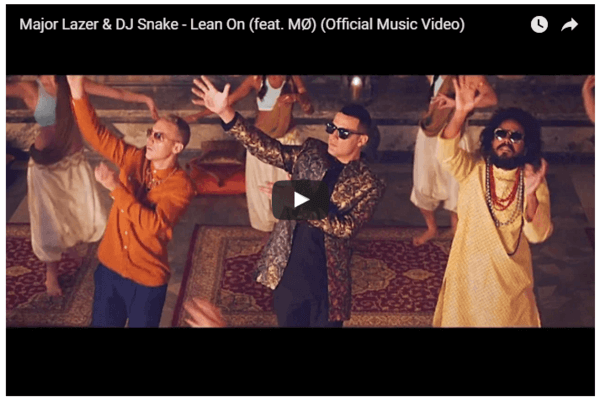 Blow a kiss, fire a gun
We need someone to lean on
Published: Mar 22, 2015
Views: 1,318,674,583
"Lean On" was a critical and commercial success, peaking at many world charts. In November 2015, the single was named by Spotify as the most streamed song of all time, with 526 million streams globally.
SEE ALSO: 9 Best Music Streaming Apps for iPhone to Get Tons of Music
3. Ellie Goulding – Love Me Like You Do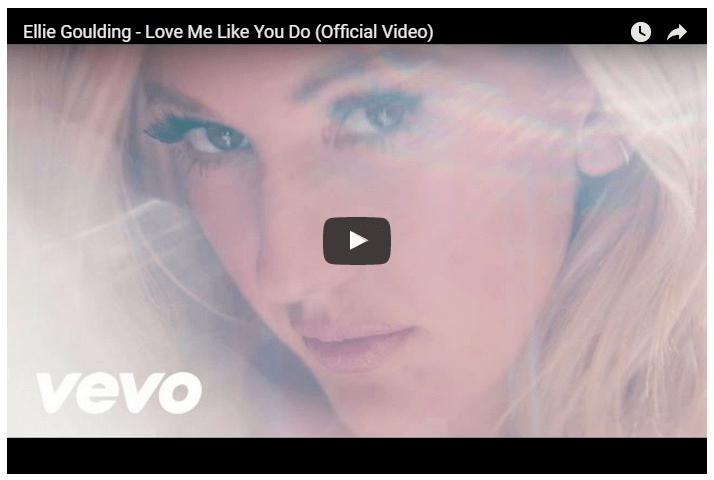 Love me like you do, love me like you do
Touch me like you do, touch me like you do
What are you waiting for?
Published: Jan 22, 2015
Views: 1,083,140,489
Ellie Goulding recorded this sultry power ballad for the "50 Shades Of Grey" movie. The song ideally reflects the main idea of the sensational film.
2. Maroon 5 – Sugar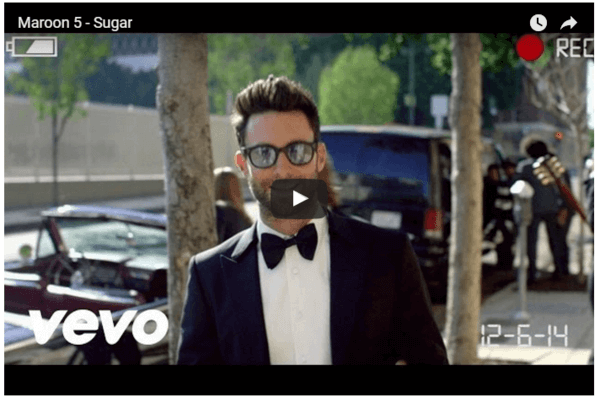 I'm right here, 'cause I need
Little love and little sympathy
Published: Jan 14, 2015
Views: 1,211,224,866
"Sugar" is a disco, funk-pop and soul song that features a wide range of instruments. The music video was inspired by the romantic comedy "Wedding Crashers" of 2005. The clip features Maroon 5 crashing weddings that happened in the city.
1. Wiz Khalifa – See You Again feat. Charlie Puth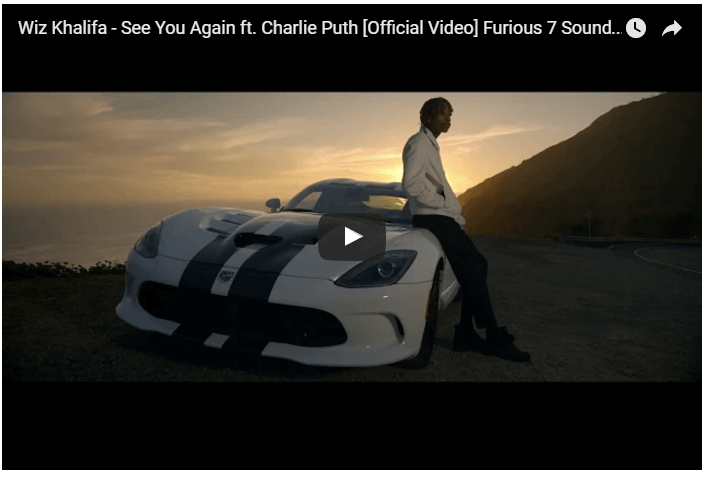 Damn, who knew?
All the planes we flew
Good things we've been through
That I'll be standing right here talking to you
Published: Apr 6, 2015
Views: 1,678,592,381
This is the official "Furious 7" soundtrack. The music video includes some parts of the film and of course, features expensive cars and races.
Comments
comments