A great part of iPhone users don't change the default ringtone since the purchase of the smartphone. If you're one of them, it's high time to download and set up a new cool ringtone to stand out from the crowd. Here are the best 10 sites and apps to get tones from.
SEE ALSO: How to Make iPhone Ringtone Free
SEE ALSO: 10 Funny Apps to Make You Burst into Laughing
7 Websites with Free Funny Ringtones
You can set a new funny ringtone onto your iPhone via special apps or from websites. Note that iOS doesn't allow to save MP3s off the Internet directly to the phone, so you'll need to save melodies first to your PC and then transfer to your device via iTunes. In some cases you will also need to convert MP3 ringtone into M4R format (look here how). Check out these popular websites to get funny ringtones for free.
Zedge.net
Zedge.net is a marvelous source with more than 5,000 funny ringtones. You can choose the funniest tones from Comedy category. Filter pieces by relevance, popularity, rating, or date. To preview a tune, just hit the Play button.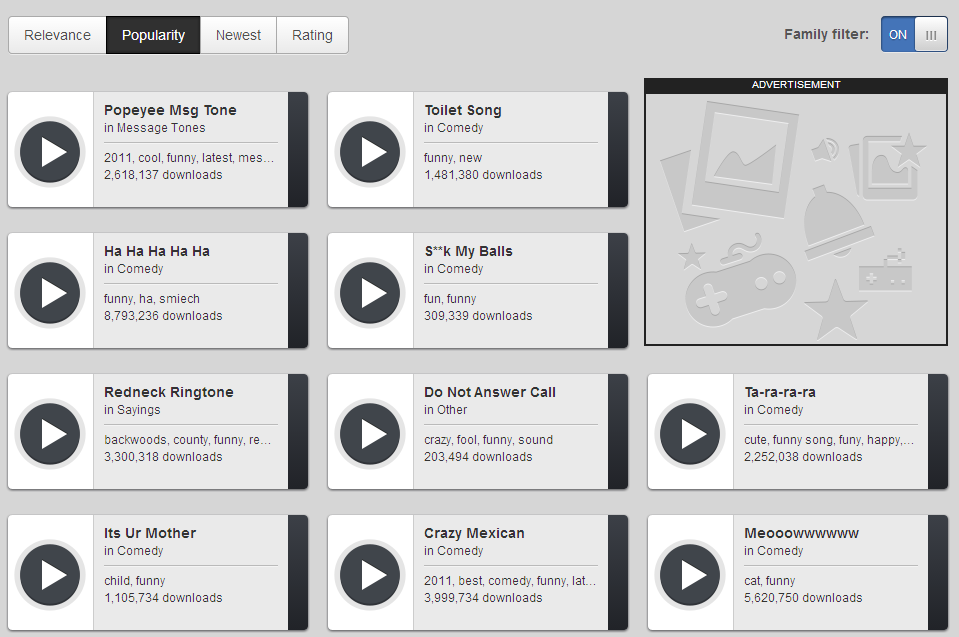 Yoy may download the melody to your PC in the MP3 format and transfer it to your iPhone therefore. On Zedge website it's also possible to get iPhone wallpapers and themes in HD quality.
SEE ALSO: Free HD Walparesr for iPhone – Top Apps and Sites
Audio4fun.com
Audio4fun.com is full of free funny stuff like funny audio tunes, jokes, and parodies. You can search for a needed piece or browse top funny ringtones, such as "Dog Laugh" or "Funny Chimpanzee". Every melody is accompanied with the number of downloads, so you may easily rely on the public's opinion. You can explore ringtones by tags or categories. Preview is also available.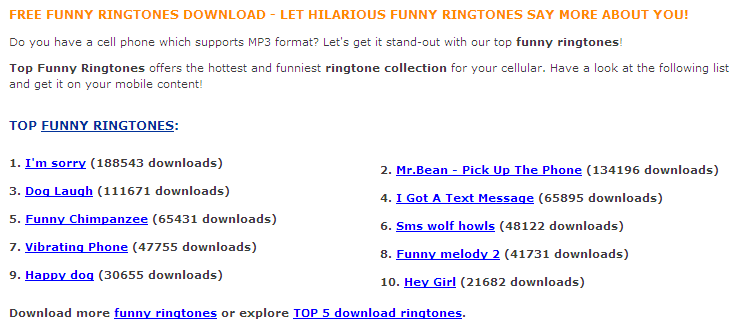 To download a ringtone, find the Download it button and save it to your PC for further upload to your iPhone. The track is loaded in the MP3 format.
Make4fun.com
Make4fun.com provides hundreds of funny tones for any occasion. Find the one you need, preview the track and save it to your PC. You can also listen to playlists or send ringtones to your phone via email.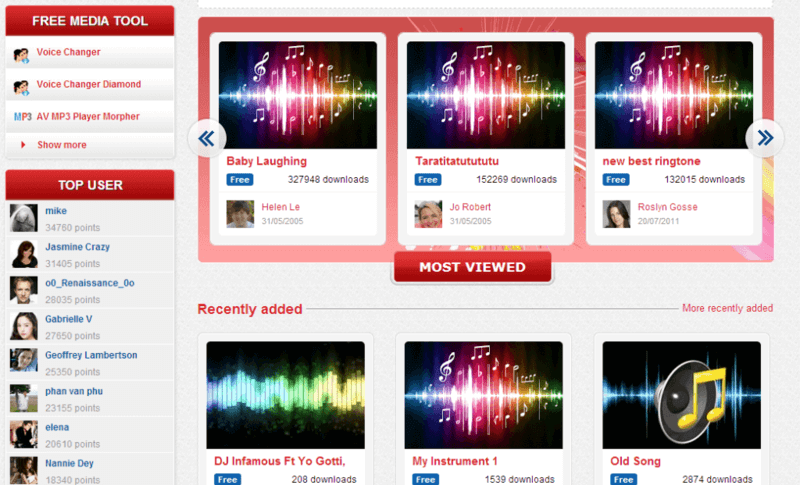 To tell the truth, the choice of funny ringtones isn't wide. However, the website  offers the opportunity to make a tone yourself. For example, use Voice Changer to create your own funny ringtone. Then publish it on the website to share with other users.
Prokerala.com
Prokerala.com looks very simple and lets you download the ringtones in one click. There's no much additional data or supplementary features. You just open the list of ringtones and click on Download.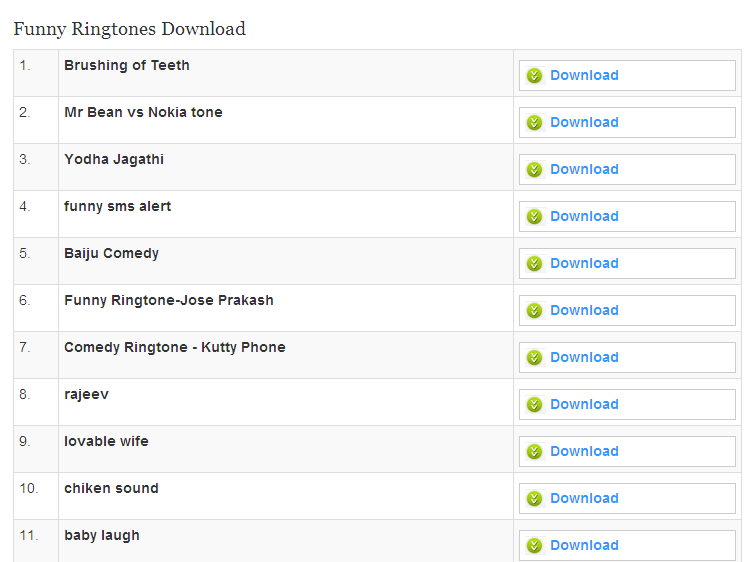 In.com
In.com consists of many tabs like games, apps, wallpapers, etc. As it comes to ringtones, the procedure of getting them is not difficult. You find a track, preview it and then click the Download button to get the tune. The number of downloads can give you a hint about the melody's popularity.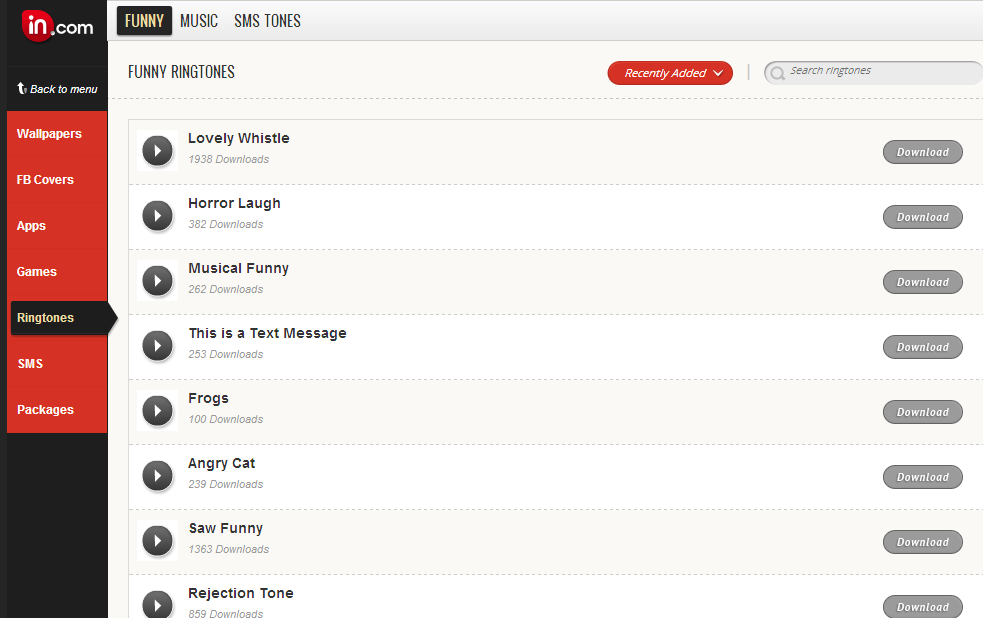 Freetone.org
Freetone.org is another library of cool ringtones. Browse the top tunes, listen to the pieces and hit the Download button to grab the track in the MP3 format.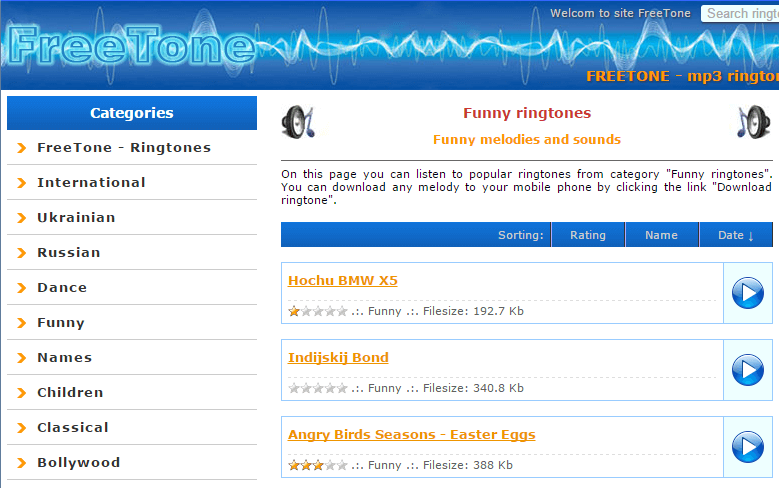 Read the comments about the particular melody and filter tracks by rating to get the most popular ringtones.
Top 4 Apps with Funny Ringtones
If you install one of the following apps, you'll be able to change your iPhone ringtone straight away, without uploading it via iTunes and re-encoding.
1500 Free Ringtones!
This app, as you can conclude from its title, features over 1500 ringtones for any mood or occasion. Choose a tone and set it as a ringtone for all or particular contacts.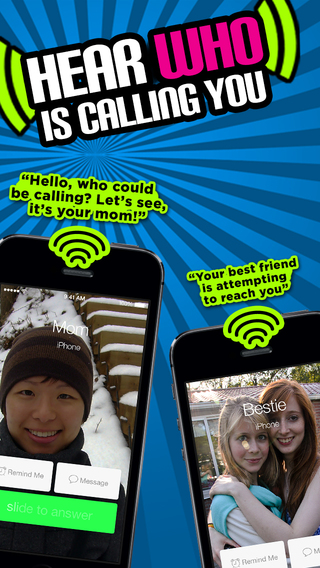 The app also allows you to create custom ringtones on the basis of your recordings or favotite songs.
Hahaas Comedy Ringtones
This is an app with a series of podcasts which you can save to your gadget and set as a ringtone. There are also over 10,000 tones from Hahaas Comedy available in iTunes Tones store.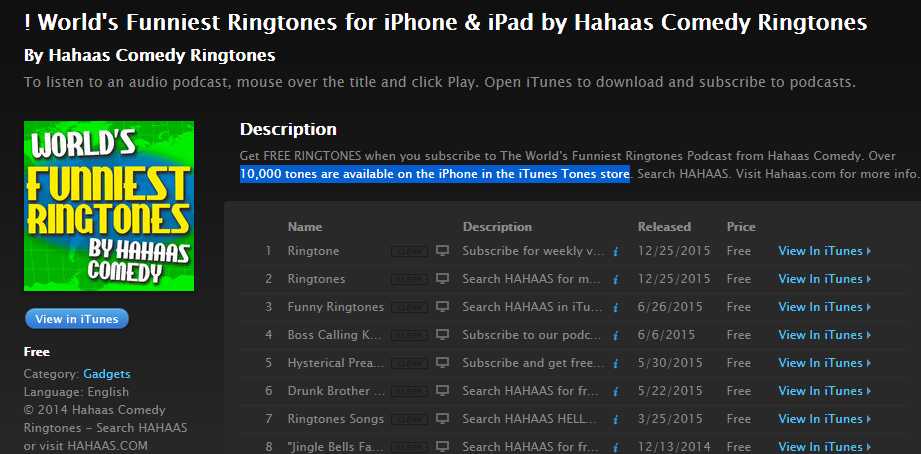 Top Funny Ringtones
This app features the most popular funny ringtones from all over the Internet. All the sounds can be saved as ringtones or text tones.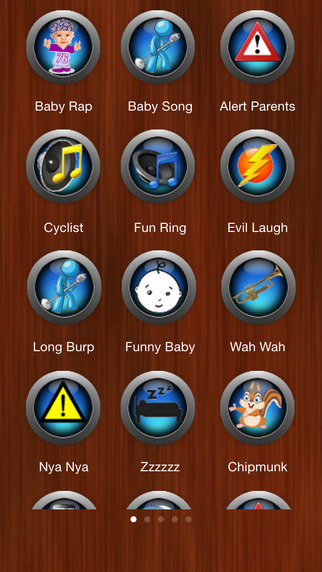 The melodies are grouped into categories where the most downloaded tunes are placed on top.
Funny Ringtones♫ In ONE
The application provides a free access to 4,000+ funny ringtones with a special edition of Christmas tones.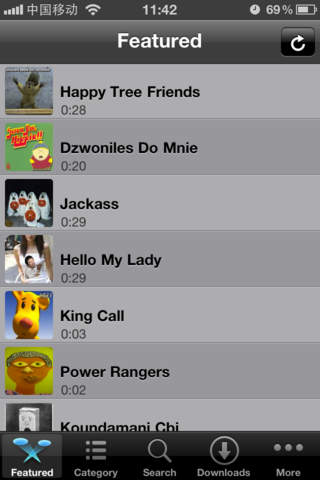 The database is constantly enlarged. You may use the inbuilt search to find the pieces you need. You can also email any ringtones to your friends.
What funny ringtone did you choose for your iPhone?
Comments
comments