"Cut the Rope" is one of the most popular games for phones and tablets with over 700 million downloads around the world. It's available for iPhone, iPad, Android, Amazon Kindle Fire, Windows, Mac, BlackBerry, and Leap Motion. ZeptoLab, the company that stands behind Cut the Rope franchise, was founded in 2010 by two brothers – Efim and Semyon Voinov. Now ZeptoLab strives to get rid of one-game label by releasing new games King of Thieves and Pudding Monsters.
ZeptoLab History
Before we jump into discussion of Omnom past & future with Efim and Semyon Voinov, let's overview timeline of ZeptoLab game releases.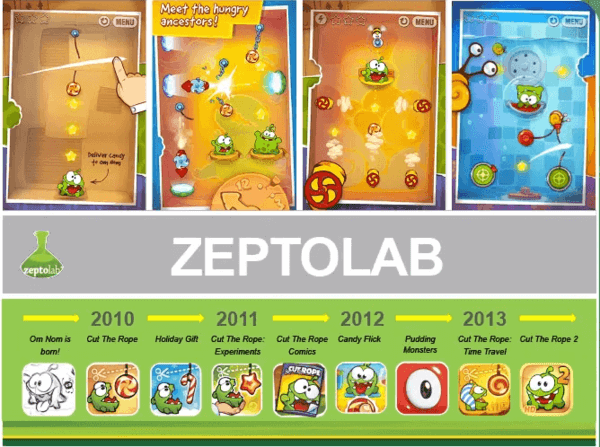 ZeptoLab regularly delights its users with new updates since 2012:
2012 – Cut the Rope: Experiments
2013 – Pudding Monsters
2013 – Cut the Rope: Time Travel
2013 – Cut the Rope 2
2015 – King of Thieves
SEE ALSO: 10 Addictive Facebook Games to Play with Friends
Interview with ZeptoLab co-founder Efim Voinov
We interviewed ZeptoLab co-founder Efim Voinov and asked him several questions about Om Nom, the main creature in Cut the Rope and the game success.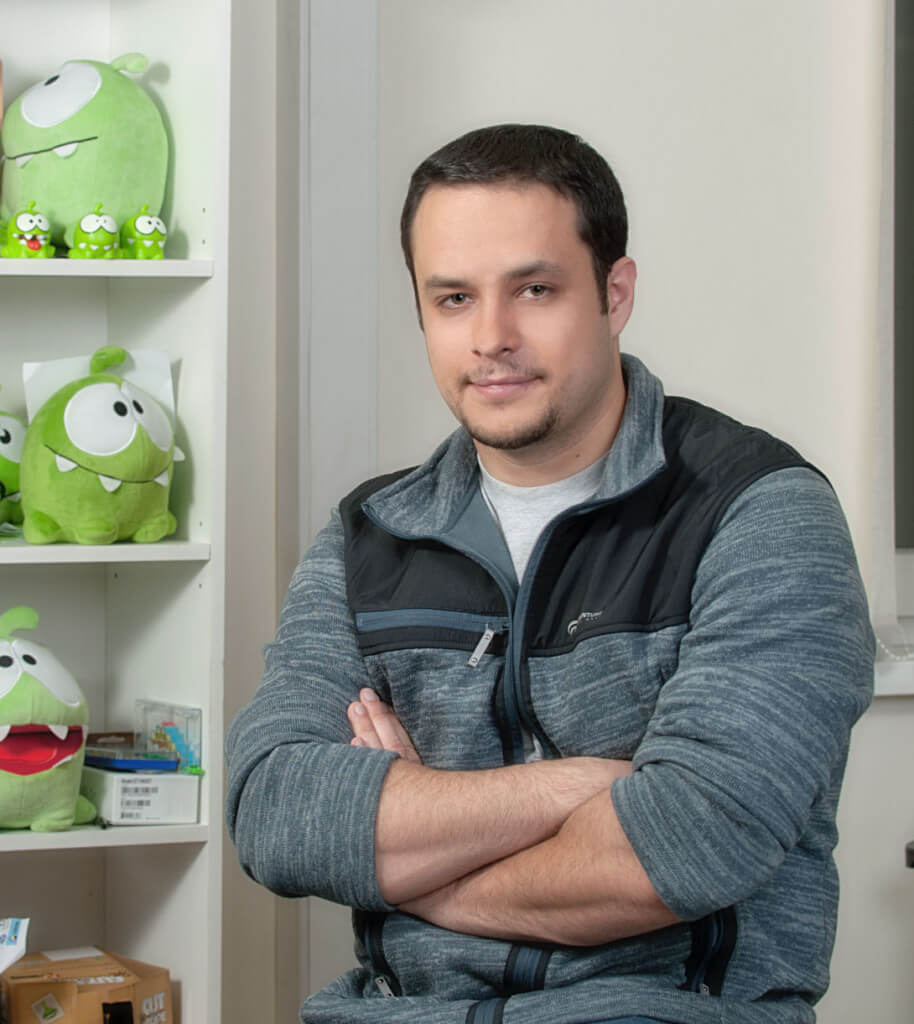 Why is Om Nom green?
Om Nom is designed to be a child-like character that people want to care for, and he happens to be a monster. We decided to make him green to turn the cliched scary green monster into something cute and lovable.
You have a popular YouTube channel with Om Nom short cartoons. Do you plan to release a full cartoon movie?
We have been encouraged by the success of our "Om Nom Stories" series – we're now at more than 60 million views on YouTube, not counting views within our apps. We're working on a live action game show that brings Om Nom and Cut the Rope into additional forms of entertainment, and we're not ruling out a cartoon movie.
If you developed Cut the Rope again, would you change or add anything?
We have the opportunity to add to Cut the Rope with consistent updates and new games, like Cut the Rope: Experiments and Cut the Rope: Time Travel, that allow us to make the gameplay more challenging, to do more with Om Nom and introduce new settings and characters.
So many games for kids appear in AppStore and Google Play every day. What helps you stay on top?
Our focus is on quality above all else. There are a lot of things that make our games successful – lovable characters, all-ages appeal, addictive gameplay – but it's the high quality of our games that sets them apart and allows us to stay on top.
SmartTVs are getting more attractive. Would you like to bring Cut the Rope to smartTV?
We brought Cut the Rope to the LG Smart TV in 2011 and recently partnered with Leap Motion to bring the game to TVs and PCs via the Leap Motion controller. We plan on continuing to expand the availability of our games, especially as devices like these advance and become more appealing to consumers.
RELATED POST: Chris Pirillo: Thoughts on YouTube
Back in 2013, when we spoke with Efim, no one could imagine the real success of Om Nom Stories on YouTube. If you want to save the videos on your PC, follow this guide. By December 2015, it got over 12 million views worldwide! Here you can watch all episodes of Cut the Rope saga. In 2012 Cut the Rope appeared on Google Play as free-to-play application and immediately gained immense popularity reaching more users than before in China and the USA. However, it wasn't enough for developers. In the same year, they launched the HTML5 version of the game-hit in partnership with Microsoft and Pixel Lab. Listen to the interview of the second co-founder Semyon Voinov about this company milestone.
SEE ALSO: Interview with VLC Media Player Developers
ZeptoLab co-founder Semyon Voinov on Cut the Rope Online
Semyon Voinov explains that HTML5 is a perfect environment for dynamic and beautiful game which is Cut the Rope. The natural web feature is to give access to the game without any special downloads. So anyone with modern web browser like Google Chrome, Firefox, Microsoft Edge can play Cut the Rope. This opens new frontiers for ZeptoLab and lets them reach more desktop users.
Why did you create Cut the Rope online game?
We have more than 6 million play sessions everyday and we want to expand. HTML5 is another great platform to expand to.
What's special about the web-based version?
The level of expectations is high. We've developed a set of unique levels for Internet Explorer users. The unique levels that can't be found in any other of our games. It looks cool and plays well.
The web version of Cut the Rope became another milestone for the young company, but it failed to outmatch its mobile peers.
CHECK ALSO: IrfanView Founder Interview on Photo Editing
ZeptoLab CEO on Uniqueness & Future of the Company
According the the latest ZeptoLab CEO Misha Lyalin speech on the NOAH 2013 Conference in London in 2013, the company stay focused on mobile platforms and continue to build more great games as new multi-player game named King of Thieves.
Could you share with us your vision of ZeptoLab?
We have about 70 employees now and 55 games in production. We went from small startup to a company. We constantly increase our share of smartphones. But we are not only about games. We also make animation, stickers, toys & more.
Do you play Cut the Rope? Tell us in comments!
Comments
comments