Recording calls on iPhone is not so easily available as it seems due to a number of privacy issues. There is not a built-in call recorder in iPhone. Thus, to get the conversations recorded, you'll need to install some third-party apps like Google+, Skype and Quick Voice Recorder. Learn how to record iPhone incoming and outgoing calls easily with apps and services.
Please note that according to the laws of particular states, you must get your interlocutor consent to record the call. Please check your state laws to be on the safe side.
SEE ALSO: 10 Free Video & Voice Calls Apps for iPhone
SEE ALSO: 27 Best Chat Apps for iPhone
How to Record iPhone Calls with TapeACall
TapeACall is a number one app to record iPhone calls. There are two versions: Lite and Pro. Lite version is free, but it lets you listen to only 60 seconds of your recorded call. In case you want to listen to a complete recording and get more features, upgrade to Pro for $9.99 per year. For this sum you'll be able to record incoming and outgoing calls without any time or length limits. Let's see how it works:
Download TapeACall app on your iPhone.
Enter your phone number to get a verification code via a text message. You'll have to confirm it.
Now launch the app.
Wait while the app is calling its recording service line.
Tap Add call option.
Choose a number you want to call from your contacts list.
Wait till the Merge calls option appears. Now your recording will start (in MP3 format).
When you are done, listen to your recording, add to your cloud account or share via email or social networks.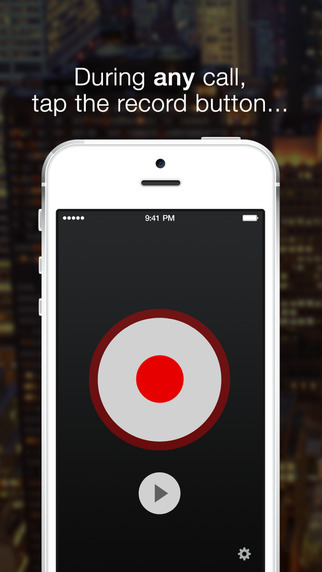 All in all, TapeACall is a great app that gets regular updates and provides a variety of sharing options. Go for it if you record iPhone calls on a regular basis.
How to Record iPhone Calls with Call Recorder
Call Recorder or IntCall is another app you can use to save your voice conversation as an audio file. Unlike TapACall, Call Recorder app is free. However, you have to purchase recording time in mintutes. There are three options available: $5, $10, $20. Depending on a country, to record one minute will cost you from $0.10 to $0.20 cents. To record a call with this app follow the steps below:
Download and run Call Recorder.
Buy a necessary amount of minutes.
Dial a number you need to call within the app. The recording will start automatically.
In case you need to record an incoming call, you should:
Launch the app while your phone is ringing.
Click the Record button.
Tap Hold & Accept to merge calls.
Answer the call.
Your recordings will be saved in the app. You can later transfer them to your PC or Mac via iTunes or send via e-mail. This app will be great for those who need to record calls from time to time.
How to Record iPhone Calls with Call Recording
Call Recording by NoNotes.com will also help you record inbound and outbound iPhone calls. The app is currently available for North American and UK users. It gives you 20 free minutes every month. In case it's not enough, you can buy additional time within the app. Moreover, the app offers you to use it for dictation or transcribe your recorded voice calls. Follow this guide to record a call with Call Recording:
Download the app.
Create an account within the app.
Choose an action: record a call, record and transcribe a call, record and transcribe a dictation.
Select a number you want to call.
When you are ready, tap the red Record button.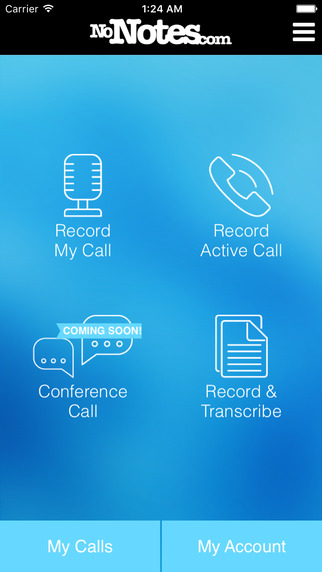 Like TapACall, Call Recording lets you export your audio files to cloud services or share them in social networks.
How to Record Incoming Phone Calls with Google +
First of all, Google + records only incoming calls. Then, it requires some preparations on PC before recording iPhone calls. So if you don't mind spending some time in front of your PC and need to record incoming calls, go for this option.
Sign up with your Google + account.
Go to

Voice.google.com

and set up your account following the instructions on the page. You may get a free Google Voice number or use your current phone one for $20. Please note that it'll stop your plan with your current provider.
Go to the AppStore and download Google Voice Google Voice app.
Run the app on your iPhone.
When you get an incoming call, press the 4 button to record it. Press the button again to stop recording.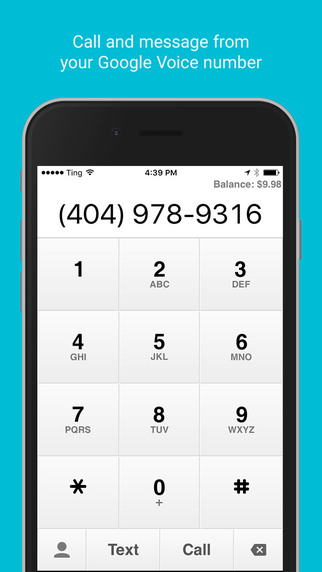 You will find the recording in the Google Voice inbox on your Google Drive.
How to Record iPhone Calls with Voice Recorders
The easiest way to record an iPhone call is to use a voice recorder on a separate device like laptop or tablet. What you need to do is to:
Install one of the voice recorders on your device.
When making a call, enable the Speaker mode.
Turn on the recorder and speak in a clear and loud voice.
Turn off the recorder when the call is finished.
This option is great when you have time to prepare for you call. If you need to record all the call or a accidental one, choose one of the apps above.
Very often such voice recorders save tracks in FLAC format, so to be able to reproduce them on other devices, change FLAC file to MP3.
How to Record a Zoom Call Free?
It's also possible to record a video of a call in Zoom. For this, use Zoom Video Recorder from Freemake. Before a conference, go to the website and enter there the details of your future call (the link, date, time, and your username). The tool will attend the meeting and record it. You'll receive the recording to your email.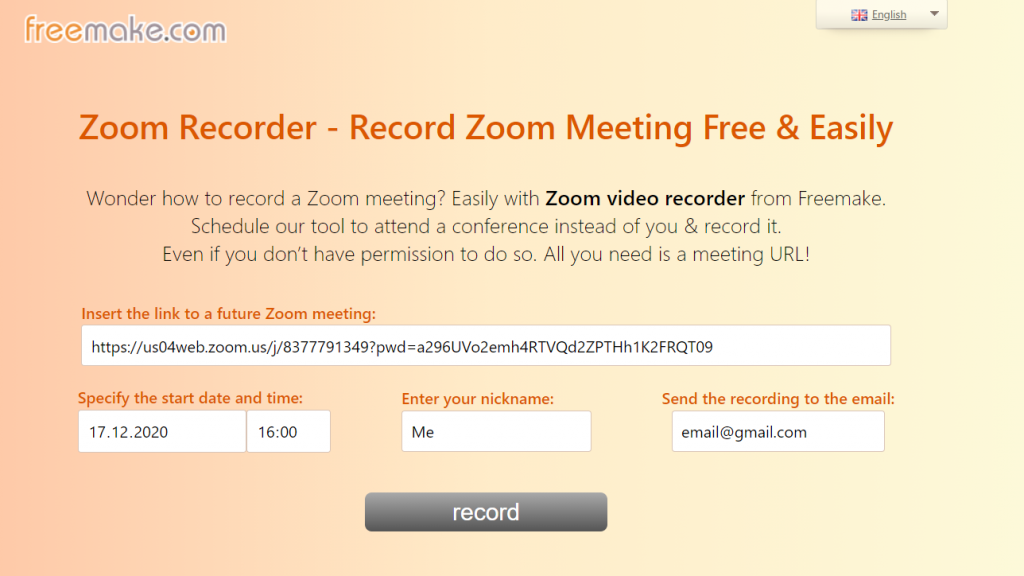 How often do you record phone calls on iPhone? What app do you use?
Comments
comments